Jesse Hamm
is creating Art and Writing Essays About Drawing Comics
Select a membership level
This level earns you my gratitude for taking part! AND it allows you to read ALL of my illustrated essays each month and ALL of my daily sketches. I plan to create 1 to 4 illustrated essays per month, depending on their length. (My longer essays are typically 1,000 to 2,000 words, plus diagrams.) Subjects will include useful approaches to drawing comics, and in-depth appreciations of the techniques of great cartoonists. I also plan to upload a daily sketch (or 7 sketches per week), usually of human figures, animals, or castles.

Many BUT NOT ALL of these essays & sketches will be made available to non-patrons, because I love them too (but not as much as I love you).
At this level, you have my gratitude for going the extra mile! You will be able to read ALL of my illustrated essays and sketches each month, AND you will receive a hi-res PDF collection of my sketches each month. Subject matter will include human figures, horses, big cats and other exotic animals, and medieval castles of the European countryside. A handsome package if I do say so myself, and I do.
At this level you have MORE of my gratitude than at any of the other levels, which is saying a lot! This lets you read ALL of my illustrated essays and sketches each month, AND you will receive each month the above-mentioned hi-res PDF collection of my sketches... AND ALSO a PDF each month of my illustrated essays, in a format and resolution that is conducive to printing and putting on your wall or into a binder. (Which I recommend doing, because it's easier to flip through a binder than to open & scroll through a PDF.)
About
Hi! I'm Jesse Hamm, cartoonist, essayist, and illustrator. Over the past decade, I've written many essays and tips about cartooning that have received a warm response from thousands of students of the artform -- professionals and amateurs alike. You may have seen my art advice on Tumblr: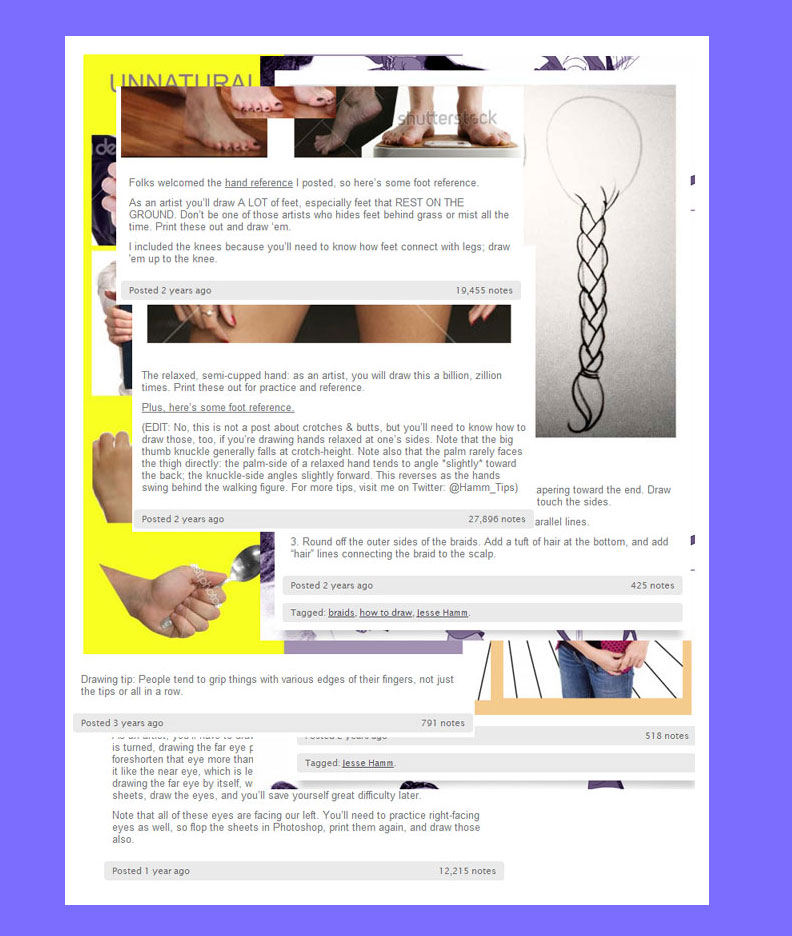 or my tips on Twitter: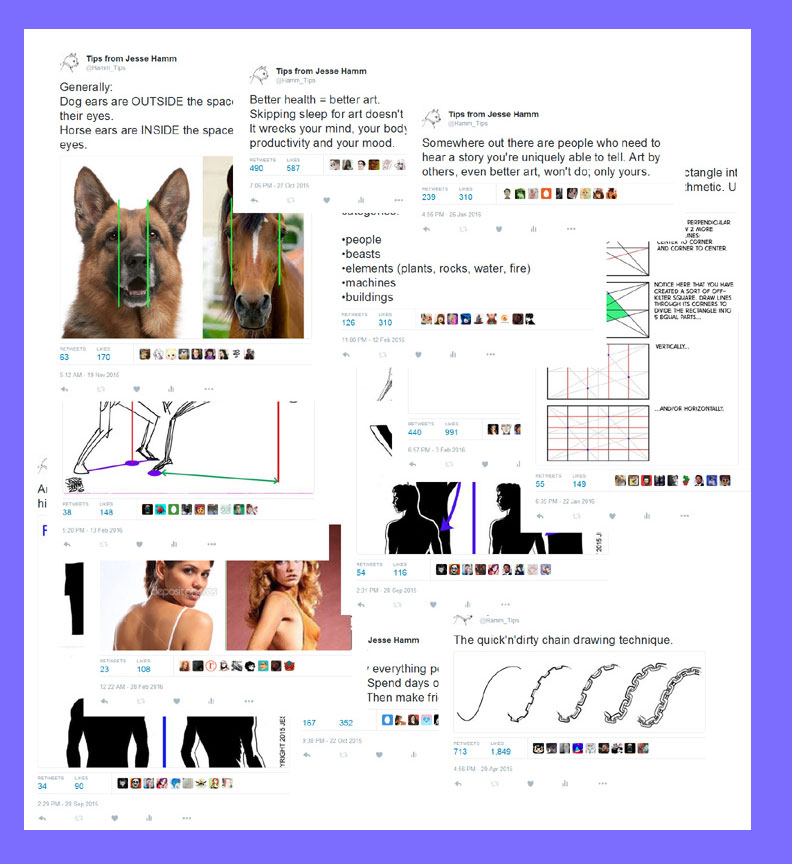 or analyses I've written of artists such as Moebius, Frank Frazetta, and Alex Toth: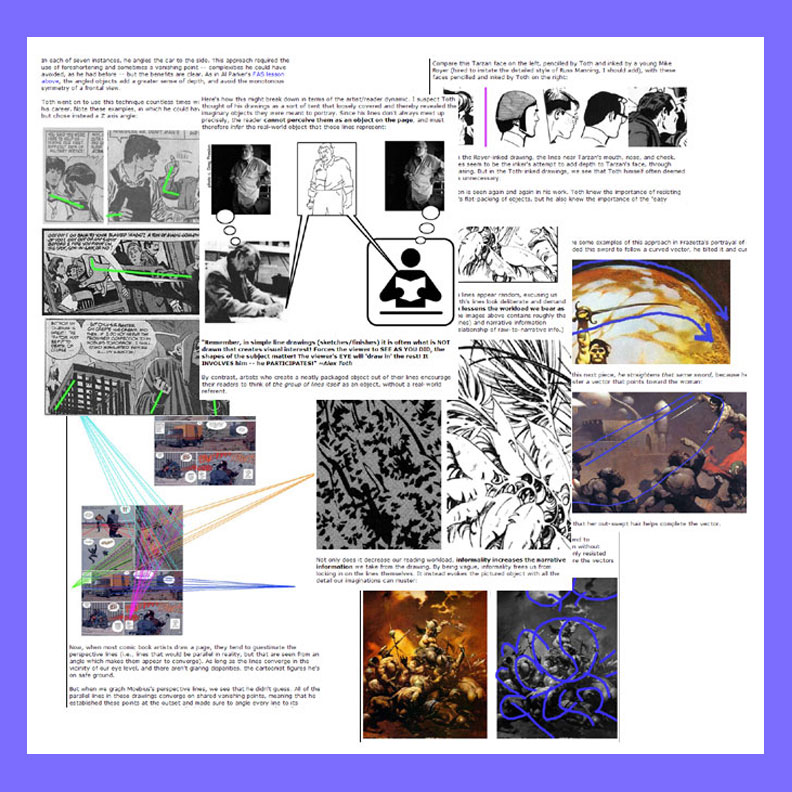 I'm a huge fan of learning more about drawing and storytelling, and I enjoy helping other cartoonists learn more about the wonderful medium of comics. However, since I don't charge for the advice I post online, I rarely have time to delve into a subject as deeply as I (and my readers) would like.
This is where you come in. 
I would like to write more lengthy, illustrated, in-depth essays about drawing comics. Not "beginner" tutorials, of which the market has plenty, nor regurgitations of lessons commonly seen, but NEW material, aimed at advanced students who seek to augment their skills with next-level knowledge.
 You can find a thousand books with titles like "Advanced Algebra," or "Advanced Engineering," but there isn't a single book with the title "Advanced Cartooning," and I would like to change that -- one PDF at a time! 
I would also like more time to make personal art
, both for fun and to hone my skills. Though I spend the most productive hours of my week drawing for a living,  that time is currently spent drawing properties that are not my own. I would like to buy back some of that time, to create art of my own and express my own ideas. I've written a graphic novel which I wish to someday illustrate, but first I'll need to design the characters, creatures, costumes, and locales -- a task requiring many hours at the drawing board, hours I must currently devote to paid assignments.
If you patronize my efforts, you will help me create illustrated, in-depth essays through which I can share my knowledge of cartooning with you and other comics enthusiasts.
You will also enable me to carve time out of my work schedule to hone my skills and create original new art.
Your patronage will result in art and writings that represent the best of what I have to offer, material that would not otherwise exist outside my head.
Please help me bring wonderful new things into the world!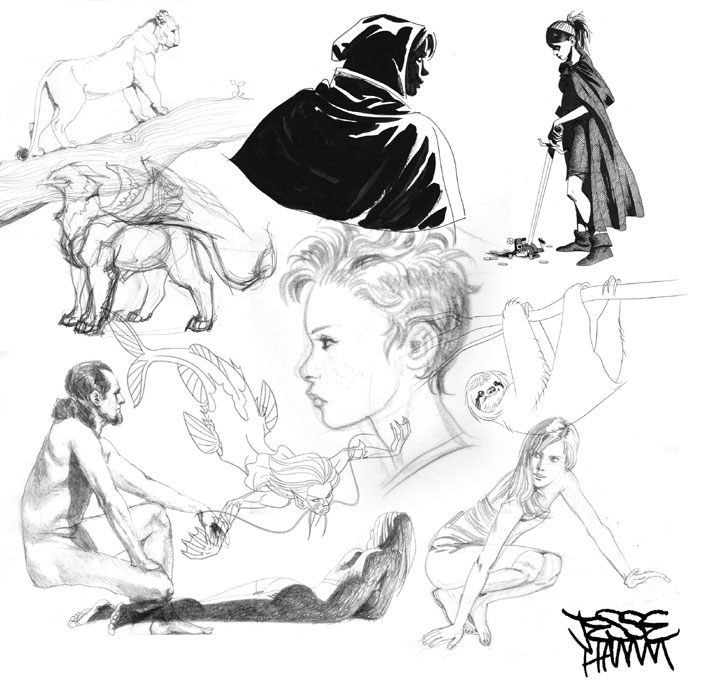 $501.44 of $3,000
per month
Meeting this goal would allow me to forgo all commercial assignments and create nothing but personal content: an original graphic novel and/or a full-fledged book on drawing comics. I could devote my ENTIRE workweek to this material, producing it far faster than otherwise!
1 of 1
By becoming a patron, you'll instantly unlock access to 151 exclusive posts
By becoming a patron, you'll instantly unlock access to 151 exclusive posts
Recent posts by Jesse Hamm
How it works
Get started in 2 minutes