Jessie Gaupel
is creating short stories, fics, plays, and novels
Select a membership level
Poppies
At this tier you'll receive:
✿ my sincerest gratitude! 
✿ access to vlog/blog progress updates
✿ access to blogs on storytelling 
✿ early access to all my fics and fic chapters 
Sweet Peas
At this tier you'll receive:
✿ all the above perks! 
✿ access to extras—my outlines, unpublished fics, deleted scenes, etc.
✿  a 1-3k word fic of the pairing and trope/prompt of your choosing (pairing must be one I know and like).  
✿ access to all recipe fics
Peonies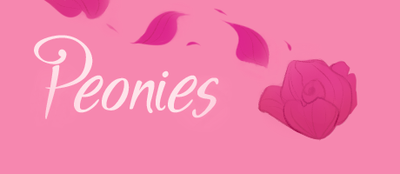 At this tier you'll receive:
✿ all the above perks! 
✿ a hand-written note with personalized lovin' (stickers, glitter, the WORKS!) delivered to your door
✿ access to my betaing services up to 10k words a month (message me for more details on this)  
✿ access to my original short stories, plays, poems, etc.
About
Hello! I'm Jessie and I'm a storyteller!
When I was 10, I wrote my first play about the unfortunate fate of the first Thanksgiving turkey for a 5th-grade assignment (there was a whole scene where the turkey ran and screamed away from John Smith with a hatchet. It
killed.
) When I was 14, my best friend and I spent all our free time role-playing—writing dialogue back-and-forth, weaving tales of falling in love, and falling in love with each other a little bit along the way. When I was 20, I directed my first play—
Flowers for Algernon—
and by 21, I wrote and directed my own play called
Transatlanticism
. Both of them made people cry and I sort of figured out that, as a storyteller, I'm a bittersweet flavor. My goal for my audience or reader is to make them
feel
, to experience catharsis, and to take a little piece of myself with them when they do. 
What do I do?


I write novels, short stories, plays, and fan fiction. I also act and direct when I am able. I dabble in all sorts of genres—magical realism, slice of life, and my current favorite, dark fantasy. I write about love and grief. Family and disappointment. Friends and loneliness. I am also deeply committed to writing and creating inclusive, diverse stories. As a bi woman, it is my priority to make love stories including LGBT characters that are relatable to younger readers, something I was not afforded when I was younger (and still not afforded
now
, as a young woman in her mid-twenties). Baiting is a particularly nefarious trend as of late, and I want my works to be a drawn sword against this bit of evil in the world.  
Why am I making a Patreon?


Well, dear reader, as I said before, I am a storyteller and I mean that truly. Stories are in my bones and the desire to create fills my veins. Living in the world we live in today, getting compensation for telling stories is a long, hard road and one that I am trying to walk. I am currently writing a novel (filled with magic! Intrigue! Gays that don't die! Oh my!) and when I finish that novel, I would like to hire the services of a professional consultant so it can be competitive in the publishing market. This will cost approximately $3,000 and absolutely all funds I acquire from your generous donations will be designated to cover these costs. Long story short, help me publish my book and become a content creator that is compensated!
What do you get out of being a Patron?


Loads! Depending on what tier you sign-up for, you'll be getting my fics and fic chapters before the general public, deleted scenes, outlines, plays, blog posts about my thoughts on storytelling, recipe fics tailored to
your
 personal tastes, and lots of other fun stuff! Check the tiers for more details. I'll be posting weekly and keeping this an active page to do my best to give you some bang for your buck!
What else should you know about me?


I am an award-winning director—in 2014, I co-directed a movement-based retelling of
Romeo and Juliet
using the songs of Florence + the Machine called
Star-cross'd
 which won the Hollywood Fringe's Encore! award, Theatre Unleashed's Unleashed award, and was nominated for best in Movement and Dance. My play
b17ch
 was featured in Urban Theatre Movement's One-Act Festival in Los Angeles and I've had various comedy sketches put on at The Pocket Theatre in Seattle. Most of my professional work and education has centered around theatre, but I have written much narrative prose in a personal capacity and written numerous grants for non-profit companies. I also mod zines—the zine I most recently modded,
Lancito
, raised nearly $10,000 for hurricane relief and, currently, I'm modding
Extrasolar
 for the Trevor Project. I have a B.A. in Theatre Arts with an emphasis in Performance and a minor in Creative Writing at CSU Long Beach and an M.F.A. in Arts Leadership at Seattle University. I am also taking writing classes at Hugo House in Seattle (the second largest writing center in the country) to continue to cultivate my craft. 
What am I currently working on?


✿ 
Unnamed Novels
 - LGBT love story about a young prince locked away in a castle and the handsome gargoyle that comes to life when the sun goes down. The second novel is also LGBT about a girl who hates the stars and will do anything to get to Earth.
✿ 
Dark Blue
 - multi-chapter klance fic, canonverse.

✿ 
you build your tower (but call me home)
 - multi-chapter klance fic, gargoyle au. A sort of beta test for my novel. 

✿ 
Extrasolar: a Klance Charity Zine
 - Mod and writer. All proceeds will go to the Trevor Project. 


THANK YOU!


If you've read this far, I'm so grateful! I know times are tough right now, so the fact that you've devoted some of your day to read my page means a lot to me and if you choose to donate any amount, my gratitude is truly boundless. Thanks so much for helping me chase my dreams to bring more representation to the world. It means more than you know. 

Links


Can't commit to a monthly subscription? That's totally fair! If a one-time donation is more your speed, please consider donating to my PayPal or ko-fi! Want to connect off of Patreon? Follow me on tumblr or twitter and shoot me a message! Want to read my published fics? Head to my Ao3! 
*Big thanks to 
Saaj
for her beautiful artwork featured on my profile pic and banners! 
Earning $250 will help me save enough to hire an editor in six months time when combined with my own savings! When I reach this goal, I will create a short digital zine of my works as a free gift to all my patrons!
1 of 1
By becoming a patron, you'll instantly unlock access to 28 exclusive posts
By becoming a patron, you'll instantly unlock access to 28 exclusive posts
Recent posts by Jessie Gaupel