Select a membership level
BOTTOM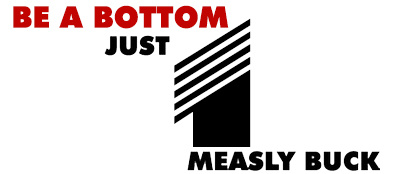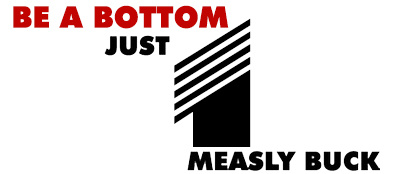 Please subscribe for as much as you like, even as little as a dollar!  (but more is nice)
Patrons who give $1 or more will have access to ALL Patron-only posts, including premieres of new work and more! (with the exception of selected explicit material, including new Vladrushka)
BANNED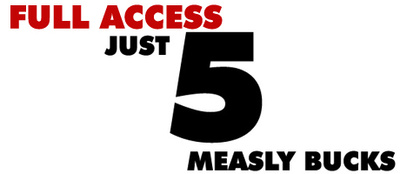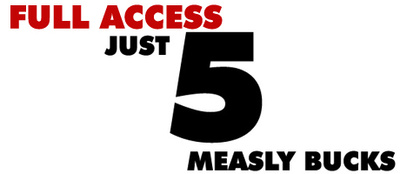 There's a lot of my work that you can't see in print or ebook form via Comixology or Amazon or anywhere anymore because it's too explicit.  This includes Vladrushka, STORY OF OH!, and most of what I did in the 00s for Eros Comix and others, both old and new work.
You'll find that here, at this tier!  This unlocks ALL access to ALL posts, even the banned material, and includes all current benefits of patronage! Lucky you, and for only $5! Or more. We're ALWAYS happy to get more support!
Also, you will have access to all high-res ebook downloads I post of my work at this tier.

GUARDIAN OF TASTE


YOUR CHANCE TO STOP ME!
Don't like my work? Not a problem for the right price!
For this amount I will produce no comics publicly, for as long as the pledge continues.
Writing, illustration and painting add-ons available!
About John Linton Roberson
DOESN'T TAKE MUCH

How much more good work I could make with more time to do it, and if then I can make Bottomless Studio self-supporting after OVER 20 years. I want to be able to sustainably make weird comics. I don't do superheroes. I don't do a lot of genres usually defined as comics. And they take a long time to do, even longer when you barely have the energy after also working 40 hours a week to survive.
I sell print and e-books but the constraints of content restrictions mean, for instance, I haven't done much with my character Vladrushka for a long time because her sort of story is completely adult. So I can't release stuff and I have had to focus on works I can get to market. Even here, Patreon enforces that I can only go so far before the post has to be patrons only.
But for only $5 a month you get access to all of it, including all the new Vladrushka stuff I plan soon to do here now that I've finished the second book of LULU (at Amazon and Google Play Books). Here is the only place you'll see it, and any ebook versions as well.

That's where you come in, of course!

Your encouraging patronage will ensure than not only will my work be more frequent (and posted for you to see) but more varied. You will see more experimentation from me, more kinds of comics, images and writing. And more risks. All for your hungry eyes!
And at the $5 level you get ebook downloads and no content restrictions...
Help me make more stuff!


Be a Patron for Just One [email protected]#king Dollar!

Pledge whatever you can, even as little as a buck or as much as you think the work deserves! Though at least $1 a month is suggested. Which unlocks almost every post, so as subscriptions go, it's well worth it.

See final pages and other art first!
And more is rewarded as well. At the $5 level you're getting the most explicit material, including, of course, new Vladrushka! In fact, I will take the number of $5 patrons as votes to make the next Vladrushka one a priority. More rewards and tiers may come if it grows.

Watch stages of a page's progress!
New work will be seen here long before the general public sees it, and even exclusive posts. For instance, anything explicit and banned from print and ebook platforms, and you know there's quite a lot of that. As I can't put it out there, your support is all that can keep it going!

When I reach 1200 patrons, I may have more time to give this to you more regularly and faster...and introduce tiers with more goodies for you, o my patron and only friend.

Also: Only You Can Stop Me!
For those that hate my work there's a tier for you! if you give $5000 a month or more, I will never make any comics as long as the pledge continues!

Thank you for supporting my work!

1 of 1
Become a patron to
Unlock 328 exclusive posts
Connect via private message
Recent posts by John Linton Roberson
How it works
Get started in 2 minutes