THE LEGACY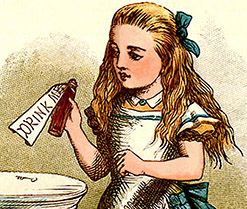 2015 marked the 150 year anniversary of the publication of Lewis Carroll's, 'Alice's Adventures in Wonderland', a story he initially hand illustrated and painstakingly lettered as a present for Alice Liddell on the Christmas of 1864. The following year Carroll approached the Punch magazine illustrator John Tenniel,  and together with Macmillan Press the book was published in November of 1865. 
THE COMIC
In honour of this timeless classic, I am producing a re-imagining of Carroll's original text, which delves into the character archetypes inhabiting Wonderland. It has long been discussed as to the underlying psychological nature of the book, where symbolism and meaning appears to have been imbued within the very fabric of the narrative. Upon uncovering some of these sub-textual layers, a darker tale has emerged, where no one is quite as they appear. Set within a Neo-Victorian realm, Alice's Adventures in Steamland reveals a set of mysterious characters and an adventure across a land in turmoil.

SO WHERE AM I UP TO? 

With the help of a professional editor, the script is finished in draught form; the story being divided up into a six issue mini-comic series. Currently I am busy producing issue 1, where Alice meets the White Rabbit and discovers the portal to Steamland!

WITH YOUR HELP...
I will be able to produce this comic a lot faster!! Due to work commitments, keeping the lights on and the family fed, I currently devote about 20-35 hours per month to the project. Your Patronage and support of my work
would mean that I can work for longer amounts of time on the project and realise it a lot sooner. 


HOW WILL THE STORY BE PUBLISHED?
By supporting the story you will get the first look at the pages as they are developed, as well as behind-the-scenes process. I will produce at least one piece of content per week, which will increase as more time is created for the project.