In a world of planned obsolescence the most rebellious act is continual creation. With three children, I feel a visceral obligation to live artistically, to demonstrate that there is no need to live inside a box - in fact, that box can be transformed.
I
write poetry
because I love language. I'm a word nerd. By transforming our language, we can envision new worlds.
My first chapbook,
encircled
, is available from
Prolific Press
.
My second chapbook, 
Horrific Punctuation, is available from Tiger's Eye Press
.
I have two full-length collections: 
invert the helix from Pski's Porch Publishing
and
broken bottle of time from Alban Lake Publishing
I collect refuse I find in while walking. I
transform these oddments into new forms
, redeem their obsolescence by discovering new beauty.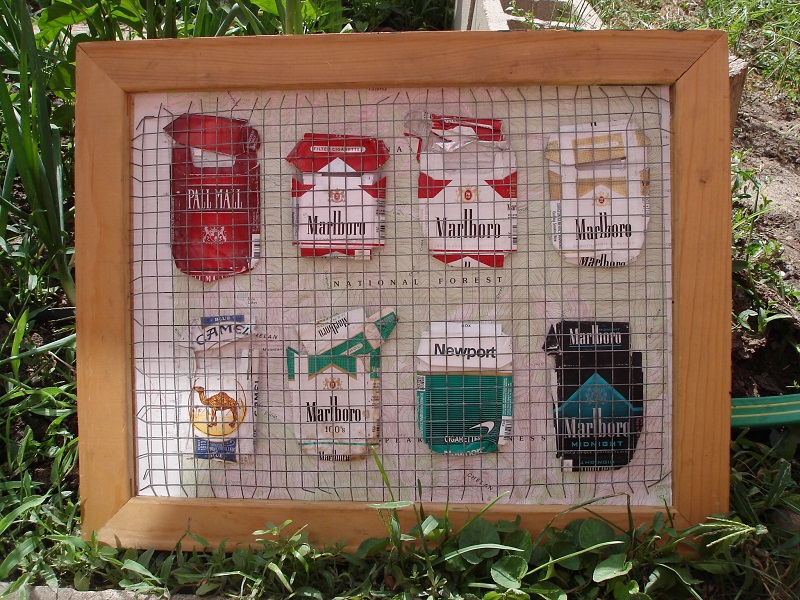 I have
recorded three albums of traditional fiddle music
. I still collaborate musically on a regular basis with
Patrick Reinhart
. We are in the process of recording a new experimental album.
I teach high school students. I have three young children, lots of school debt, a mortgage, etc. Every summer I take odd jobs to pay down the debt we accrue in the course of the year. Between these summer jobs and tax returns and family support, we manage to scrape by. We refinanced our house last summer to pay off the excavation of a broken water pipe and purchase a long-since necessary minivan.
What is the difference between an artist and a  large pizza?
A large pizza can feed a family of four.

What will your money do?
Your patronage will give me more flexibility to create and care for my family without continually scavenging odd jobs. Poems do not require expensive materials, but the research and efforts around publication take time away from paying pursuits; my collages are mostly composed of discovered material, but I pay for glue and continually break drill bits; recording takes time, and upgrading from basic equipment is expensive. Every little bit helps.
What can I expect you to produce and how often?
I write poetry constantly, and it is published online and in print regularly. Many of my online poems will appear in my posts on this page free for anyone to view.
The posts for which I charge patrons are irregular - patrons have access to much of my unpublished work or work in progress. So far, the projects I have charged for include mostly chapbook style creations about once a month. This is why I have chosen a "per creation" patron pledge rather than a monthly amount. That said, you can set a monthly maximum for your account in the unlikely event that I create like a whirlwind some month.
Thank you for your interest in my work.
John Reinhart
HOMEPAGE: 
http://home.hampshire.edu/~jcr00/reinhart.html
FACEBOOK: 
facebook.com/JohnReinhartPoet
TWITTER:
twitter.com/JReinhartPoet
BANDCAMP: 
https://reinhartbrothers.bandcamp.com/