John Semper Jr.
is creating Scripts, Fiction, Stories, Plays, Concepts and Characters
Select a membership level
TIER ONE - DIVE INTO THE "SEMPER FILES!"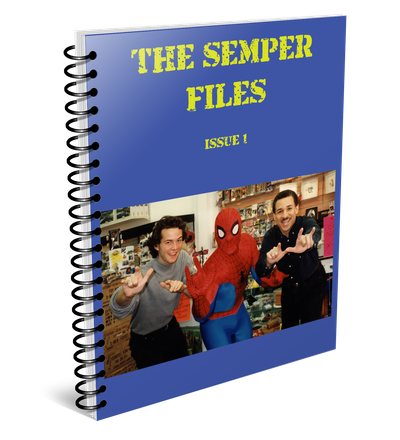 1) Each month, I will dive into my files and produce a softcover BOOK, "THE SEMPER FILES", an exclusive collection full of my notes, drafts, scripts and concepts from all my creative projects, both past and present. I'll also include ARTWORK associated with those projects when possible. All of the exclusive content will reflect my forty years in the film and television business. And when you FIRST sign up, you'll get a copy of my brand new "fan fiction" script, "PETER FINDS MARY JANE!" The SEMPER FILES will be mailed to you on a monthly basis. There will be NO EXTRA CHARGE for postage.
2) You'll also have exclusive access to rare VIDEOS that I will post ONLY HERE for my patrons to see. I might post behind-the-scenes footage of a project from the past, an interview with a former cast member from one of my shows, or something new that I'm working on as I'm creating it.
PLEASE NOTE: This tier at this price is ONLY for people who live in the U.S.
TIER TWO - "THE SEMPER FILES" ABROAD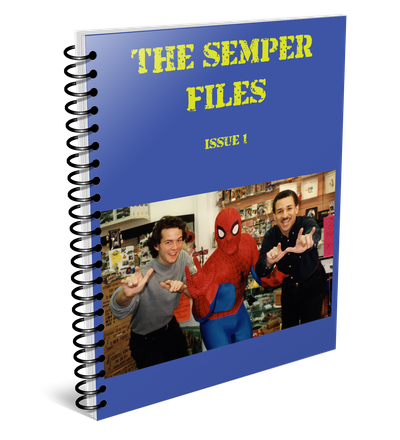 The same as above but ONLY for people who live OUTSIDE the U.S. The increased price reflects taxes and increased postage.
About
Hi!

My name is John Semper Jr.

I'm a writer and TV producer, and I want to share my ideas, scripts, stories and concepts with YOU! In return, you can help support me in my creative efforts with your contributions!

On my Patreon, I'll be sharing my creative work with you from both the present and the past. This includes script drafts, outlines, storyboards, character designs and all sorts of exclusive odds and ends. Some of it will be never-before-seen material from TV shows I've worked on in the past. And some of it will be brand new material which for which you will get an exclusive first look.

But who exactly am I?

I've been developing, writing and producing television and film for over thirty years, with a special emphasis on children's television and animation. My writing and story-editing (head writer) credits include multiple episodes of such classic and well-known animated shows as "SCOOBY-DOO," "SMURFS," "THE JETSONS" (Hanna-Barbera Productions); "MY LITTLE PONY," "THE MOONDREAMERS," (Marvel Productions); "DUCK TALES" (Disney); "ALVIN AND THE CHIPMUNKS" (NBC Productions); and many others. I produced, story-edited and wrote the "FRAGGLE ROCK" animated series for JIM HENSON PRODUCTIONS, and I co-created the original, live-action "DOG CITY," also for Jim Henson.

I'm probably best known for my work as both producer and head writer on "SPIDER-MAN: THE ANIMATED SERIES," the hit action-adventure animated series for Fox Television, based upon Marvel's preeminent super-hero character. I worked directly with Spider-Man's creator, STAN LEE, in bringing this popular character to the TV screen. My script for the episode titled "Day of the Chameleon" was nominated for an Annie Award, the animation industry's highest honor.

I subsequently received an Emmy nomination for my work at Warner Bros. Television Animation as story-editor and writer for the successful series "STATIC SHOCK" based on the popular D.C. Comics character.

My feature film writing credits include the live-action comedy "CLASS ACT," released by Warner Bros. featuring the rap duo, KID 'N PLAY.

Fans of legendary Japanese anime director HAYAO MIYAZAKI will be familiar with my English language scripts for the Disney-released feature films "LAPUTA: THE CASTLE IN THE SKY" and "KIKI'S DELIVERY SERVICE."

My pre-school children's television show credits include the puppet series "PUZZLE PLACE" for PBS, which I helped develop, and the long-running, popular "JAY JAY THE JET PLANE," also for PBS, for which I served as developer, writer, executive story-editor and producer. Several of my stories featuring the "Jay Jay" characters have been adapted into children's books.

In the interactive computer software field, I've written for Disney ("The Hercules Interactive Storybook"), Knowledge Adventure ("The X-Men Cartoon Maker" and "The Spider-man Cartoon Maker"), Broderbund and LucasArts Entertainment.

I also worked personally with GEORGE LUCAS developing projects for the George Lucas Educational Foundation.

I authored a new series of DC Comics' "CYBORG" which was part of their "Rebirth" wave. I wrote nineteen issues leading up to CYBORG's appearance in the "JUSTICE LEAGUE" blockbuster movie.

Most recently, I have co-written three episodes of "ROBOZUNA," an animated adventure series which will be appearing on Netflix.

I live in the Los Angeles area where I continue to develop and write numerous projects for television and feature films. I'm a member of the Writers Guild of America, The Animation Guild, the Motion Picture Editors Guild and the Academy of Television Arts & Sciences.

Here on my Patreon, I'll be sharing material from all of my previous projects with YOU, plus new ideas, artwork and background concepts for things I'm working on right now!

Join me!

By becoming a patron, you'll instantly unlock access to 1 exclusive post
By becoming a patron, you'll instantly unlock access to 1 exclusive post
Recent posts by John Semper Jr.
How it works
Get started in 2 minutes