joshwolf2112
is creating Kaeru Gaiden, a Frog Tale (satire based amphibian action comic)
Select a membership level
Tadpeeps
The frog is strong in you, and you are in tune with your inner amphibian. Thank you so much for your support! For a mere two dollars a month you will gain my eternal gratitude and frog friendship, which some say is a stronger bond than human friendship…you'll ALSO get my rambling artist spiel on how the page was made, as well as a behind the greens look into concept art and sketches every Wednesday, and see how the world of Kaeru comes together!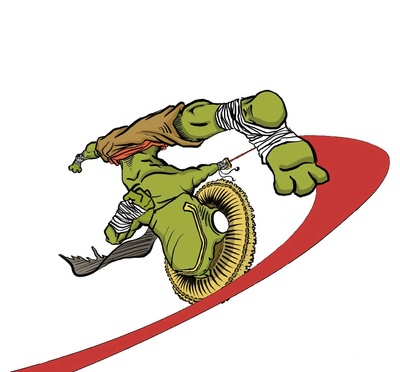 Lilypunks
You're mean green mutha froga and ready to ribbit and rumble. For $5 a month not ONLY will you gain my eternal gratitude and frog friendship (the purest kind), not ONLY will you get a deeper look into the latest page and access to concept art, you'll ALSO get access to super secret special sneak peak Saturdays when you'll get to see the completed art of next week's page (sans lettering), PLUS a thank you shout out on Monday posts for being supremely awesome.
Toad Warriors
You've done it. You've gone full frog, and with that amphibian evolution comes great amphibian accessibility. You gain ALL previous tier access and benefits, as well as your name listed under Patreon contributors in the next issue printed as thanks for your ongoing support (you're how I'm able to make this all possible), a FREE copy of issue #1 (additional shipping costs), a 10% discount on all Kaeru Gaidenmerchandise…AND a custom sketch  by yours truly! *message me for details
About joshwolf2112

WEEKLY POSTING SCHEDULE:
*access depends on what tier you're signed up for

Monday
: the latest page of Kaeru Gaiden, a Frog Tale
Wednesday
: behind the greens look at concept art and how the page was created
Saturday
: a special art only sneak peak at the art for next weeks page
K
now
, o curious reader, that beside your very feet lies an animal kingdom of wonder, where feuding rodent clans face off within hollow logs, and mundane creek beds house ancient serpent temples. This world that resides outside the periphery of our human senses boast legends of elder animal spirits and foul demons from beyond. One such tale speaks of a legendary wandering ronin frog from Dragonpond known as Kaeru, last of the Ryoshi (amphibian demon hunters who years ago protected the lands beyond the ponds from horrors evil and ancient). Sit back and discover the world of…
Kaeru Gaiden, a Frog Tale
Welcome to the continuin' amphibian saga of our favorite fearless fighting frog from Dragonpond! This is my first go at creating a comic book, and there's much I've learned since I've started this journey in the summer of 2018. In fact, the first issue was entirely drawn and inked on paper, photographed using an iPhone 8, and colored using the YouDoodle app by hand on my phone. Needless to say, it was a very long and painstaking process that spanned over 6 months. But what can I say, where there's a will, there's a nerd with WAY too much time on their hands.
Fear not, internet friends! I now have a fancy iPad Pro and apple pen stylus, so I'll be able to create better quality comics at a faster rate. Issue one was done fully in color, but for the sake of time and stylistic choices, ongoing issues will be done frog noir (black and white). With time I'll be able to release more color issues, so stay tuned. I'm hoping with your support I'll be able to continue telling frog tales and share the art I love so much to make!
-Josh
When I reach 100 patrons, I'll start coloring future issues.
1 of 1
Recent posts by joshwolf2112