Judith Holofernes
is creating Music, Writing, Poetry and Podcasts
Select a membership level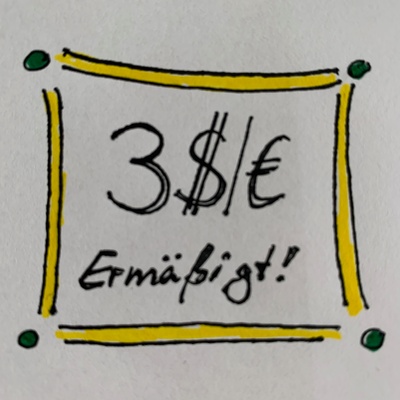 Ermäßigtes Abo
(SCROLL DOWN FOR ENGLISH!) 
$3 (or 3€ - Umstellung auf Euro 2020!): 
Wenn ihr euch das "Grund-Abo" für $5 nicht leisten könnt, dann zahlt ihr eben drei. Ihr kriegt trotzdem alles, was die $5 Patrons kriegen: Zugang zum Patron-Feed, digitale "Werke," tiefe Einblicke in meine Arbeit und kommunales Rumgehänge mit mir. Damit das hier funktioniert, ist es wichtig, dass DIE MEISTEN Leute 5 Dollar und mehr bezahlen. Aber: du musst nicht "die meisten Leute" sein, und ich freue mich sehr, dass du da bist. Und: wenn Geld knapp ist, vergiss nicht, deinen Beitrag zu kappen ("set a monthly limit"), damit er nur ein Mal im Monat eingezogen wird, egal, wie viel Zeug ich mache.
3 Dollars/ Euro: If you cannot afford the main 5$ tier, you pay three, no questions asked. You get all the stuff that the 5$ patrons get: access to the patron only feed, digital art, close-up looks into my work, community-fun. Just know that to make this work I need MOST people to pay five dollars and up. But you don´t need to be most people and I am so happy that you are here. Also, if money is scarce, remember to cap your pledge so it´s only collected once a month, even if I do more art.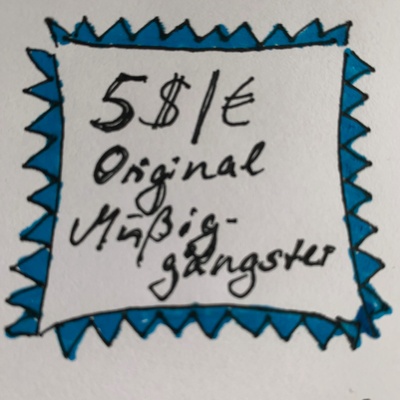 Original Müßiggangster
(ENGLISH BELOW) 5 Dollar/Euro oder mehr: Willkommen in meiner Müßiggang!!! Alle Kunst, die digital verfügbar gemacht werden kann, kriegt ihr zuerst, in euren Posteingang: Songs, Gedichte, neue Podcastfolgen, Kapitel meines ungeborenen Buches ... Außerdem habt ihr Zugang zu meinem Patron-Feed, kriegt tiefen Einblick in meinen Arbeitsprozess, und seid mein engster Kreis für alle artistischen Fragen. 
ORIGINAL MÜSSIGGANGSTER TIER: Welcome to the Müßiggang!!! Everything I do that can be distributed digitally, you will get first, in your mailbox. Also you´ll have access to my patron -only feed, you´ll get deep insights into my process, and you will be my "go to people" for every arty thing I do.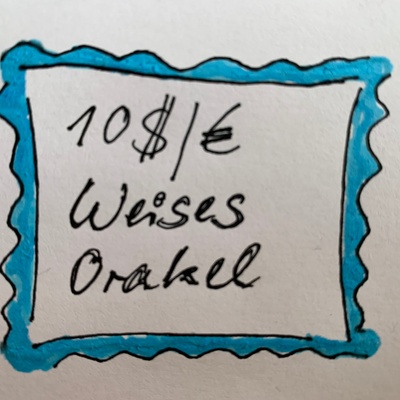 Weises Orakel
(ENGLISH BELOW) 10 Dollar/Euro oder mehr: Du kriegst all das! Und: ich werde immer mal zusätzliche Podcastfolgen aufnehmen (zugänglich für alle Patrons), in denen ich EURE FRAGEN beantworte. Es wird "allgemeine Fragestunden" geben, aber auch Themenfolgen wie "Songwriting" "Musikerberuf," "Überwinden von künstlerischen Blockaden", "Meditation", "Nichtstun" ... was auch immer euch und mich interessiert. Wenn du schon eine Frage hast, bitte hinterlasse sie gleich beim Check Out! Ich werde dich später noch mal danach fragen, aber so habe ich schon mal was, für den Anfang.
SAGE ADVICE TIER: You get all of the above! Plus I will do random extra Q&A podcast episodes (that´ll go out to all the patrons) where I answer YOUR QUESTIONS! There will be "general question" times, themed podcasts like "all your songwriting questions," "music career advice sessions" etc. If you already do have Q&A questions, please leave them at check out! I´ ll ask for them again, but this will get me started.
About Judith Holofernes
(SCROLL DOWN FOR ENGLISH VERSION)
Ich bin endlich auf Patreon!!!
Patreon ist Crowdfunding, aber als Abo-System. Das heißt: ihr könnt mich ab heute abonnieren! Weiter unten gibt´s eine genaue Anleitung*, wie das hier funktioniert.
Aber zunächst ein paar emotionale Worte:
Diejenigen von euch, die mich schon länger und aus der Nähe verfolgen, ahnen, was das für mich bedeutet. In Kurzform: Ich will das schon SEHR LANGE machen. Jetzt, wo ich endlich hier bin, tanze ich beständig kleine Freudentänzchen.
Am Ende waren alle Gegenargumente – von denen eh nur Wenige meine Eigenen waren – hinfällig. Ich will das hier machen, weil ich es RICHTIG finde. Für mich ist Crowdfunding (und vor allem ein Abo-Modell wie Patreon) der aufregendste und stimmigste Weg, Kunst zu machen, Kunst zu unterstützen und zu ermöglichen. Die Idee von Verbindung und kollektiver Magie ist ein Gegengift zur "alten" Idee von Kunst als Wettbewerb, und sie stützt und schützt in meinen Augen sowohl die Künstler als auch ihre "Patrone." Und sie macht SO. VIEL. MEHR. SPASS. als alles andere, was im Moment so im Angebot ist.
Ich denke, Patreon wird denjenigen unter meinen Fans am
meisten
Spaß machen, die neugierig sind auf ALL die komischen Sachen, die ich mache. Wenn du meine Musik (und nur die Musik) liebst: ich liebe dich auch! Aber dieses Abo hier ist wahrscheinlich nicht dein Ding.
Wenn
du mein Patron werden solltest, dann lade ich dich in meine Werkstatt ein, und du kannst mir wohlwollend über die Schulter gucken bei allem, was ich so mache: Musik, Gedichte, Videos, vielleicht ein Buch ... und meinen brandneuen Podcast "Salon Holofernes!" Du gehörst ab jetzt zu den Ersten, die von neuen Projekten erfahren. Ich werde euch Texte zeigen, die vielleicht, eines Tages, Teil eines Buches sein könnten – und dann vielleicht doch keins werden. Ich werde Gedichte schreiben auf Hotelzimmern und sie an euch ausprobieren. Und, wenn genug Leute mitmachen, können wir vielleicht sogar mein langersehntes, unfinanzierbares Herzensprojekt umsetzen:
meine Lieblingssongs ins Deutsche zu übersetzen und aufzunehmen
. Was auch immer ich tue, ihr werdet meine geliebten Versuchskaninchen sein, mein engster Kreis, meine Müßiggang ... meine Patrons.
Für mein Gefühl haben wir Künstler das Internet bisher falsch benutzt. Wir haben eine Grundannahme unterschrieben, dass ungerichtete, wahllose Aufmerksamkeit ein valides Ziel für uns sei. Eins, für das wir große Teile unserer Energie aufwenden, Herzchen und Häkchen zählend. Kaum jemand fragt sich, ob diese Aufmerksamkeit sich jemals in irgendetwas von echtem Wert übersetzt.
Die Wahrheit ist: wir brauchen gar nicht ALLE, damit es funktioniert. Wir brauchen nur eine Handvoll der richtigen Leute.
Ich freue mich sehr, wenn ihr dabei seid.
Alles Liebe und Därängdängdäng:
Judith
*Und so funktioniert´s:
Ihr könnt euch aus den hier nebenstehenden "Tiers" (Abokategorien) eine Preisklasse aussuchen, die am Besten zu eurem Geldbeutel und eurer seelischen Verfassung passt. Dabei könnt ihr monatlich aussteigen, oder auch die Höhe eures Abos verändern.
Die Tiers sind noch(!) in Dollar ausgeschrieben, weil Patreon eine amerikanische Plattform ist. Die Betreiber arbeiten aber mit Hochdruck an einer "Lokalisierung," und im nächsten Jahr sollte ich auf Euro umsteigen können. Die Beträge, die ich jetzt angesetzt habe, spiegeln das, was ich in Euro hätte aufrufen wollen. Das heißt, wenn ich umstelle, werden aus 5$ einfach 5 Euro. Für euch bedeutet das, durch den gegenwärtigen Dollarkurs, dass die ersten Monate für euch ein bisschen günstiger ausfallen.
Das Wichtigste: euer Abo ist für euch extrem fein dosierbar, und ihr könnt euren Beitrag bei einer beliebigen Summe kappen. Das läuft so:
Ihr abonniert mich grundsätzlich "per thing," das heißt "pro Kunstwerk." Ich werde aber, damit das hier aufgeht, mindestens
einmal
im Monat
auf "collect" drücken – und definiere somit einen Monat des Rumhängens mit mir als Kunstwerk. Für diesen monatlichen Betrag, egal in welcher Abokategorie, gibt´s Alles, was ich so vor mich hin schaffe: Texte für mein ungeborenes Buch, Gedichte, im Schnitt etwa eine Folge meines Podcasts, Einblicke in mein Arbeitsleben. Und dazu natürlich noch die "Goodies" eurer jeweiligen Kategorie.
Zusätzlich drücke ich nur dann auf "collect", wenn ich etwas besonders Aufwändiges oder Teures mache, zum Beispiel für mehrere tausend Euro einen Song aufnehmen oder ein Video drehen, in dem ich mit gut erzogenen Hunden jongliere.

Aber: Wenn euch das zu unberechenbar ist, könnt ihr euren Beitrag kappen! Setzt ganz einfach ein monatliches Limit ("set a monthly limit"), das ist nur ein Häkchen mehr! Ihr kriegt trotzdem die gleichen Sachen wie alle anderen Abonnenten eurer Kategorie.

Beispiel: Du hast die 5$-Kategorie gewählt, und willst zuverlässig nur 5$ zahlen? Setze dein monatliches Limit einfach bei 5 Euro. Oder du setzt es bei 10$ oder 15$, wenn es ok für dich ist, in einem besonders produktiven Monat auch mal mehr zu zahlen.
Also: KAPPT EUREN BEITRAG ("set a monthly limit") bei eurem "Grundbeitrag," wenn ein festes, monatliches Grund-Abo das Richtige für euch ist.
KAPPT EUREN BEITRAG NICHT oder kappt ihn erst ab einer HÖHEREN SUMME, wenn ihr wollt, dass ich mehr Geld bekomme, je mehr/ teurere Kunst ich mache.

Wenn ihr noch Fragen habt, immer rüber damit! Ich freue mich sehr über euch!
Judith
P.S: WENN ihr meine "Patrons" werden solltet: meine Mails werden wahrscheinlich zu Anfang im Spam-Folder landen. Guckt einfach gleich dort nach meiner "Willkommens"-Mail – es lohnt sich! – und fügt den Absender zu eurem Adressbuch hinzu, damit ihr nichts von den schönen Sachen verpasst, die ich euch schicken möchte.
ENGLISH:
I´m finally on Patreon!!!
There´s a little "manual"* explaining what the patreon is and how it works a little further down, but first, a couple of celebratory words:
Those of you who have been following me closely for the past seven years know just how much this means to me. NOT doing Patreon even though I wanted to has made me quite sad for a while now. Doing it now has me doing a little happy dance in my kitchen.
The thing is: all the arguments (that were never my own to begin with) against it are nil because... I want to do it because I think it´s right. I think crowdfunding (and especially a subscription model like Patreon) is the most exciting and most truthful way of doing and supporting art that is out there, and most in tune with what I feel art is and should be. Scratch that: what probably all human interaction is and should be.
Sooooo..... here I am.
If you do become my Patron, you will be backstage in my workshop with me, watching me make my art. You will often be the first to know about the things I do. I will show you writing that might some day be a book, but might aswell not make it past our little circle, because it turns out to be too personal. If I´m unclear about an artistic decision, I might ask your opinions. I´ll write poems in hotel rooms and test them out on you.
Maybe we´ll even make my long –longed for, commercially-non-viable-dream-project come true: translating and recording German versions of my favourite english and french songs!
Whatever I do: you´ll be my beloved guinea pigs, my innermost circle, my Müßigang (), my.... patrons.
And, a disclaimer: this is a thing I am doing especially for those of my fans who are really curious about ALL the weird things I have been and will be doing. If you are into the music and the music only: I love you too! But this might not be for you. I have been doing a lot of very different thing these past few years: Recording songs, writing poetry about animals, making videos, writing... and now a podcast! And as I see it from here: the road ahead is going to be even more zigzag-y, and I will love it.
Also, for my prospective non- German speaking patrons: I`m so happy you found me! Although I am of course mainly a German language artist, I´ll find ways to entertain - and translate for - you, just you wait.
The thing is: I think we artists have been using the internet wrong, buying into the notion that indiscriminate, random attention is a valid goal. Hardly anybody stops to ask whether that attention ever translates into anything of real worth.
The truth is: we dont need EVERYBODY to make it work. We just need a couple of the right people.
Love,
Judith
*and this is how it´s done:
From all the "tiers" listed here, you pick the one that most suits your finances and your disposition. You can change or cancel your subscription every month.
The tiers are now listed in dollars, but as soon as Patreon makes it possible to localize currency, I will probably switch to euros. The amount now listed in dollars will then be that same amount in euros. So, as a heads-up: for Americans, their pledge will become a tiny little bit more expensive once I make the switch.
Your subscription is a "per thing"/per work of art donation. But I will "collect" your pledge at least once every month, thus officially dubbing a month of hanging out with me a work of art. For this basic pledge you get all the things I do on a regular basis: writing, poetry, my podcast, this patreon-only feed.
In addition I will "collect" your pledge every now and then, when I do something that is an extraordinary amount of work or costs me a lot of money, like, say, a song I record with a full band, or an expensive music video that has me juggling trained dogs or something.
BUT you can set a monthly limit to how much you want to pledge! So if you want to make sure you never pay more than a set amount per month, you can very easily cap your pledge.
If you chose the 5 dollar tier and that is exactly what you want to give each month, cap your pledge at exactly 5 Dollars. Or, if you have a little wiggle room, cap it at ten or fifteen. You will get exactly the same things everybody else in your tier gets, whether you cap your pledge or not!
So: CAP YOUR PLEDGE/ Set a monthly limit if you want to make this a basic monthly "subscription," you´ll get the same things everybody else gets! Don´t cap (or cap it at a higher amount) it if you want to pay me more the more art I make.
That´s it, I think. If you have any further questions, do not hesitate to ask! I´m so happy you are here!
Love,
Judith
P.S: If you DO become my patron, know that my e –mails might at first end up in your spam folder. Be sure to find one fast and add the sender adress to your adress book, so you don´t miss out on all the cool stuff.
Recent posts by Judith Holofernes
By becoming a patron, you'll instantly unlock access to 8 exclusive posts
By becoming a patron, you'll instantly unlock access to 8 exclusive posts