Judith-Kate Friedman
is creating Music, Poems & Multimedia
Select a membership level
Warm-Up
Pitch a log on this creative fire!  Receive....
• Emerging songs, poems, photos, art
• Musings about my creative process
• My Abiding gratitude for your support  
Get in the Groove

Keep this artist in motion! Receive all the songs, poems, art, musings and gifts listed above, plus....  
• An Inspiration of the month crafted especially for you
• My Abiding gratitude for your support  
Harmonize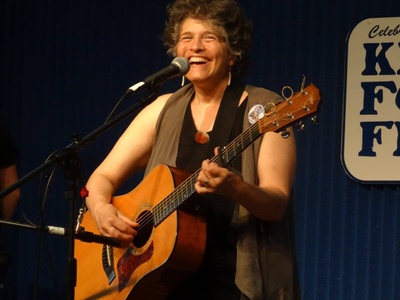 Join the journey! Receive....   
• Emerging songs, poems, photos, art  
• Musings about my creative process  
• An Inspiration of the month crafted especially for you
• Invitations to online chats + events
• My Abiding gratitude for your support  
About
Hello music and art loving wonderful people. Welcome to my Patreon page.
We're connecting at a crucial time. As the pandemic swells, community and compassion are also rising widely. We need songs, beauty, warmth, and hope borne of honesty, gravitas and hopefully grace. We need each other. And to share our stories. Every story I'm hearing is going into the songwriting place in my soul -- and new music is starting to emerge that I hope is impactful, helpful.

I think you know me – or will soon! As an artist I've worked in the "gig economy" for 30+ years. I'm dedicated to the forms of Song. Story. Poetry. Film (newly). Radio (and old love now active again).Whatever form, my aim is to make relevant, timely and timeless work. Or as I put it in my very first promo (back in 1984) "Songs to Move You." As for what the songs or any of these forms sound like... they're usually made of voice, guitar and sometimes (newly) piano, my undying passion for language, deep listening and always: my high regard for people of every culture, place, and generation.

Your becoming a patron means you are pledging to support me in this mission. To be the best deepest most courageous human - and artist - and arts catalyst/ teacher/advocate - I can be. When you contribute monthly (i.e. the cost of one fancy coffee, dining out, a night at the theater or more if you can) you are literally throwing a log on the home hearth...stoking the signal fire I'm tending.
If I do my job well -- bringing song seedlings and creative nuggets into fruition and then serving them up in various delicious and hopefully powerful ways... and giving you and the world direct access -- then hopefully we'll be in a steady relationship here -- and you'll be able to see, smell, feel the fire, the warmth, the music and message from this distance.... as we're now remote in geography tho not heart! -- as I write this in the inner coastal town of Port Townsend, WA on the Salish Sea (West of Seattle, Southeast of Victoria B.C.) Many project are brewing -- from the most mundane set up of new systems for this unprecedented time -- to the exciting creative and communal ones which I'll be sharing -- and spilling onto these digital pages in the coming weeks.

Here's a sneak peak:
My own:
• New songs
• New blogs
• New poems and broadsides
• Retrieved beloved older work in new contexts
My beloved late great mate Daniel "3D" Deardorff's legacy projects
• Many recorded, many mixed, yet to be released songs, EPs and albums :-)
• A documentary film (working title: Polio/A Blues Story) about his work and life in the context of the social, medical, cultural, economic and political history of the polio pandemics of the 20th c.
• Stories in podcastable, video sharable, print and audio book forms emerging
• Teachings, poems, musings, quotable bits, visual art, and more cool stuff
Our duo work:
• Love Dogs: A Valentine's Day Concert Live at Key City Public Theatre - a full length video/DVD/stream in which myself and "3D" share 20 love songs, much harmony, a wee bit of improv and surprise, laughter and a whole lotta love.
And not least: Songwriting Works' Life's a Song Project soon to roll out:
•18 new songs and stories co-written by Northwest songwriters and 200 neighbors age 12 to 103 :-)
• A chapbook with lyrics, songs, and stories from the project
• A new series of online concerts and trainings for songwriters and any one seeking to boost immune systems and joy with music-making close to home. More on this later! Ahem... Sooner!

For now, come close, warm your hands, pull up a chair, lean in, take heart.
We're all on a mythic adventure now, beyond any humanity has known in recent times. It is not of our choosing, yet it is undeniably here, everywhere. To be taken seriously. As a gift as well as a threat. Think about it. Something inspiring has probably happened to you in the last 3 days despite a lot of terror. True?? Let's do what humans have always done: find ways to survive with our integrity and souls and love intact -- and help each other--- and our communities -- nations -- and planet -- through this time. Together.
I look forward to the honor and gift of your presence in my life and mine in yours, as together, we listen and share songs, stories, ancient wisdom and truths of right now.

Be kind and caring and respectful with each other.
I'm deeply honored to be an artist alive at this time.
I want to hear from you.

With love, gratitude, and song,
Judith-Kate
My goal is to welcome 108 fans, friends, and colleagues who believe in my music (and arts) and want to see my work continue to grow strong and be widely shared.  
The goal is to reach 108 by my birthday, November 3, 2019.  
As soon as we reach 100 we'll start planning a live online event (and birthday party) to celebrate!
1 of 1
By becoming a patron, you'll instantly unlock access to 3 exclusive posts
By becoming a patron, you'll instantly unlock access to 3 exclusive posts
Recent posts by Judith-Kate Friedman