Just BE
is creating a self-sustainting Black Women business community
Select a membership level
For the Good
"I am ready to throw down, let's do this!"

Is this you feeling all impassioned and *ish ready to support Black Womxn toward economic self-determination?

Excellent!

Join the Just BE community as a monthly For the Good supporter to help us keep the lights on as we navigate this new COVID-19 normal.


Team Compensation Support
Get Your Tech Life Girl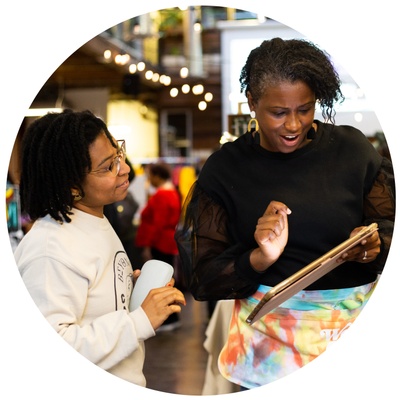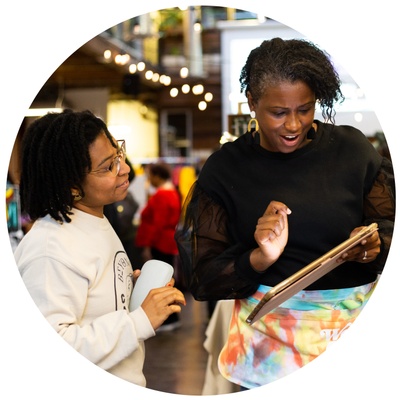 "A virtual marketplace where I can shop fantabulous Black Womxn creative entrepreneurs' wears year round...say what?!"

Yes, it is true! Our annual For the Culture Holiday Market has gone digital and is now a platform uniquely curated to meet the needs of Black Womxn creative entrepreneurs year round.

But we need your help to keep it alive and kicking.

Join the Just BE community as a monthly Get Your Tech Life Girl supporter to help us maintain this platform and all our tech needs so that we can sustainbaly serve our community.

For the Culture Marketplace Support
Care for People
"Our freedom is rooted in joy and community care. Rest is just as important as marching in the streets."

Yes! This is core to Just BE's values and practice. We center the health of our Black Womxn entrepreneurs and team through a wellness fund that covers meals, day care, celebrations, mental + physical health and more.

Join the Just BE community as a monthly Care for the People supporter to help us get free with balance and joy.


About Just BE
Just BE is a Black Women business community that provides Black Women entrepreneurs access to a collective marketplace and business ecosystem.
Just BE is an LLC that is fiscally sponsored by L.C. & Lillie Cox Haven of Hope, a 501(c)(3) non-profit organization.
In 2016, Yolanda, Candice, Marisol, Kamilah, Hope, Juliette, Kim and Alyah came together in Oakland, CA, during a particularly tragic summer when the police murders of Alton Sterling and Philando Castile made national news. Isolated as entrepreneurs and exhausted by racial inequality, we decided to form a business community.
We discovered that this isolation was not unique to us and that nationally
97.5% of Black Women Entrepreneurs did not have a single employee
. Enough was enough. We could not keep hustling alone.
We decided to focus our efforts on building a safe space for Black Women Entrepreneurs to come together to help each other grow.
Since 2016, we have served over 1500 Black Women Entrepreneurs in the Bay Area and beyond, through local mixers, Play Days, and vendor markets. We have curated spaces that have generated over $100,000 in revenue for Black Women Entrepreneurs, employing over 75 people of color within our communities across 4 years. Our vision is to build a self-sustaining Black Women business ecosystem where every Black Woman Entrepreneur has the financial, community, and self-care resources she needs to succeed.
Each year, Just BE hosts the largest Black Women's holiday market in the Bay Area entitled
For the Culture
(see video). In 4 years our market has served 113 Black Women Entrepreneurs, generating over $77,000 in sales. This year we are transforming the market into a virtual shopping experience and platform. This platform is uniquely cultivated for Black Women business creatives and will allow us to offer a
For the Culture
marketplace year round! We will be inviting over 5000+ shoppers to our live two-day interactive shopping event on Black Friday (Nov. 27th) and Small Business Saturday (Nov. 28th) weekend with the goal of generating $90,000 in sales for 50-80 Black business owners.
Now more than ever Black entrepreneurs are in need of a national community committed to their sustainability and resiliency.
The health and wealth impacts of COVID-19 on the Black community are devastating. With
nearly half of Black businesses closing down
as a result of COVID-19, we have learned from Just BE entrepreneurs that one of the most impactful things we can do during this time is to invest in and grow their visibility, customer base, and revenue.
We are ready to be here now and into the future!
We are inviting you to
become a monthly member for at least one year
and sustain our Black Women Entrepreneur community!
You can also get down with the get down through a one time donation at
bit.ly/JBpaypaldonate
. Please make a note in paypal that your donation is for "Just BE".
To join our beloved community as a major donor or sponsor of the
For the Culture Market
, please email
[email protected]
. We are a social enterprise that offers tax-deductible contributions as needed through our non-profit fiscal sponsor.
Just BE is an LLC that is fiscally sponsored by L.C. & Lillie Cox Haven of Hope, a 501(c)(3) non-profit organization.
How it works
Get started in 2 minutes