Select a membership level
Premium
Get access to a custom support contact, answering within of 72 hours (during weekdays, holidays excluded) on your support requests for Quassel, Quasseldroid, or hosted Quassel services.
I will do my best to help you, to the best of my abilities.
Note: support is provided on a best effort basis, within of normal working hours, excluding holidays, and does not guarantee your issue will be resolved.
About justJanne
I'm a creator of many open source projects, including the Quasseldroid project. Your contribution helps maintain these projects, and many more!
Quasseldroid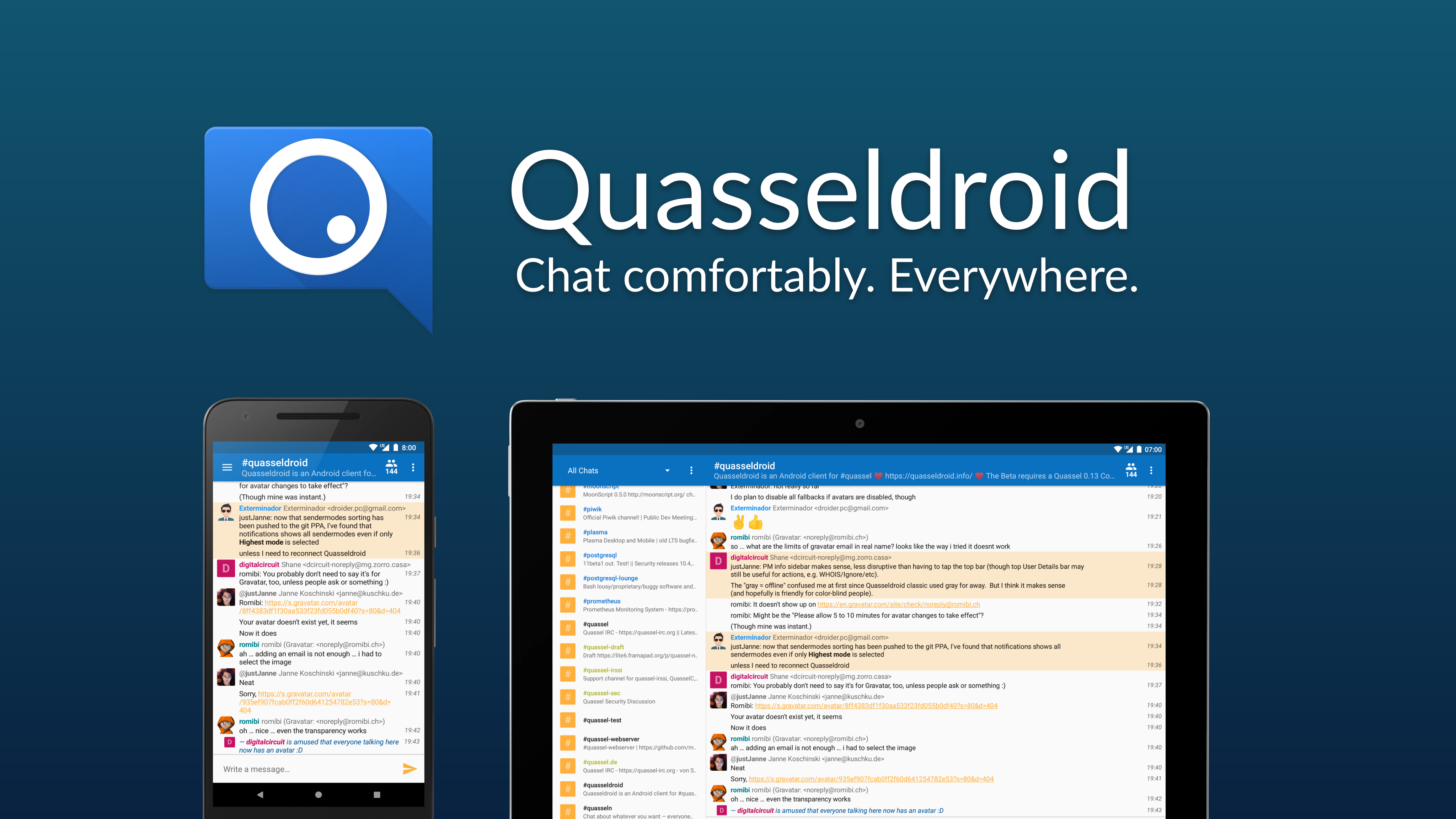 The Quasseldroid project was originally started by Frederik M. J. Vestre (freqmod), and many others, including Martin Sandsmark, Magnus Fjell and Ken Børge Viktil have contributed over the years.
Since 2014 I am the new maintainer, and have worked on a redesign to use Material Design, and am now working on a rewrite to significantly improve performance and stability.
quassel-rest-search
In February 2016 I started work on a project to replace Quasselsuche. The goal was to create a new search solution for the Quassel project that would feature a REST API, a modern web interface, and also significantly improved performance. Long-term, I wanted to experiment with search in this project so we would have a plan for implementing search in the Quassel core later on.
The PostgreSQL backend became feature complete in March 2017, since then the project is mostly complete, only a SQLite backend would still need work.
Quassel Icons
In 2017, Google announced Android Oreo, and with it the move to adaptive icons. This meant we needed a new icon for Quasseldroid. At the same time, we had planned to provide better support for the Breeze theme on desktop. As I had already created the last two icons for Quasseldroid, I decided that this time we should aim for a consistent look on all platforms, and started creating a
demo page
so we could test different color schemes. A scheme was chosen shortly afterwards, leading to me finishing this project with the final version of the icons in March 2017.
Powerline Go
As powerline-shell felt too slow, I decided to port it to go in August 2017. Since then this project has seen lots of activity and many active pull requests.
Other projects
I also contribute to other projects, you can find these on
https://github.com/justjanne/
and
https://git.kuschku.de/users/justJanne/projects
A better server to run the CI and Website so I can actually run unit and emulator tests in CI.

1 of 1
How it works
Get started in 2 minutes