J.W. Ocker
is creating OTIS: Odd Things I've Seen
Select a membership level
Quick Jaunt
You're supporting OTIS posts, the OTIS podcast, the OTIS YouTube channel, and all other OTIS joints, as well as my work as an author.  
Access to Patreon-only updates
A Quick Jaunt level OTIS Club membership card (autographed)
One OTIS Club newsletter issue per month
Day Trip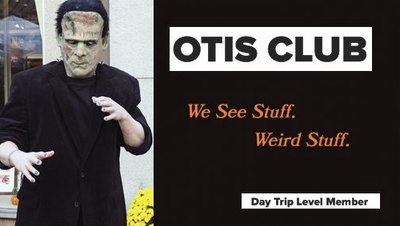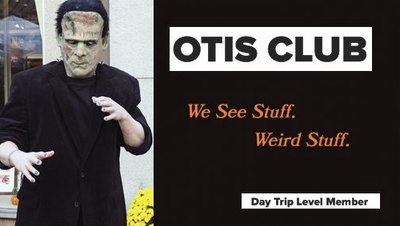 You're supporting OTIS posts, the OTIS podcast, the OTIS YouTube channel, and all other OTIS joints, as well as my work as an author.  
Access to Patreon-only updates
A Day Trip level OTIS Club membership card (autographed)
Two OTIS Club newsletter issues per month
Road Trip
You're supporting OTIS posts, the OTIS podcast, the OTIS YouTube channel, and all other OTIS joints, as well as my work as an author.  
Access to Patreon-only updates
A Road Trip level OTIS Club membership card (autographed)
Weekly OTIS Club newsletter issues
Access to my interactive OTIS Map of Oddities
Free return postage when you send a book to be autographed (limited to one free mailing per year).
About J.W. Ocker
For more than a decade, I've been traveling the country and world in my spare time—around my day job, my family time, my
book-writing hobby
—searching out oddities of nature, history, art, and culture—burning ghost towns, macabre funerary art, movie filming sites, abandoned asylums, UFO hot spots—and documenting my experiences on my website
OTIS: Odd Things I've Seen
and my podcast Odd Things I've Seen: The Podcast.
And I've been sharing that work of weird wonder with you along the way. And, here's a way you can support the site and get exclusive OTIS perks. Think about it as a tip jar...with benefits.
I'd like to invite you to join the
OTIS Club
.
By becoming a member of the OTIS Club, you'll support OTIS. But you don't have to for that reason. That content on the site and the podcast past, present, and future, is free. That stays the same, and I value your readership and listenership there. The OTIS Club adds an inner circle of OTIS readers who want to go deeper, and an outlet to diversify how I write about my life of oddity and interact with other oddity lovers.
By joining the OTIS Club and sponsoring me with a small amount of money per month, you'll receive some cool membership perks in addition to all that free OTIS content:
OTIS Club Membership Card

Definitive proof you're in the club. Every membership level gets a unique card, autographed on the back, while Odyssey level members get the whole set.
OTIS Club Newsletter Thing
This, this, this is what I'm most excited about. A weekly four-page, high-quality newsletter featuring exclusive content of the sort that doesn't fit my website format. I'll give you a look behind the scenes of OTIS, personal thoughts on where I've been recently and where I'm planning to go, new obsessions. Every week you'll read Oddity News, those curated news stories about oddities. I'll show you strange stuff from my study, tell you travel anecdotes, offer oddity hunting tips, do some Q&As, and feature unpublished oddity photos from my personal archive of tens of thousands of photos—all exclusive content, every week for those at the Road Trip level and above (or two out of every four issues for the Day Trip level and one out of every four for the Quick Jaunt level).
OTIS Map of Oddities
This is an interactive map personally created and curated by me, so that means lots of memento mori, literary and pop culture sites, art installation, rarities of nature and history, and less categorizable oddity. Each marker on the map includes addresses/GPS coordinates, descriptions, and a link to more information. Right now, the map features some 4,000 sites, only 40% of which I've visited. I'll be regularly updating this map with stuff that I've seen and stuff that I want to see since I use this map as a resource for my own travels, and I'll keep you up-to-date on new additions with the OTIS Club Newsletter Thing.
Free Return Postage on Book Autographs
What a signed edition of one of my books? Anybody can send it with return postage to PO Box 97, Dunstable, MA, 01827, and then message me through Patreon or email me (
[email protected]
) to let me know it's coming (I don't regularly check the box) and to whom I should inscribe it. Those at the Road Trip, Globe Trek, and Odyssey membership levels can skip the return postage (Road Trip level members are limited to one free mailing per year).
Be on OTIS

I'm going to make a dedicated page for everyone at the Globe Trek and Odyssey levels that will be accessible from the front page. Your name will go there, your website address or social media handle, and a photo of yourself at an oddity if you send one to me.
Private OTIS Club Instagram Feed

At the Globe Trek and Odyssey levels, you can follow my travel and personal exploits in real-time on what will become my primary (and members-only) Instagram feed.
My Personal Itineraries
I take frequent multi-site road trips. And they take a lot of planning. When I go on one, I'll send anybody at the Odyssey level my itinerary, complete with addresses, a map, and information about the sites...the exact same resource I use to take the trip. You'll find these itineraries either informationally interesting or you can jump in the car and follow them yourself without having to do any planning.
OTIS Pin
When you wear this square of metal, you show your support. Odyssey members get the pin immediately on joining. Globe Trek member get it on their second month of membership.
Books
For Odyssey Level members, you'll get an autographed copy of one of my books (your choice) every four months of your membership until I run out of books. This includes new releases.
So please become a member of the OTIS Club. If enough people join, I can expand the perks at every level of membership, bring you even more oddity in more direct ways, and we can do some really cool things together.
Goal #2: At this level, I can expand the content and get some OTIS merch made available for club members.
2 of 2
By becoming a patron, you'll instantly unlock access to 62 exclusive posts
By becoming a patron, you'll instantly unlock access to 62 exclusive posts
Recent posts by J.W. Ocker
How it works
Get started in 2 minutes