Select a membership level
Kaine Patreon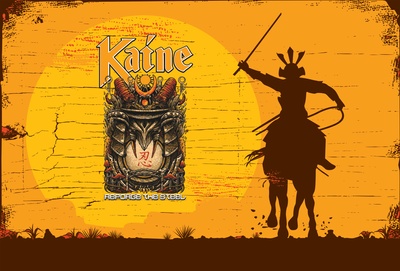 Become a Kaine Patreon for $1 (82p) a month ($12 for the year) and we'll give you a new full colour t-shirt/limited edition patch (both only available to Patreons) once a year plus free download codes for our most recent album (upon joining) as well as exclusive access to videos not available elsewhere. 

$1 a month gets you a full colour t-shirt and patch a year - limited edition designs only available on Patreon. This helps us record music, print CD's, press vinyl, rehearse, afford to play gigs + more

The money raised from Patreons will help us to continue to afford to record albums, print our music and merch, pay for band rehearsals, and keep us playing live. The shirts and patches will be different every year and available in all sizes (we'll ask before sending them out), designed by our artist Silencer8 and there will be a new one every year for those who continue to be our supporters in this way.

The first shirt and patch will be made available to Patreons later this year. 


About
Kaine is a Heavy Metal band who recently released their fourth album - Reforge The Steel 

Our Patreon's get a t-shirt/patch with an exclusive design once a year for less than £1 a month.   We will also credit you on album sleeves and all future YouTube productions. 

Kaine are influenced by the likes of Black Sabbath, Judas Priest, Saxon, Iron Maiden, early Metallica and more, Kaine was originally formed by vocalist/guitarist Rage Sadler in 2009. The band has since has released three studio albums in Falling Through Freedom (2012), The Waystone (2014) and A Crisis of Faith (2018) and has played the main stage of festivals such as Wildfire (2015) in Scotland alongside the likes of Diamond Head, Tygers of Pan Tang, Holocaust etc. and Hard Rock Hell Metal (2018) with Alestorm, Evil Scarecrow, Grave Digger and more.

Kaine toured twice in 2014 to support the release of The Waystone, the first being a UK tour alongside Monument and the second was a full Britain and Ireland tour with American Metal legends Mordred.

The line-up currently includes Liam Etheridge (drums), Toby Woods (lead guitar) and Isaac Healy (bass) after reforming shortly after the A Crisis of Faith album in 2018. They recently recorded and released a brand new album called Reforge The Steel which credited all the bands Patreon's on the CD insert. 

Become a patron to
Unlock 19 exclusive posts
Connect via private message