The Lunasea
is creating Visceral Media
Select a membership level
New Moon
Access to my patron-only feed. 
Early access to written works, DJ sets, and audio/visual projects. (You see it before everyone else)
My Eternal gratitude, and hugs!
Waxing Crescent
Everything from the lower tier plus:
Your preferred moniker in the credits of all published projects.
Bonus hugs.
Half Moon
Everything from the lower tiers plus:
Access to a private Discord channel.
Exclusive link to hand curated video mixtape for each DJ set.
Triple bonus hugs.
Includes Discord benefits
About The Lunasea
Hi, I'm Kait Moon and this is my Patreon.
I have been on Patreon for more than four years sharing my work and taking inspiration from patrons and supporters like you! I share my work in various media as a
writer, artist, DJ, and social media content creator.
You can see more of my eclectic body of work by looking through my public posts here on Patreon and scrolling down to find me on social media and the web.
If you are new to this platform and aren't sure what Patreon is  -
go here first.
Ready to learn more about how we can use this space together?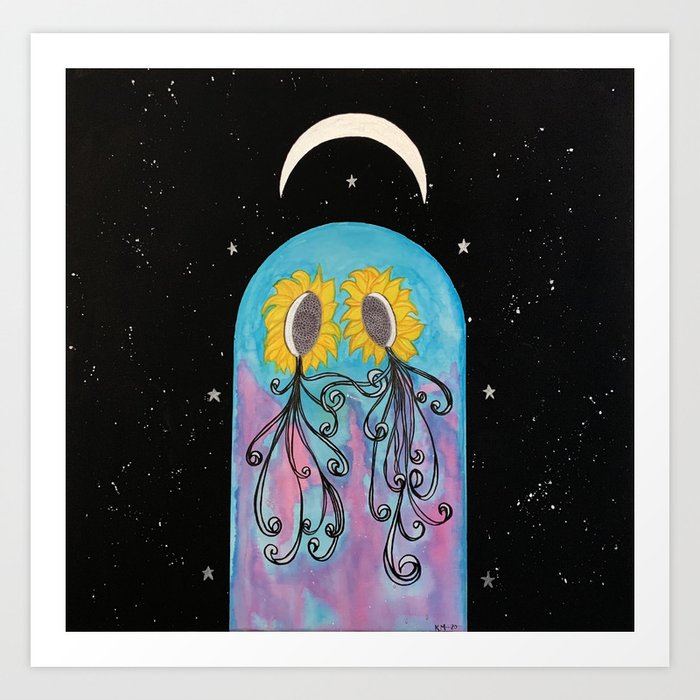 [image description: Painting of "Comfort "by Kait Moon. Two Sunflower-headed creatures float in a nebula-like cloud, an arch above them, the crescent moon hangs over the arch and the background and all around the arch is all velvet black with stars. They have ribbon-like appendages where the stem should be which are reaching out and entwining with each other]
By becoming a patron, you and I create a visceral connection, by sharing in this work we build a bridge to each other. One that helps us find our way through this complicated and fractured world. One that connects us and all those who are exposed to the work.
Your support directly contributes to sustaining our community and provides a net for future generations. Joining contributors from
14 countries
around the globe you help us continue to build on our foundation of love, art, acceptance, and community.
[image description: Painting of "Moontide" by Kait Moon. A mercreature embracing a skull floats in a placid sea, their two tails curling on either side of them. Their body marked by time, the full moon is rising in the background. The sky is studded with stars. Their black hair comes to a point at their forehead and is cut in a bob, perfectly framed by the Moon. Their eyes are streaming tears but their face shows no emotion.]
This work is more than just a passion, or vocation it's a way of living together on this planet that exemplifies what community can do to help build a sustainable life no matter what the challenges. 
In addition to all that awesome interconnectedness, you also receive access to exclusive feeds, discounts, pre-releases, and more. Check out the options and sign up today!
Every dollar counts,
every comment and share
supports the work, and connects us to new allies waiting to engage with the creative spirit of our worldwide community.
Join us today, let's "Turn poison into medicine", together!
Thank you for giving me your time, which is your life, and for the opportunity to share my life and work with you. Each connection is a gift. I can't wait to share all I have to offer.
Big love and genuine thanks to the hundreds of supporters that have sustained my work here and all those to come!
Kait Moon 
Keeping the lights on! At this level my domain, webhosting, storage, store and other overhead are paid for. This keeps me focused on my creative projects, instead of the hustle.



2 of 3
Become a patron to
Unlock 231 exclusive posts
Connect via private message
Recent posts by The Lunasea
How it works
Get started in 2 minutes