Kalamity Jane
is creating cartoons, animation
Select a membership level
The Animator Thanks You
Join us on this crazy adventure!
Includes
Mitchell Has a Joke Just for You
Get early access to podcasts and dev videos!
Includes
Exclusive blog posts
Early access to podcasts and videos
Kalamity's New Protege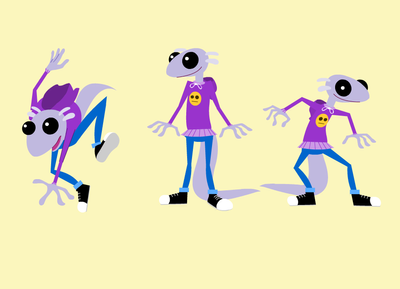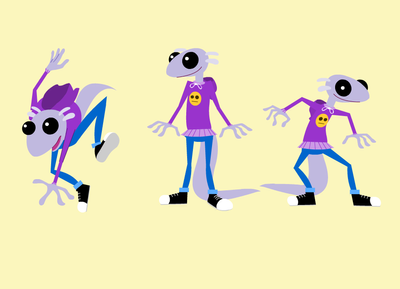 Get samples of scripts and animatics of new episodes!
Includes
Exclusive blog posts
Early access to podcasts and videos
Sneak peeks at scripts and animatics
About Kalamity Jane
The New Name in Teenage Salamanders
Kalamity Jane is a teenage salamander, and with that comes everything you'd expect: angst, awkwardness, unwieldy tails. After her mentor meets an untimely end, Kalamity must continue on without him, forging her own way in the world; her training half complete, her tail always in the way. Oh, and by the way, she's a teenager. So she struggles, much like we all have, with finding her place in the world.
The Kalamity Jane Adventure Hour
takes fans on a wild ride through an unpredictable world, with even more unpredictable characters. And the best part? This hour is only eleven minutes long!
Target Audience
Do you like action? Adventure? Tales of daring do? Then
The Kalamity Jane Adventure Hour
might just be for you! Set in and around the small town of Dry Gulp Gorge, Kalamity Jane and friends shoot up Warhogs, spar with spoiled fembots, and push back the tide of an animated menace. And we promise, all of this will make sense at some point. Kalamity's monthly hour of adventure will always have elements of classic Westerns, golden age Hanna-Barbera action cartoons, and the absurdity of Adult Swim.
The Kalamity Jane Adventure Hour
is perfect for teenagers and up. The silliness combined with a subtle adult appeal, with a dash of nostalgia thrown in for good measure, is intended to be fun and action packed. "Serious" is definitely not a word you should expect to find in our vocabulary.
About the Creators
James Jacob
James has been working with stories, animation, and games for a long time. Over the years he has collected a number of techniques to produce cool stuff with speed and efficiency. This has allowed him to deliver content for numerous clients during the day while working on partnered projects at night. He also makes great enchiladas and hates to brag about it.
Eric Studer
A fifteen year veteran of the video game industry, Eric has worked as a producer in design, engineering, audio, and most importantly cinematics. He has a broad understanding of what it takes to produce consumer entertainment that comes from his diverse experience in the industry. He is also a passionate writer and editor, specializing in short fiction and screenplays.
Our Goals
Develop four short cartoons featuring Kalamity and her eclectic friends and foes.
Release one episode at a time with "behind the scenes" content between each release.
Produce podcasts, promotional videos, and other grass roots marketing materials to help promote the property.
Lay the groundwork for future episodes, and continue development of the Kalamity Jane Adventure Hour concept.
To Our (Future) Fans
We want to say thank you to everyone that supports us and gives us a chance to bring a few laughs and a smile or two into your life.
The Kalamity Jane Adventure Hour
is a passion for both of us, and your support makes it possible. So from the deepest part of our hearts, thank you. The show would not be possible without you.
$4.31 of $1,000
per month
Pre-production costs and planning are the focus of this funding goal. This includes completing the animatic for the whole episode and initial costs as we move into full production.
1 of 3
Become a patron to
Connect via private message
Recent posts by Kalamity Jane
How it works
Get started in 2 minutes