Stormfire Productions
is creating a witchy audio drama
Select a membership level
Sigil Witch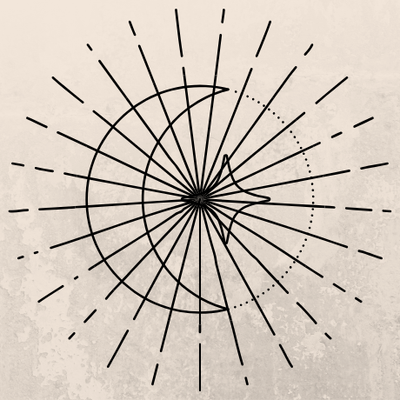 By becoming a Stormfire Productions patron, you automatically get access to a wealth of exclusive content as well as a physical gift sent to you on each equinox. Previous Equinox gifts have included bookmarks, stickers, pins, and postcards. 
+200000 positive vibes 
Exclusive access to the Patron feed which includes bonus material like production updates, fanart, early views of episode graphics
The first section out of Kal's grimoire: Grounding Magick
A patron-only special episode
Monthly digital sigil
Curious Dabbler
Exclusive access to the Patron feed, the biannual Sigil gift, the Grounding Magick page, the rest of the pages out of Kal's grimoire, and
access to the NEW podcast mini series "Ask Eldritch" premiering October 2019!
+200000 positive vibes 
Exclusive access to the Patron feed which includes bonus material like production updates, fanart, early views of episode graphics
The first section out of Kal's grimoire: Grounding Magick
A patron-only special episode
Monthly digital sigil
Kalila's entire grimoire
ASK ELDRITCH series (spin-off audio drama exclusive to Patreon) 
True Initiate
Not only will you receive access to Kal's grimoire, ASK ELDRITCH episodes, and a sigil gift twice a year...you will access monthly digital mini spell and a fact from the world of Brushland, and receive a sticker and a spell bag for safe travels. 
+200000 positive vibes 
Exclusive access to the Patron feed which includes bonus material like production updates, fanart, early views of episode graphics
Weekly "Shadow Reads" mini eps that YOU write and WE produce
Bi-monthly "Story Behind the Story" videos
The first section out of Kal's grimoire: Grounding Magick
A patron-only special episode (due 2019)
Monthly digital sigil
Equinox gift (March & September)
The rest of Kal's grimoire
Bi-monthly ASK ELDRITCH episodes
Monthly mini spell
Monthly Brushland world fact
Safe travels spell bag
Sticker
Note: Physical perk fulfillment occurs after 2 consecutive months of pledging. The package will take up to 4-6 weeks for shipping.
About
STORMFIRE PRODUCTIONS PRESENTS:
An audio drama about a witch juggling complex clients and a mysterious saboteur trying to ruin her business. 

What is Stormfire Productions? 

Stormfire Productions, LLC
is a company dedicated to producing stories that matter. It is owned and operated by Lisette Alvarez. 
Who is Lisette Alvarez? And why aren't you Kalila Stormfire?
Hi! I'm just your average Cuban-Canadian-American bruja who loves storytelling and the occult. Preferably together. Hence, my new podcast
Kalila Stormfire's Economical Magick Services
, an audio drama about a witch's documentation of her clients and how she deals with a mysterious saboteur who is trying to destroy her magick business.
Who would want to listen to a story like that?

If you're a fan of stories dealing with shapeshifting dogs, love spells gone wrong, astral projection, angry dead rich dudes, and morally ambiguous witches...this podcast might pique your interest.
When will the podcast premiere? How long is it?

This first season was 13 episodes, around 15-25 minutes each. The season debuted on February 2018, completed in August 2018.
Season Two premiered April 1st, 2019 with 13 episodes to be released on the 1st and 15th every month. There will be a hiatus over the month of August, and the final episode is scheduled to be released on Halloween 2019. 
The third season, which will be the final season, is scheduled to premiere Spring 2020.
Where can I find/subscribe to the podcast?

The official website is 
kalilastormfire.com
. The latest episodes are already publicly posted for your ears here on Patreon and a page out of Kal's grimoire is posted in the patron-only feed.
The podcast is currently available to subscribe to on 
Libsyn
, iTunes, Spotify, Google Play, Pocket Casts, and Stitcher.
Why produce this story?

The idea for this story came about because yes, I--like Kalila--am a brown, queer witch. While many of the practices, potions, and spells are entirely fictional, they are based in some version of the truth. I've picked up plenty of juicy, witchy, storytelling-worthy notes in my years studying and practicing witchcraft, mysticism, the occult, and folk religions.
I love creating new stories and this story is the product equivalent of enthusiastically diving off a cliff without a parachute. I fell in love with the audio drama format recently;
Welcome to Night Vale
enlivened my idea of storytelling mediums. Like every creative person, my core hope is that someone will look at my story and think "Hey, this is a pretty cool thing, I think I know a few other folks who might like the thing".
You can learn more about me at 
my website
. 
What will you be doing with any Patreon support?

If you like the podcast, I would be honored if you help support me as I record, perform, edit, and publish each episode! I also have a few more stories in the pipeline and I would love to bring those stories to life. My goal is to use any extra funds to give a raise to the cast and crew and support future work.
Kalila Stormfire Budget (Season 2):
Libsyn for RSS hosting/distribution: $15 per month
Website on Squarespace: $16 per month
Domain: $20 per year
Sound Designer: $100-$150 per episode (up to $2,000 for the season)
Actors: $20-75 per person per episode (averaging $200 per episode)
Incidentals (shipping costs, merch production, special episodes, etc.): $50-$100 per month
TOTAL = $500 monthly on average

I believe in paying creators and artists fair wages. Actors are paid $75 for features like character mini-episodes and supporting roles during at least half of a full episode, and $20-40 for small features like 1-2 short scenes or lines in a full episode. In order to keep cast list short so people can receive a decent paycheck from this project, most actors will be asked to play multiple roles.
Volunteer actors are and have been appreciated, but any volunteer actors will be at least be appreciated in the form of a complimentary tea/coffee/cupcake--especially if they visit me in DC (looking at you, Danny & Kira!).
We raised $2,700 in our IndieGoGo campaign, which largely supports paying Sarah Buchynski, our sound designer and covers incidental acting and marketing costs. At this point, the funding on Patreon covers our actors and our monthly hosting costs.
Ideally, I would like to pay myself for my work. I put around 8-10 hours of writing, directing and acting per episode. I also work as the sole marketer, from pushing merch to engaging with folks on social media about 5 hours per week. In total, that's about 15 hours per episode or 30 hours per month. According to where I live, in the DC-area, living wage would be about $17 per hour. Just paying myself would add up to $510 per month.
However, I have a full time job and I can afford take some of the above out of pocket. The reason I am breaking this down is so people can know how much work audio drama creators--even amateur ones--actually put into getting a podcast up.
Audio dramas are an incredibly exciting art form and I am thrilled to join the ranks of other creators. Thank you for your support and I hope you enjoy Kalila Stormfire's Economical Magick Services.

Stay tuned for updates on this page and on Twitter.

--

Note on fulfillment of physical perks:

Due to the time and energy it takes to fulfill physical perks, they are only shipped out to patrons who pledge for more than 2 consecutive months. Life and finances change, which is completely understandable. Please choose levels that are sustainable for you. The IndieGoGo campaign for Season 3 will also be a good way for you to pay once for perks you want! I appreciate your patience and support however you can manifest it. Thank you.

$456.91 of $500
per month
If we pass this point by season 3, I will commission the wonderful artist Marion Parajes to create a piece of patron-polled artwork (that's right, YOU'LL get to choose what part of the Kalila Stormfire world you want to see). A full-size, photo-quality print will then be sent to all patrons.

I will also be able to give a 20% raise to the actors, the sound designer, and myself!

5 of 6
By becoming a patron, you'll instantly unlock access to 141 exclusive posts
By becoming a patron, you'll instantly unlock access to 141 exclusive posts
Recent posts by Stormfire Productions
How it works
Get started in 2 minutes