I'm Karolina Laskowska and I make underthings that are so ridiculously decadent and deeply impractical that they're basically art.
I nerd out on historical garments, then spend thousands of hours making crazily detailed gorgeous things that will probably never sell, because what lifestyle really involves wearing a bobbinet tulle corset outfit covered in carefully mirrored handmade lace outlined in jewels and spikes?
You love it anyway, though. I do too. So how do we make these confections come to life without needing to be hired by a couture house? We club together on Patreon and BOOM, in an explosion of ridiculously expensive materials and sheer genius, super fancy underpinnings comes into being. Like this:
Photography by Jenni Hampshire. Modelled by Yazzmin Newell, Twig & Maz Spencer. MUA by Sammm Agnew.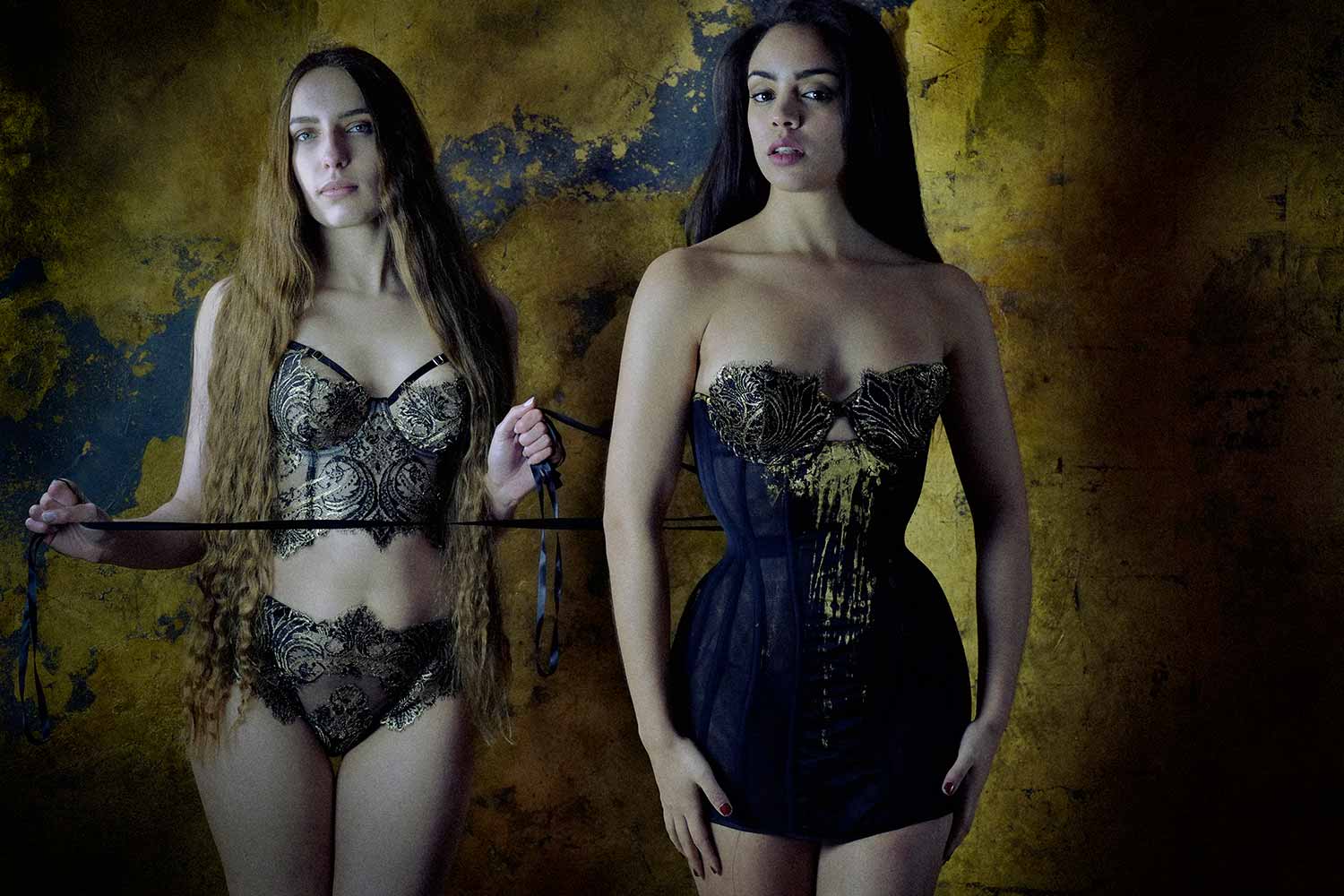 Photography by Jenni Hampshire. Modelled by Karolina & Yazzmin Newell.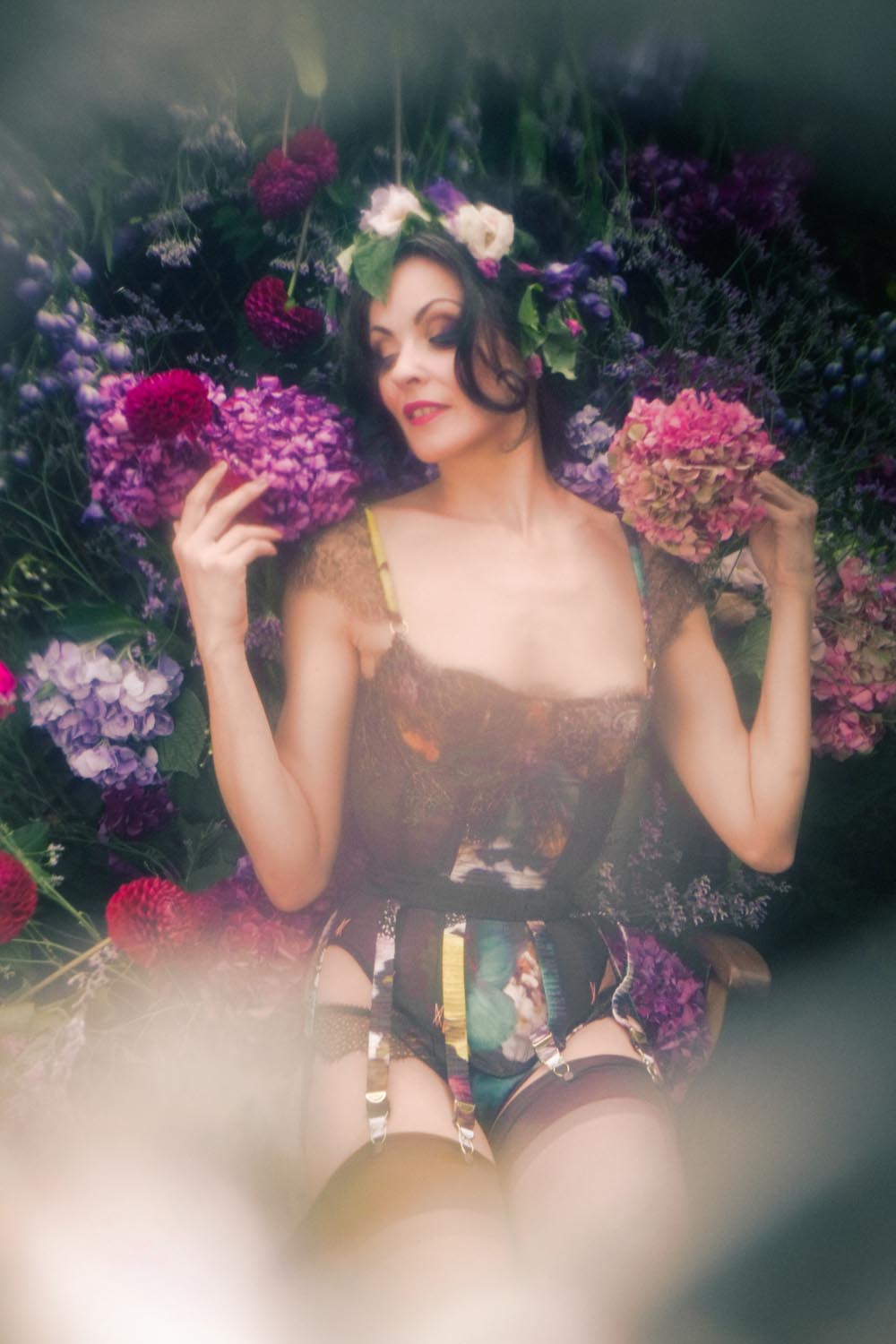 Photography by Jenni Hampshire. Modelled by Maz Spencer. MUA by Sammm Agnew.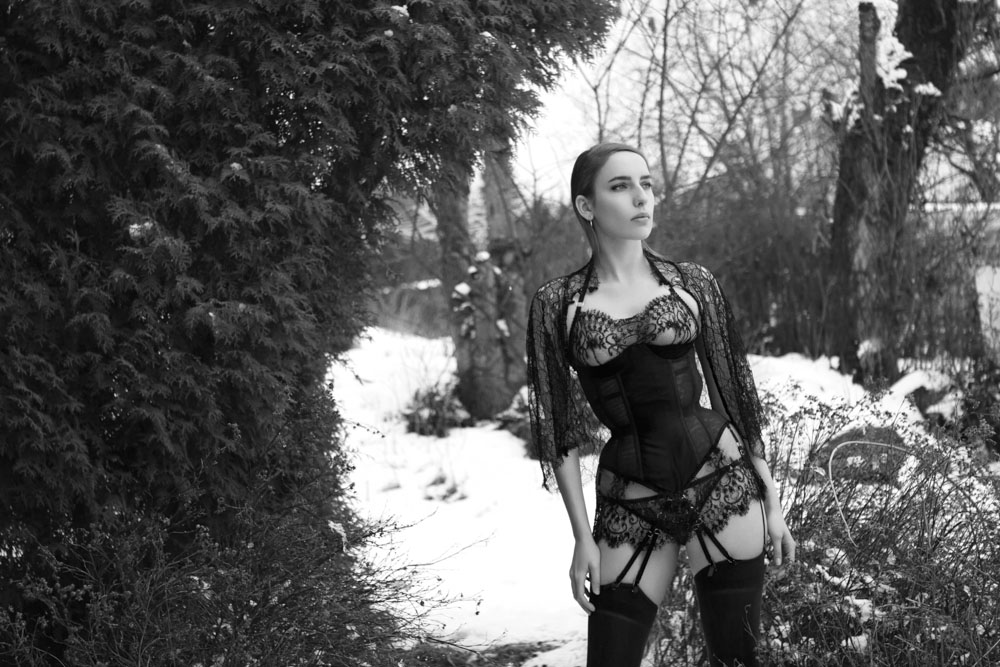 Photography by A. Lindseth, retouched by Catherine Day.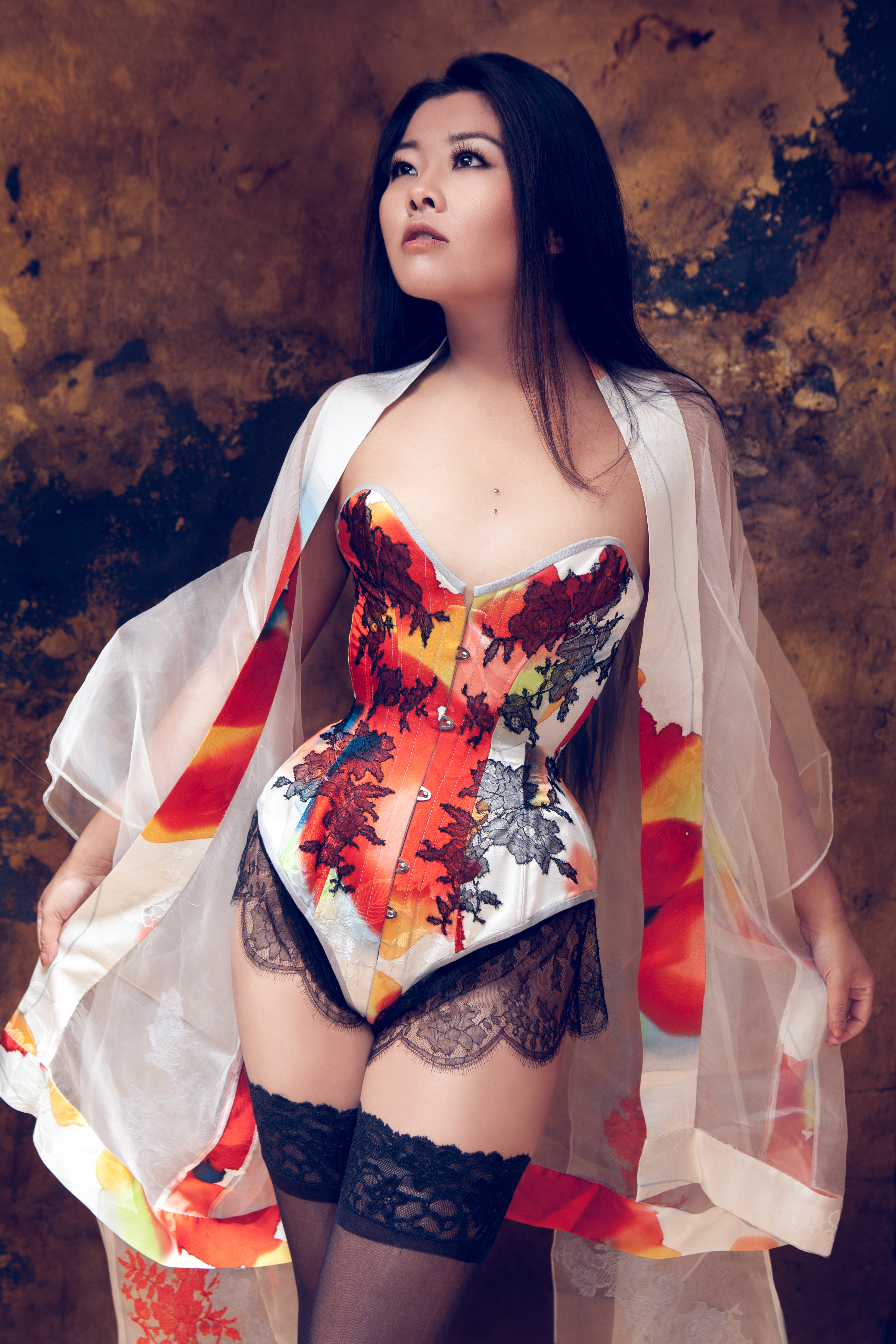 Photography by InaGlo Photography, modelled by Twig.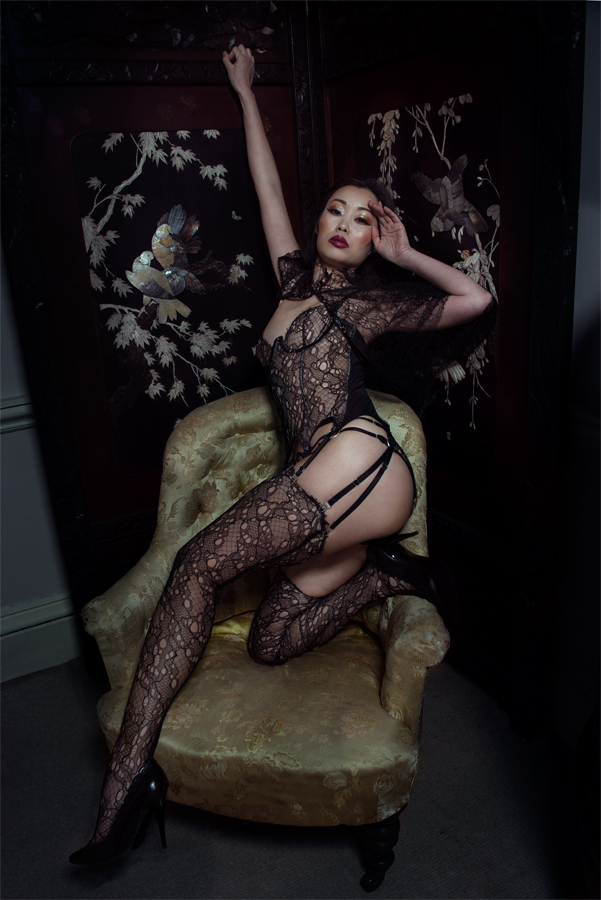 Photography by J. Tuliniemi. Modelled by Ceci Zhang. MUA by Anitka Kwiat.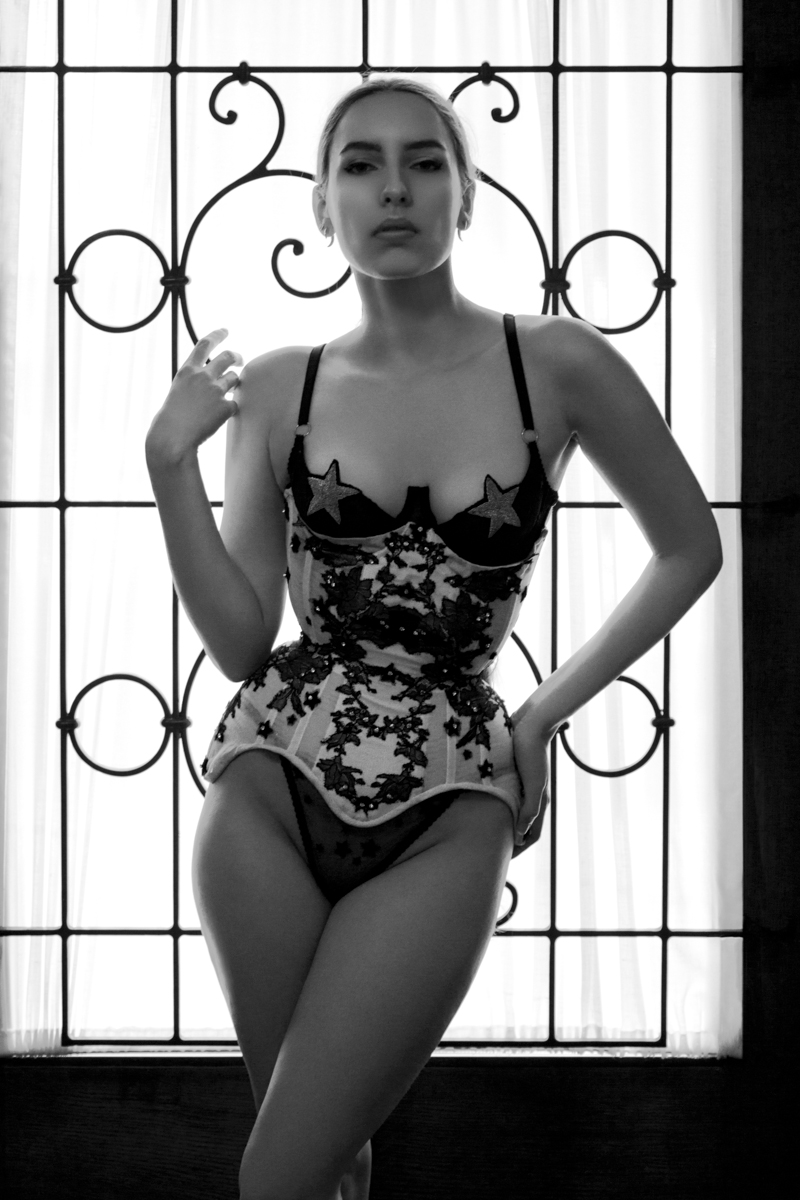 Photography by A. Lindseth, retouched by Catherine Day.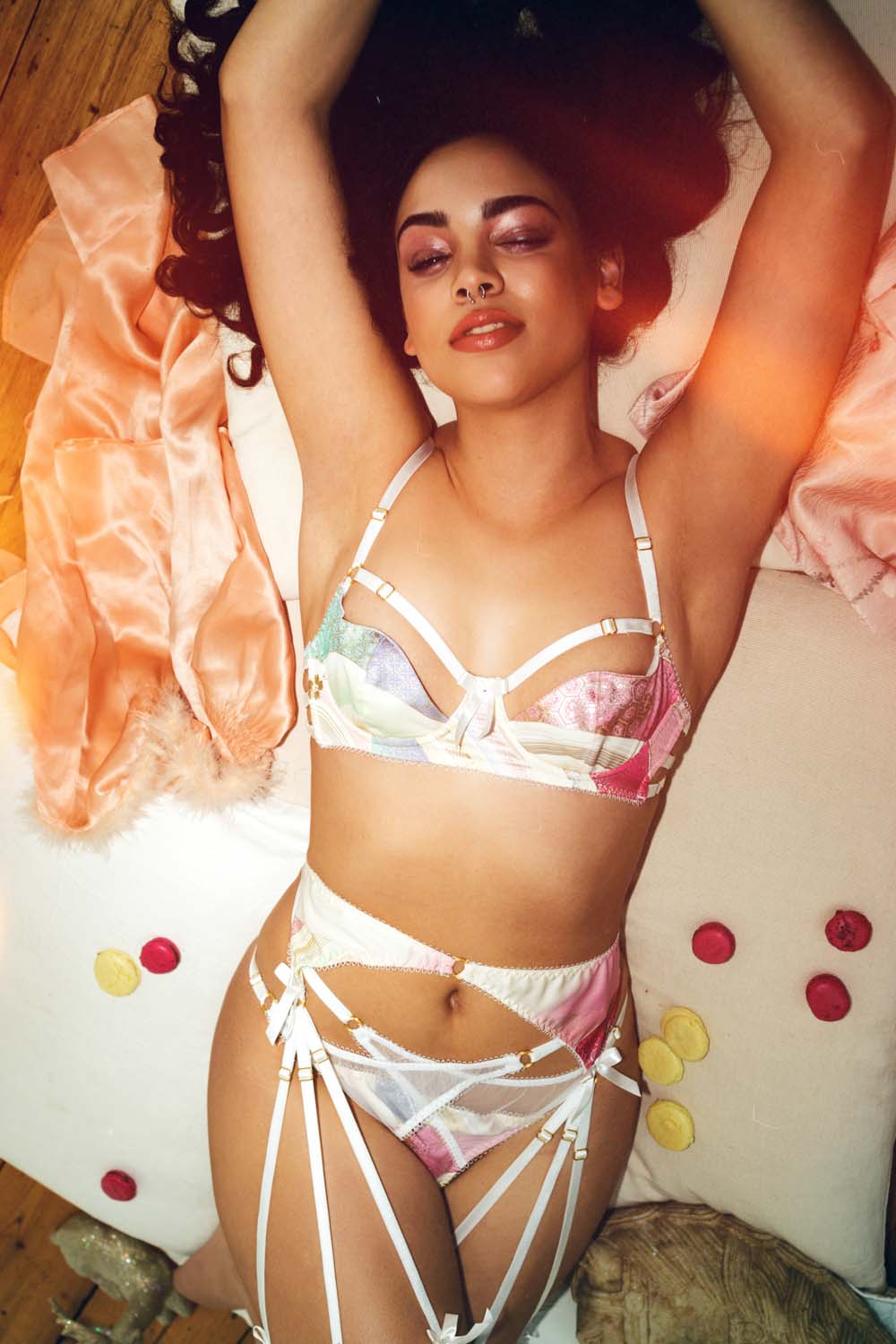 Photography by Simon Crinks, modelled by Yazzmin Newell, MUA by Violet Zeng, macarons by Zoe Anderson.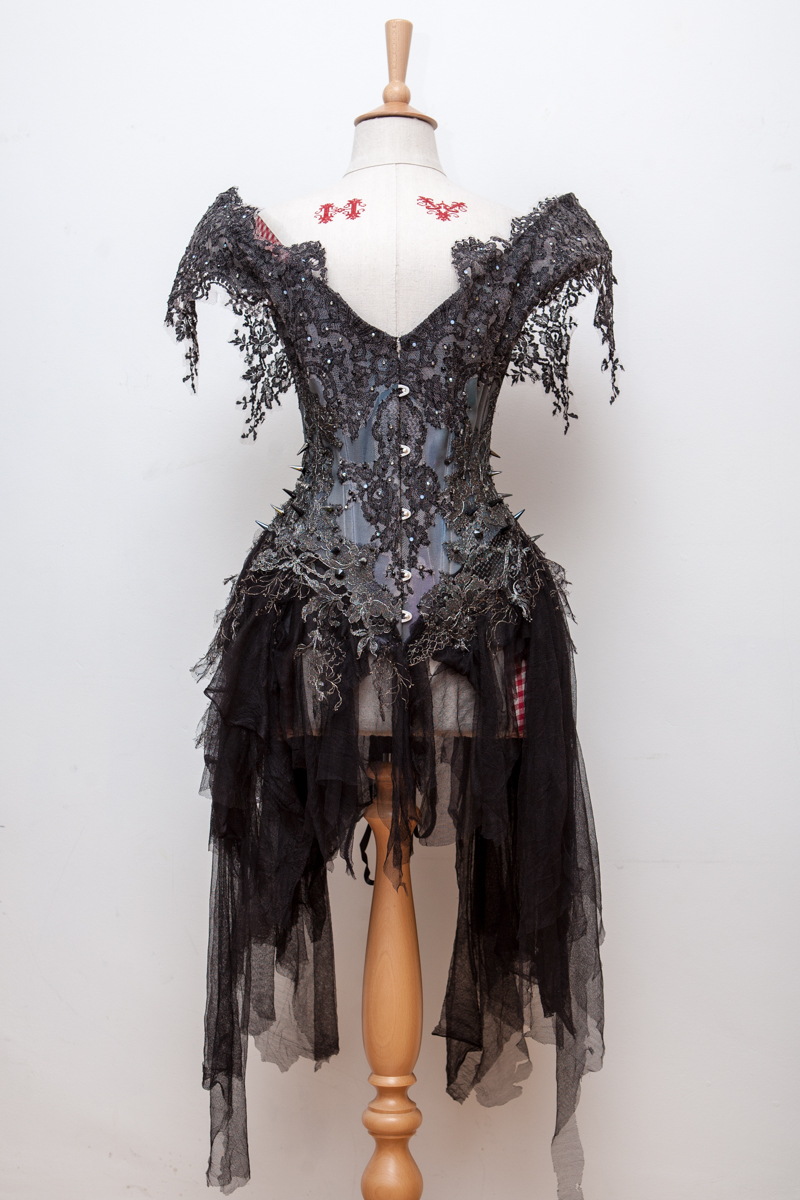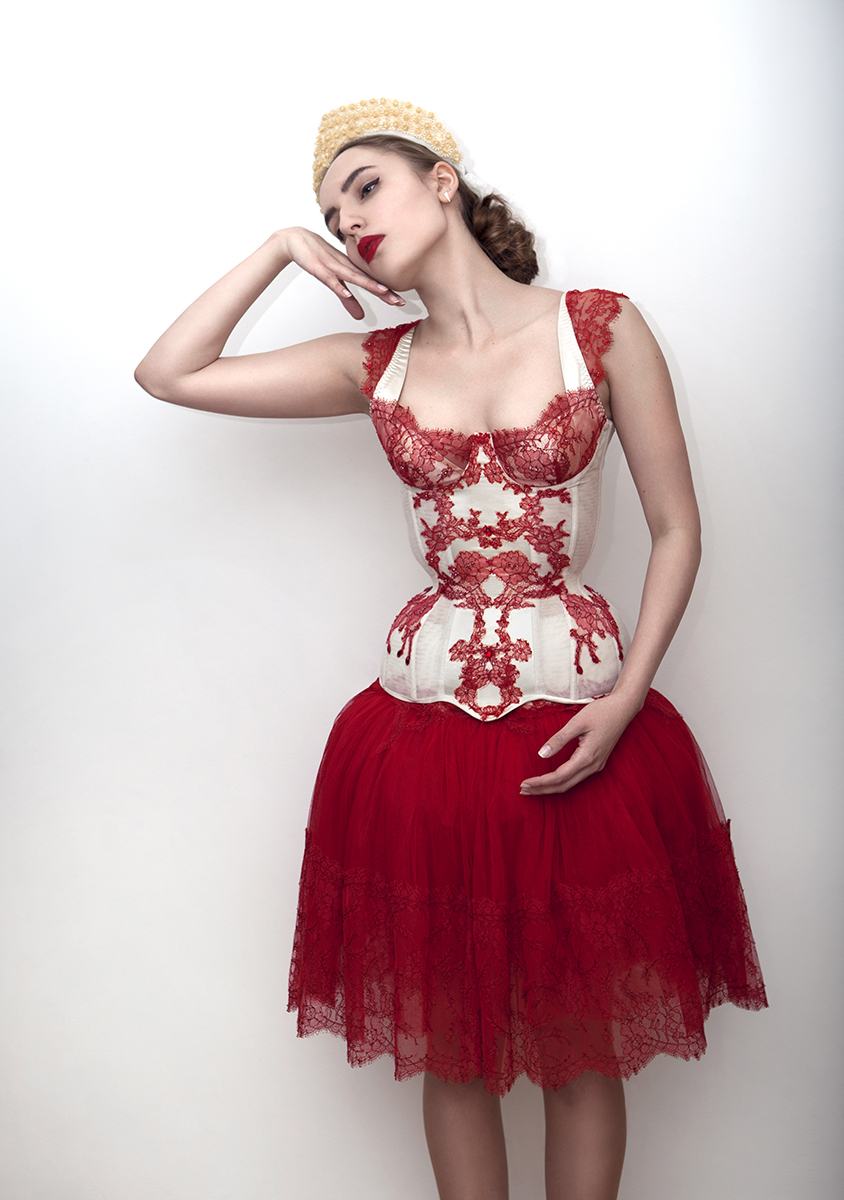 Photography by Karolina Laskowska, retouched by Catherine Day.
These garments are made from materials that cost hundreds of pounds, with research, sampling and expert level labour on my part that lasts for days, weeks or months. Most of them involve up to a hundred hours just of hand stitching: physical labour that takes its toll and requires exceptional skill and patience. 
Join me for the ride and you'll see every part of that process, from my initial dreams through the design process, finding the materials, developing the original pattern, and then the fittings, stitching, embellishments and photoshoots. Plus also the swearing, tears and melt-downs when reality doesn't match inspiration! There'll be Q&As and tutorials, plus essays on underpinnings-related topics close to my heart, rambles about underclothing history and the stories behind past designs and collections. Whether you're just here for the pretty or you want to get into making, there'll be something for you.
Love the pictures but want to know what my writing is like? Check out my current work on
The Underpinnings Museum
,
The Lingerie Addict
, and
Knickerbocker Stories!


-
Karolina Laskowska's Privacy Policy
This Privacy Policy describes how and when I collect, use, and share information when you contact me, or otherwise use my services through the Patreon platform. This Privacy Policy does not apply to the practices of third parties that I do not own or control, including Patreon.
Information I Collect
To fulfil Patreon rewards, you must provide me with certain information such as your Patreon membership name, Facebook display name and direct correspondence.
Why I Need Your Information and How I Use It
I rely on a number of legal bases to collect, use, and share your information, including:
• as needed to provide my services, such as when I use your information to fulfil your Patreon reward tier, to settle disputes, or to provide customer support;
• if necessary to comply with a legal obligation or court order or in connection with a legal claim, such as retaining information about your purchases if required by tax law; and
• as necessary for the purpose of my legitimate interests, if those legitimate interests are not overridden by your rights or interests.
Information Sharing and Disclosure
Information about my customers is important to my business. I may share your personal information for very limited reasons and in limited circumstances, as follows:
• Compliance with laws. I may collect, use, retain, and share your information if I have a good faith belief that it is reasonably necessary to: (a) respond to legal process or to government requests; (b) enforce my agreements, terms and policies; (c) prevent, investigate, and address fraud and other illegal activity, security, or technical issues; or (d) protect the rights, property, and safety of my customers, or others.
Data Retention
I do not retain any of your personal information via the Patreon platform. See Patreon's privacy policy:
https://www.patreon.com/privacy
Your Rights
If you reside in certain territories, including the EU, you have a number of rights in relation to your personal information. While some of these rights apply generally, certain rights apply only in certain limited cases. I describe these rights below:
• Access. You may have the right to access and receive a copy of the personal information I hold about you by contacting me using the contact information below.
• Change, restrict, delete. You may also have rights to change, restrict my use of, or delete your personal information. Absent exceptional circumstances (like where I am required to store data for legal reasons) I will generally delete your personal information upon request.
• Object. You can object to (i) my processing of some of your information based on my legitimate interests and (ii) receiving marketing messages from me after providing your express consent to receive them. In such cases, I will delete your personal information unless I have compelling and legitimate grounds to continue using that information or if it is needed for legal reasons.
• Complain. If you reside in the EU and wish to raise a concern about my use of your information (and without prejudice to any other rights you may have), you have the right to do so with your local data protection authority.
How to Contact Me
For purposes of EU data protection law, I, Karolina Laskowska, am the data controller of your personal information. If you have any questions or concerns, you may contact me at
[email protected]
, or mail me at 1<sup>st</sup> Floor, 151-153 Uxbridge Road, West Ealing, London, W13 9AU, UK.