Kathryn O'Shea
is creating music + musings
Select a membership level
FAR + NEAR TIER
YOU ARE MAGNIFICENT JUST FOR EXISTING.
Here in the
$1-$10 Tier
 you'll find:
YOUR PERSONALIZED WELCOME POSTCARD

because you're basically my hero <3 

Access to the PATRON-ONLY FEED with content like

first-listen opportunities for all releases
raw, unedited process recordings
journal pages
poetry + musings
interactive discussion posts
anything else my art-brain feels like spitting out

MONTHLY LIVESTREAM CONCERTS

every month, I'll hold a patron-exclusive livestream concert for my community here on Patreon! 
I'll be sharing a lot of brand new material that I would normally never play in a show setting... gotta say, I'm really excited about this part :)
OH, MY DEAR TIER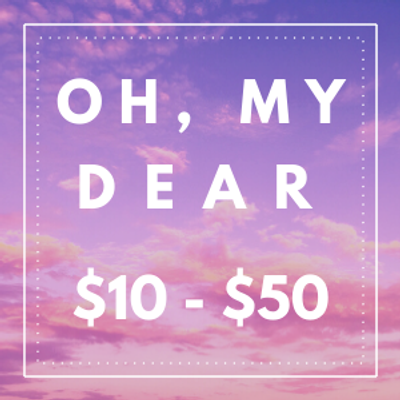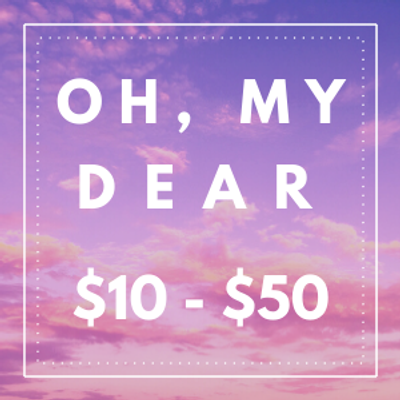 YOU ARE THE WIND BENEATH MY WINGS.


Here in the
$10-$50 Tier
 you'll find:
Everything from the first tier, PLUS...
MONTHLY LIVESTREAM ROUNDTABLE


these are basically me and *special guests* just shootin' the shit on livestream with y'all :D
you'll meet all sorts of characters... friends of mine, musicians, artists, my boyfriend, my mom... you get it. you're REALLY gonna like my mom, too. just sayin.
sometimes we'll have living room jam sessions!
sometimes we'll have serious life talks and go real deep and personal on you.
big part of this is YOU!! we want to make it as interactive as possible. you get to drive the bus!
SOUVENIR TIER
Limited (20 remaining)
DID IT HURT? WHEN YOU FELL FROM HEAVEN? ;)
Here in the
$50 OR MORE Tier
 you'll find:
Everything from the first two tiers, PLUS...
FUN SURPRISES in the mail 

there's all sorts of junk this could be. inspirational love note postcards reminding you you're super cool just because you woke up today... stickers... I might even send you one of my childhood toys or some shit, stay tuned.

Entry into MONTHLY RAFFLES with prizes like:

a hand-written page of lyrics to your favorite song of mine
merch items
physical copies of my new album "January 9th" (not available yet)

Lastly for these supporters, we will play with making your patron experience unique to you and your contribution. You want guest list passes to a show? Let's talk. Voice lessons on skype? Let's talk. Are you really ballin' out here and wanna use me as your human radio at your next dinner party? I gotchu. This is gonna be a fun one. <3
About Kathryn O'Shea
Well, folks. It seems like we're not gonna be waking up from this weird fever dream any time soon. So in the interest of making lemonade…
Welcome to my Patreon
!
Here, in the magical land of
creation-based subscriptions
, instead of exchanging charisma for dollar bills from behind a bar, I can exchange
music and musings
and small pieces of my soul for
monthly donations
. Don't worry. I really, really like giving away bits of my soul. There's plenty to go around, I promise.
Basically, here's how it works: You choose
ANY dollar amount
you want to donate on a
recurring monthly basis
, and in return, I
create work
and
send it to you
, including parts of my process that no one else gets to see. And at different tiers of donation, you get different rewards and different kinds of interaction. It's crowdfunding, a lot like kickstarter or indiegogo, but instead of relying on one big lump-sum fundraiser, the continuous flow of micro-payments by a group of subscribers creates community and gives creators the gift of a dependable monthly stipend. In return, you get
ultra-exclusive content
like peeks into my
actual freaking journal.
I honestly can't believe I'm offering that to anyone… but I like to say I'm a big fan of vulnerability, so let's walk our talk, shall we?
Picture this
: I release a new song. A shiny, pretty, studio-recorded song.
BUT!
Months before that shiny, pretty thing gets released to the public, you know all about it. And as I develop the song, you're hearing the progression of
raw voice memo recordings
. And seeing photos of the
journal pages
I'm writing on. And reading my anxious 
musings
as I determine whether or not to even pursue the song as a viable life source for meaningful art and inevitably digress into the philosophical unimportance of art being "meaningful" at all…
Basically, if you have ever asked yourself where my music comes from or how I write it, you should TOTALLY
become a patron
. You can get access to everything I just described for literally as low as
$1/month
. No, I didn't forget any zeros, but thanks for asking, and let me remind you that if it's zeros you desire, you are fully entitled to give any grandiose amount that you may want to.
;)
As a newly unemployed bartender and gig-less musician, I won't mince words... I am broke as shit. But
so is everybody
. This is why it's extremely important to me to keep a lot of the juicy interactive content accessible to the $1 level. If you're here, you're here. And that has nothing to do with whatever number comes after the dollar sign on your Patreon receipt. Wanna throw in $3/month? That is
INCREDIBLE
and
I LOVE YOU
. But hey.... if you've got $500/month just layin around you wanna pitch, I am NOT gonna fight you on it. This is what Patreon is for!! Letting creators focus on creating and letting generous folks support them just because they love their work. 
The reality is that even before that bitch coronavirus showed up, the arts economy was
broken
. Independent musicians can't rely solely on album sales. And they sure as shit can't rely on touring. The industry systems in place were antiquated and insufficient even before my gig calendar and restaurant job simultaneously evaporated overnight. 
But, money aside, my #1 priority in this whole venture is to just
be WITH you all
. As you may know already, I released my debut album recently... on the internet. Without singing on any stages anywhere. Or hugging anyone. And I've gotta be real with you guys... the lack of face-to-face interaction left a lot to be desired for a fluttery little social butterfly like myself. Don't get me wrong… I was 
astounded
,
humbled
, and
galvanized
by the level of heartfelt support I received surrounding this album release. But... I… I... 
I just miss you guys
. I've always made music to
connect
. Both with myself
and
with others. And this whole socially distanced twilight zone we're living in has made it feel more imperative than ever to find new and inventive ways to share my heart with you, even if all we've got is the internet.
So if you'd like to come along for the ride,
jump on in
, my friend. I can tell you already that I'm lucky to have you. Yes, you, stranger-friend on the internet who decided my Patreon link was worth clicking, and then somehow proceeded to make it this far in my exceptionally rambling introduction. Honestly, if you're still reading this shit, you're going to
LOVE
it here and I'm going to
LOVE
you. So let's just go ahead and collectively lean into the spaces of each other's hearts that need a good cobweb sweep. 
Stay safe out there, and know you're well-loved in this heart
.
If you have more questions about how Patreon works as a platform, 
THIS
video does a super great job of explaining.
Upon reaching 50 PATRONS, I'll host an ALL-PATRON interactive webcast and read my favorite children's book of all time to you while dressed in character. Let's make this happen y'all.... I can't WAIT to have an excuse to do that. 
1 of 1
By becoming a patron, you'll instantly unlock access to 55 exclusive posts
By becoming a patron, you'll instantly unlock access to 55 exclusive posts
Recent posts by Kathryn O'Shea
How it works
Get started in 2 minutes