Kavita Kat Macmillan
is creating kirtan & devotional music for listening & learning
Select a membership level
chant with me
lyrics, mantras, inspirations & meaning for songs & chants + all acess to patron videos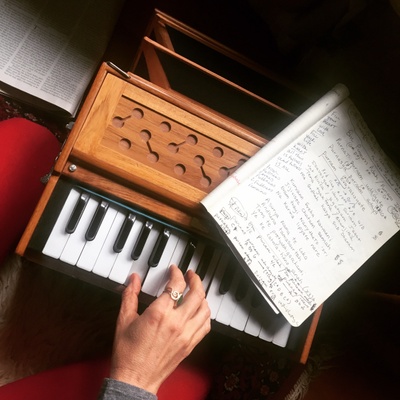 learn to play and chant
access how-to videos of each of the chants I post so you can learn to play them plus access to general harmonium and chanting instructional videos.
About Kavita Kat Macmillan
Hello friends and welcome to my Patreon page!  This is a place where I can share with you devotional music and an expansive exploration of mantra, voice & sacred sound. 

When I decided to devote my life to yoga and music many things started to shift.  Doors tend to open when we allow ourselves to be in our bliss!  I invite you all to step into your own awakening of the music and sound inside of you.  Bhakti yoga is a practice for all.  Music and song can heal us.

This page is a portal to access the devotional music and sound yoga practices I am cultivating, and for those who want to learn how to play and sing, a place to find instruction and guidance on how to integrate and implement these practices into your life.  

On my Patreon page I will offer songs and chants every month, and for subscribers at the basic $3 patron level include some written lyrics & mantras with insights about the meaning and the inspirations for my writing / channeling the composition. 

As I begin to release the recorded music I currently have in production, patrons at the $5 level will receive first access to download the tracks as they are finished!  

For patrons interested in learning to play these songs on harmonium, at the $15 level there will be access to instructional videos showing  the fingerings & how to play the songs* I post so you can learn them.  I always advise my students to keep their playing hand simple, especially if you are new to playing so the voice and the fundamental tone stay connected.  

For more in-depth guidance with voice and / or harmonium, for $60  I offer a one-on-one lesson a month.  We begin where you are in your practice with the most simple way of connecting the voice with the sound or if you already have some comfort playing I help you to play one of the chants offered on the site (or another you are drawn to!)  This can be done once a month, or once in awhile with as much time as you choose for practice in between lessons.

For patrons that choose to support at the $108 level I offer deep pranams (thanks) and an opportunity to attend workshops, or retreats I offer for that year as my guest, as well as a monthly lesson for individual instruction, music downloads and access to how-to-play videos.  When I am playing at a festival or event near you, or one you'd like to attend, I offer you to come as my guest.

Check back for both free and subscription based content on this page and on my you tube channel and get in touch with your thoughts or questions.  It is an honor to share this practice in this life and I am grateful for your attention and support, in all ways. 

May my journey augment and accompany your own and may we continue to heal and grow in soul evolution.  Jai ma!

*original music & lyrics by kavita kat macmillan for some chants, all rights reserved.
I can be reached directly for usage.  Thanks!
With 20 patrons I will be able to invest in a new live-recording set up I have been saving for and implement more live-tracks as well as a live album to share online with you all!

2 of 2
Recent posts by Kavita Kat Macmillan