Hello, my name is Kevin Moore, a freelance cartoonist living in Portland, Oregon with two kids and two jobs as a librarian.
And I have two comics projects.
Fetch
Every Monday I publish a webcomic called 
Fetch
, about a cat-shaped demon who haunts my life. He brings out whatever latent fears or desires percolate within my subconscious mind. Occasionally he responds to current events and modern political debates. Fetch is where my political and personal selves collide in satire directed outwardly and inwardly.
As an example, here is the more political side.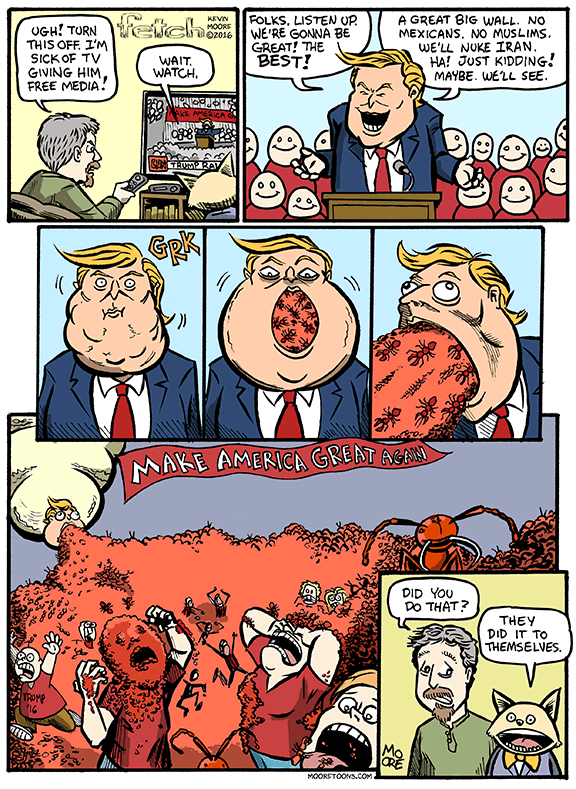 "Swarm" 2/28/2016
And here is the more personal side.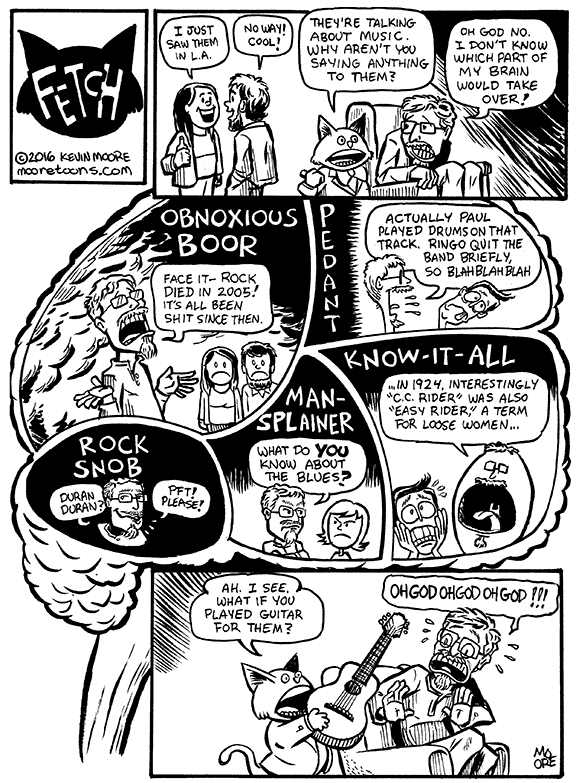 "Brain" 3/6/2016
Short Stories
I am currently working on short stories in comics form of about 10 to 20 pages (more or less) in length. My latest project is a modernized adaptation of
Nikolai Gogol
's classic short story "
The Nose
". Other short stories will cover a variety of genres, like speculative fiction, biography, personal memoir, and fantastical horror. I don't observe strict genre conventions, however, but like to see elements from one bleed into another. Whatever serves the theme, reflects human imagination and experience, and pushes me as an artist is what really drives me here.
Panel from a page of "The Nose"
Previous Work
My past work includes other webcomics. 
In Contempt
was a long-running political strip. 
Wanderlost
was a long-running adventure series about a little pig who ran away from home as often as possible. I have been a freelance illustrator and cartoonist for two decades and counting. You can find most of my work collected in online portfolios at 
Mooretoons.com
.
Future Plans

For
Fetch
I plan to publish annual collections. For my short stories, I want to publish them as individual zines at first, then compile them into anthologies when about 125 pages worth is produced. I would also like to put all of the
Wanderlost
stories into one collection.
Supporting My Patreon
By supporting my work through Patreon, you will encourage me to continue producing
Fetch
, political cartoons, and short stories in comics form. The more people who fund my work, the more work I can do. I work two jobs, so one big goal is to make enough money that I have to work only one. I enjoy being a librarian, but being a cartoonist has been a part of me since before I could read properly.
More salient than helping me fulfill my dreams is contributing to your enjoyment of life. If you like my work, supporting it will ensure its continued existence. But I have also created a rewards system based on monthly pledge levels. You can see those listed on the right.
Thank you for visiting this page. Anything you can donate means a lot to me. Cheers!