Kim Chayeb
is creating Poetry Performances
Select a membership level
Exceptional Explorer!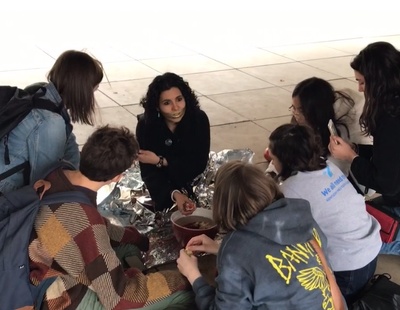 Personal thank you message!
Social media shout out!
Monthly behind the scenes content access (personal photos, sketches, word-associations, brainstorm process)
Awesome Advisor!
Limited (23 of 25 remaining)
Personalized thank you message!
Social Media shout out!
Behind the scenes access (personal photos, sketches, word-associations, brainstorm process).
Critique inner circle & poll participant (Your thoughts/ opinions matter to me! Become a part of my creative process!)
About
Kim Chayeb is an internationally known Passionate Pisces, Political Pantheist, Poetic Performer who graduated from the School of the Art Institute of Chicago with a BFA in 2015. Taking inspiration from the fact that she moved to Chicago from Charlotte, North Carolina and is originally from San Diego, California, her most recent works are informed by her lived experience as a wanderer and an explorer of a wide array of intersectional social justice issues.

Self-identifying as a femme-presenting queer person of color who endures different combinations of microaggressions in her daily life, Kim aims to use her body within her work to simultaneously subvert cultural traditions, gender roles, and stereotypes, while reinforcing the belief that everyone should have self-control over their own body and life choices.

While she believes performance art to be a vast spectrum of subjective interpretations, her own work periodically features elements of her experimental sound art, spoken word poetry, and/or fiber art. Kim has been a featured guest on 91.1 Vocalo Radio, WZRD Radio, Steppenwolf Theatre, Pilsen Fest, Citlalín Gallery, Steep Theatre's The Boxcar, DePaul University, Xavier University, at Thawalls (fundraiser hosted by Links Hall and Three Walls Gallery), Gallery 400, the Museum of Contemporary Art, and the University of San Francisco of Quito in Ecuador as well.

Kim Chayeb es una Piscis (a)Pasionada, Panteísta Political, y artista de Poesia Performativa conocida al nivel internacional. Como artista del Performance, artes escénicas, ella obtuvo una licenciatura en Bellas Artes de la School of the Art Institute of Chicago en 2015. Sus obras reflejan sus experiencias de trotamundos pues se mudó a Chicago de Charlotte, North Carolina, y es originaria de San Diego, California.

Asimismo, a través de sus obras explora una amplia variedad de temas relacionados a la justicia social a través de la interseccionalidad.Auto-identificándose como una mujer queer de color y en el amplio espectro de la sexualidad adopta primordialmente la feminidad. Dichas características la llevan a confrontar cotidianamente las microagresiones intersectoriales. En sus obras, Chayeb emplea su cuerpo para subvertir tradiciones culturales, roles de género y estereotipos. Con ello, reitera su filosofía de que todas y todos deberían tener control sobre sí mismos, sobre su cuerpos y sobre sus decisiones personales.

Kim Chayeb cree que el arte performático es un espectro vasto de interpretaciones subjetivas; de ahí que su obra periódicamente incluye sonidos experimentales, poesía, spoken word y textiles. Chayeb ha participado en Radio Vocalo 91.1 FM, WZRD Radio, el Teatro Steppenwolf, Pilsen Fest, Citlalín Gallery, Steep Theatre's The Boxcar, DePaul University, Xavier University, en Thawalls (presentada por Links Hall y Three Walls Gallery), Gallery 400, el Teatro Boxcar, el Museo de Arte Contemporáneo de Chicago, y la Universidad de San Francisco de Quito en Ecuador también.
$199.86 of $3,000
per month
Help me bring my first poetry book to life!

At the moment, my poetry book outline includes 4 chapters with 3 poems per chapter and an illustration for each poem and chapter heads. While my 12 poems are finished and have already been shared with audiences in Chicago, my goal to create illustrations for each poem has become quite the over-achieving dream since my paintings average on 20+ hours each due to their highly detailed nature.

My goal is to complete my illustrations by my birthday in March and have my book published by July; Your financial (energetic) contribution and emotional support would not only mean the world to me, but would also help me to share my indigenous/middle eastern, pangender, pansexual, child of immigrants story with others in our marginalized communities. Thank you so so much for taking the time to read this and thank you in advance for your investment in me (us)!
1 of 1
By becoming a patron, you'll instantly unlock access to 11 exclusive posts
By becoming a patron, you'll instantly unlock access to 11 exclusive posts
Recent posts by Kim Chayeb