Kip and Kel
is creating art
Select a membership level
Ninja Clan
Graduate from the Ninja Academy! With this single pay-what-you-want tier, you'll gain access to:
∙ Our Patreon-exclusive daily comics 
∙ Speedpaints
 ∙ Tutorials
 ∙ WIPs
 ∙ Doodles
 ∙ .psd and high-res .png files of our illustrations
 ∙ Our exclusive Discord server
 ∙ A big warm bear hug
Includes Discord benefits
About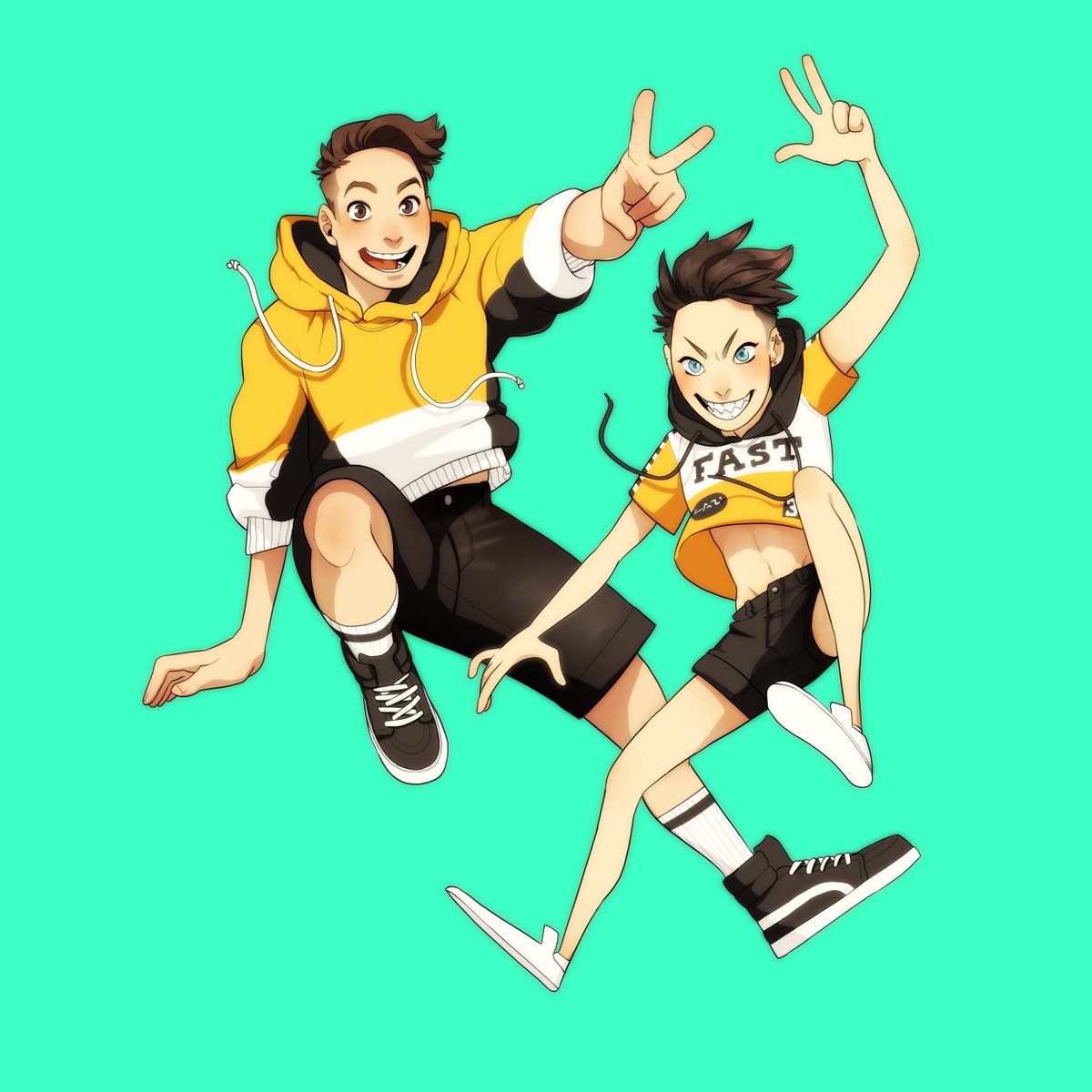 Hiya, we're Kip and Kel!
We're two UK-based artists, and are also best friends! If there's one thing we love more than creating artwork, it's creating artwork together, so we decided to open a Patreon page where we can share with you our latest drawings, as well as WIPs, speedpaints, or any other Peeks Behind The Curtain that we can offer you in these trying times!
We're opening this Patreon as a kind of online tip jar. We don't have any tiers, but rather are offering a pay-what-you-want service that will grant you access to everything! Alongside the art, you'll also get an invite to our Super Prestigious And Really Very Cool Discord server, where you can harass us 24 hours a day for our Naruto opinions (Sandaime can choke), what we had for lunch (scrambled eggs), and any other questions that might have been plaguing your fragile noggins (such as: why is it "Kip and Kel"? Why does Kip get to go first? Is it because Kip is the older one? Kel comes first alphabetically, so surely it should be "Kel and Kip"? This is a gross miscarriage of justice. I'm calling my lawyer.*)
*Kel wrote this part
By donating to our Patreon, you will have access to:
WIPs
Daily comics
Speedpaints
Scraps and doodles
Tutorials
High res .PNGs and .PSD files
Our Discord Server
In the future, we plan to open up some more ambitious rewards! These will include:
A print shipped every month from each of us
A discount on commissions, and first access when they open!
A Little Bit About Us
We met on Twitter in the tail-end of 2015, when Kel posted a Funhaus drawing and Kip told him that "he draws hands real good". It became apparent shortly after that we have a disturbing amount of things in common, such as our aforementioned Naruto opinions (Sandaime can
CHOKE
), the inexplicable yet immense amount of satisfaction we draw from pictures of fat animals, and the fact that we are both Humongously Stupid.
Since then, we've collaborated a bunch of times for a bunch of different projects, with some of the coolest ones culminating in us running around a sweaty convention centre in Austin, Texas, handing out free art prints of our Funhaus collab and accidentally writing each other's names when asked to sign them.
These days, Kip is working doing freelance illustration alongside her full-time job, which she somehow manages to squeeze in amongst all of the time she spends with her cats, Jess and Jenna, and being incredibly gay with her boyfriend, Kevin.
Kel, after several years' worth of identity crises, is due to start university in September to study animation. We love an underdog king!
Kip
I'm Kip!
I'm a 23-year-old artist from Worcestershire. I love sharks, alligators, and other Sharp animals. I have watched all 500 episodes of Naruto Shippuden in four months and I still brag about it.
In my spare time I like to play video games and travel! My favourite game was Digimon World 1 on the PS1 I've spent a billion million* hours of my childhood playing it. My favourite Digimon are Cherubimon and Kerpymon!
*an exaggeration
I have a lot of favourite Naruto characters Thanks For Asking I love Temari, Tsuchikage, Tenten, Kakashi, Gai, Lee, and Choji. The WORST character is Sasuke this is not an opinion this is a matter of fact.
I graduated last year with a degree in Game Art Design, although my artistic journey began with drawing on the walls of my childhood home. I got my first tablet and Paint Tool Sai around age 12 and ventured into the world of shitty OCs on DeviantART with a self-insert Naruto OC. In my later teenage years I started to experiment with Photoshop, and it's still my top program of choice!! Admittedly, I don't feel as though I started Branching Out with artwork mediums until this year when I began my journey with watercolours, but these days I like to try everything! I've evolved from a digital art hermit to a Massive Art Whore.
I've been pushing my artistic career by taking on freelance work ranging from album covers, work for Rooster Teeth, D&D characters, or simply just portraits of you pretty people. 8)
I love creating worlds and environments. Here on our Patreon I hope to show you all the workings of everything I do, this includes 3D artwork, digital illustrations, and traditional paintings! This includes WIPs, speedpaints, and tutorials (if you guys want them!!).
I feel like art is a tough career path, so any and all support means heaps and heaps!! We wouldn't have come this far without the encouragement we've gotten from our artwork online and in person when we visit conventions like RTX. I'm currently working a full-time job, although I'd love to go full-time with artwork! I've already had a head start in this process by picking up commissions, but any money tipped to us on Patreon will go towards making my dream of self-employment come true!
Kel and I have often talked about "What if we just ended up working together forever?", so we thought Patreon was the perfect solution. I hope you enjoy our work together as much as we do!!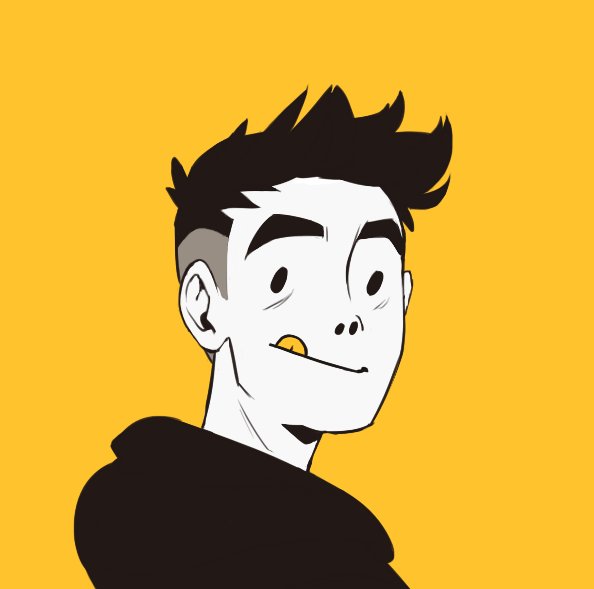 Kel
Hiya!
I'm Kel and I'm a 22-year-old artist from south England! I like bears, buff men, and Naruto, and I like drawing bears, buff men, and Naruto.
My favourite Naruto character is Gai-sensei because he is funny and sexy and smart and kind and warm and friendly and gay and he loves his husband Kakashi-sensei sooo much and he inspires me to be a better person and To Be The Best Me I Can Be!
When I'm not drawing I like to read and play video games, and when I'm not reading or playing video games I like to eat (I also like to do this when I'm drawing and reading and playing video games).
As far as my Artistic Journey is concerned: I'm just getting started! I've been very lucky and have had a lot of cool opportunities, such as the smattering of freelance work I've done for Rooster Teeth, and the incredible experience of sharing RTX with Kip in 2017 and 2018, where we handed out our collaborative print to every single person who looked at us for longer than two seconds.
I'm currently studying animation at university so that I can learn how to bring my big burly boys to BIG BURLY LIFE!
With this Patreon, I'm hoping to contribute some insight into the way that I work, through both speedpaints with commentary, and by uploading the .psd files of my bigger illustrations so you can see how I personally approach drawings! Besides that, I'll be sharing WIPs of upcoming illustrations, and tons of scraps and doodles I consider too scrappy and doodley for Twitter! I'm also currently sitting on the makings of a webcomic, and you can bet your ass I'll be sharing that with the Discord as it develops. 
Your support has always meant the world to me, and it's been a constant that's kept me grounded and I am so incredibly grateful. If you do decide to drop a couple coins in our tip jar: THANK YOU!!! The monetary support will really help to see me through university, where cool purchases like new naruto merch and comic books will have to be swapped for AWFUL BORING TEDIOUS purchases like "food" and "rent" and "other things that you need to live, Kel".
I'm not sure exactly what the future has in store for me with regards to my art, but I know it'll be a fun journey figuring it out, and your support will help to get me there!
At $500 a month Kip will be able to get into designing and producing enamel pins!

2 of 2
Become a patron to
Unlock 729 exclusive posts
Connect via private message
Recent posts by Kip and Kel
How it works
Get started in 2 minutes