Kok.team
is creating LGBT community of Kazakhstan
Select a membership level
 $1 equals to about 400 tenge (Kazakh currency). In Kazakhstan you can buy a bottle of milk or 2 Wrigley's packs for this money. Unfortunately, you can't buy safety for that price. But $1 allows to bring hope to 300 LGBT+ people, who even don't know that they are not alone. 
Bring hope to 1500 people
 For $5 our Ads will reach 1,500 people. Most likely, you will never meet them. But since we all are connected by a common cause, a good deed will never go unnoticed. 
Financial support for Kok.team
If we manage to obtain $1500 a month, this sum will be able to cover the following:
full-time jobs of two editors;
freelance SMM specialists;
monetary compensation for regular contributors and Kazakh language translators;
technical support for the website.
About
1. What do you know about Kazakhstan - except Borat?
Kazakhstan is the 9th largest country in the world. It takes 54 hours to reach its easternmost point from the westernmost point by car without stops and 29 hours to get from the south to the north. The population of this huge area is only 18 million people, and the population density is 7 people per sq km (18 people per sq mi). That's why consolidation of Kazakhstani LGBT+ people into an LGBT+ community is a big challenge.
By estimates, there are about 1.5 million LGBT+ people living in Kazakhstan now. They are spread over a wide area. LGBT+ activists who mostly live in one of the two largest cities (Astana and Almaty) cannot reach and assist all of these people.
However, it is possible to send a message to these LGBT+ individuals all over Kazakhstan and tell them that they are not alone and that there's hope. That can only be done by spreading social media posts, articles and news on the Internet. That's why a group of activists created the LGBT+ media platform named Kok.team. We launched our site on March, 1 2017, and ever since we've published around 400 articles in Russian, Kazakh, and English. 78,407 people visited our website within 1.5 year. It's a huge success in itself, but we need to move forward.
The site administration needs some vital support
At present moment, all the website is maintained exclusively by volunteers. And it is a lot of work: two editors, SMM activities, technical support, a number of regular journalist contributors. But we are sure that we could do even better if we had some financial support.
You might ask why we don't just go to some charity foundation and ask for a grant? To tell you the truth, we have already tried, more than a dozen times, but completely in vain. We seem that there are two reasons for our fails. First of all, basically we are a form of mass media, which is quite an unconventional type of activism and the foundations don't know what to think of us. Second, we don't even have a legal address, with legal registration of an LGBT mass media in Kazakhstan being rather problematic. And this is not only because of high levels of homophobia in the country, but also because of the gruesome situation with the freedom of the press and with democracy in general. We guess you know what we mean by that.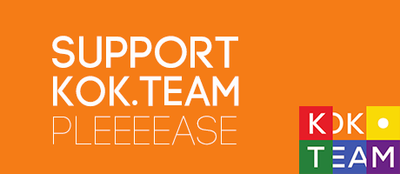 This is the reason why we turn to Kazakhstani and international LGBT community for support! To guarantee the smooth functioning of the website we really need money. If we manage to obtain $1500 a month, this sum will be able to cover the following:
full-time jobs of two editors;
freelance SMM specialists;
monetary compensation for regular contributors and Kazakh language translators;
technical support for the website.
Referrals given by:
Robyn Alice McCutcheon, Foreign Service Officer в U.S. Department of State via Facebook: "Kok.team is the leading lgbt+ community organization in Kazakhstan today, and I was proud to watch them at work during my three years in the country. I urge you to donate to their cause. I just did :) ! (FYI, "kok" is the Kazakh word for blue, which in most post-Soviet countries is the color associated with being lgbt+.)"
Lyosha Gorshkov, Queer Professor, Educator, and Activist, Co-President at RUSA LGBT: "The group Kok.Team is a group of young activists driven by the necessity to advocate for LGBTIQ people in Kazakhstan, who are mistreated by the Government of Kazakhstan and society itself. The group plays a significant role in bridging a dialogue between LGBTIQ community and government bodies, as well as supporting LGBTIQ individuals in their needs. The group is consisted of brave and courageous individuals, fighting for a right cause, not giving up despite the tremendous hostility. RUSA LGBT stands with Kok.Team in its struggle and pursuit of justice and equality. RUSA LGBT believes that such groups as Kok.Team are the future. RUSA LGBT salutes to Kok.Team for its determination and dedication!!" (Mr. Gorshkov on Facebook)
2. Knockin' on Every Door
The next goal that needs financial support is online advertising campaign for the Project
Tell About Your Trouble
.
Kok.team continues to work on consolidating LGBT+ people. Our dream is to unite Kazakhstani gays, lesbians, bi-, trans- and other people into one LGBT-community.
Thus, it has been very important forKok.team to transition from a mere media outlet into an advocacy tool. Tell About Your Trouble project started with this purpose in mind. LGBT people in Kazakhstan have no voice. In homophobic society, they often become victims of violence and discrimination based on sexual orientation and gender identity (SOGI). But they can't call the police because they fear shaming, blackmailing, and a new portion of violence. As a result, there is no official, reliable data about cases of violence and discrimination based on SOGI. The only available information is limited data provided by several activist groups.
Kok.team has decided to fix this problem. Tell About Your Trouble project will give every victim a chance to tell about their case. With the results of such monitoring, activists will be able to prepare alternative reports on the situation with human rights in Kazakhstan. Besides, the Kazakhstani general public will finally see the real picture of how widespread homophobia is.
That's why we need your support. All authors and editors of Kok.team are volunteers. However, the project needs financing in order to spread information.
We want to share the information about Tell About Your Trouble project through advertising on social media platforms, as it is the most effective way to reach as many LGBT individuals as possible. In doing so, we want to let them know that there is a chance to change the status quo.
Bring Hope to 300 People With Just $1
According to the Ads Manager on Facebook, the delivery of a single post to 3000 users will cost about $10. It means that every $1 informs 300 people about our project. We understand that only 4-7% of them belong to the LGBT family. $1 can give voice to these people and contribute to the positive change in the lives of LGBT individuals all over Kazakhstan!
We guarantee that all the money received will be spent on promotion on Facebook and
Vkontakte.ru
(the largest Russian social network, which is very popular in Kazakhstan).
The campaign will start in June. In July we will begin publishing periodic reports on money spent and people reached.
Thank you!
Five Quick Facts About Kazakhstan
0 - the number of officially registered LGBT+ NGOs
80 - the country's position on the LGBT Friendliest Travel Destinations list (Spartakus Gay Guide 2018)
158 - the country's position in the Ranking of countries based on the level of freedom of speech (2018 World Press Freedom Index)
1998 - the homosexual conduct was decriminalized
1.5 million - an approximate number of LGBT+ individuals living in Kazakhstan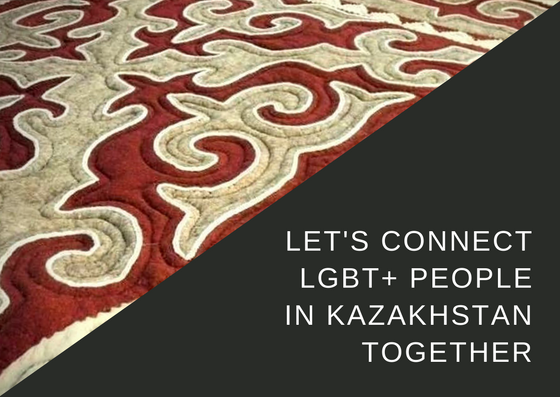 $300 allow to delivier the message of human rights to 6 300 LGBT-people in Kazakhstan and to another 90 000 citizens.

1 of 2