Kristi Clover
is creating The Simply Joyful Podcast, Books, Videos, & More!
Select a membership level
Simply Joyful Podcast Supporter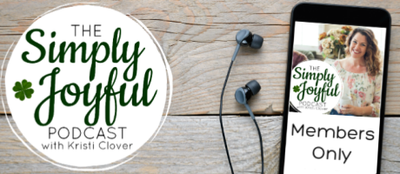 You rock!! Thanks so much for wanting to support the Simply Joyful Podcast! You are helping keep the podcast alive!
Don't miss joining in on new interviews with upcoming guests on my YouTube channel!
➡️
KristiClover.tv
* Be sure to subscribe my channel and click to the bell to be notified when I release new videos!
Also, get a free digital copy of
Sanity Savers for Moms
by going to:
➡️
KristiClover.com/sanity
Looking forward to connecting more!
About
Hello & welcome to my Simply Joyful Podcast Membership site!


I'm so excited that you are here!
I know #MomLife is hard work and it can often leave us feeling overwhelmed at the end of the day (sometimes even right at the start of our day, too!).
My heart is always to encourage and inspire families to find "simple solutions for a more joy-filled life".
My definition of "simple solutions" has more to do with learning how to be more efficient within our homes and with our time. I'm passionate about helping people learn how to get organized in order to streamline their day. I've found that when we are intentional with our home and time management we experience more joy in their lives.
I love all things #FamilyLife! Whether it's discussing home, marriage, parenting, homeschooling, health, feeding the family, and more on the podcast and across social media!
For the past several years, I've loved bringing families encouragement through the Simply Joyful Podcast. It's literally been a labor of love.
Months I didn't have sponsors, I'd pay for the podcast production out of other earnings I made from other sources. However, I can't continue to do this. With the coronavirus pandemic, sponsorships have dried up. So, I've moved my interviews over to YouTube in order to take advantage of the ad revenue that I receive for videos. Granted, it's not much, but it covers some of the production costs.
I'd love to have the podcast continue on iTunes for folks to be able to tune in while on the go. However, I need your help. Whatever monthly gift you can commit to would be amazing! Every little bit helps.
I so appreciate you taking the time to consider supporting the podcast! It's such a blessing!
Thank you from the bottom of my heart for your generous support!
I hope all that you find on the podcast, YouTube, my site, and on social media will truly bless you and your family!
Blessings and joy,
Kristi

P.S. Don't forget to leave a rating and review on iTunes, Apple Podcasts, Stitcher, and Spotify! This does help with rankings and potential sponsorships for the future! Plus, it helps others discover the podcast.
Podcasting is one of the most expensive things that I do. I've had to hire people to help me with the production of the podcast. Hitting my $500 goal would mean that all my costs would be covered! Thanks for helping me hit this goal!
1 of 2
By becoming a patron, you'll instantly unlock access to 33 exclusive posts
By becoming a patron, you'll instantly unlock access to 33 exclusive posts
Recent posts by Kristi Clover