Select a membership level
✿ baby [T1]
 thank you for your support ♥ 
✿ smol cactus [T2]
 Thanks for your support ♥  

montly b/w sketch (chibi or headshot)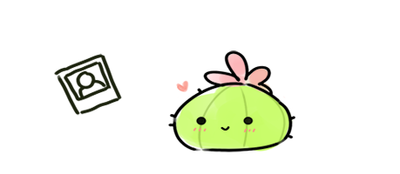 ✿ little cactus [T3]
Thanks for your support ♥  
monthly colored sketch ( chibi icon or bust)
2- 3 Sticker every two months! (national [germany])  
About lachswu
Hey! ❀◕ ‿ ◕❀
My name is Laura Marie, also known as 
"

lauwi(bauwi)"
or
"
lachswu"
.
I'm a freelance artist and I´m currently studying Game Art and 3D Animation in the third semester. In my free time I mostly draw and sometimes stream it on twitch. I mostly draw Twitch Chibis and little 2D Animations. But my dream is it to become a concept artist and to live from drawing. 
So thanks for everyone who wants to help and be a part of my little journey. 
Your support means a lot.

Thank you! ♥
I really wanna order some Custom Soft Enamel Pins with Cactus Designs ;w; but they're very expensive.. If we receive the goal I'll be able to order the first design and i'll definitely be able as a reward for you! 
1 of 1