Minerva Valenzuela (ladelcabaret)
is creating lovely sounds and erotic photography.
Select a membership level
Nivel butaca
Acceso a cuenta privada con un mínimo de tres fotos (y un audio cuando no esté muy cansada).
Nivel escenario.
Lo del nivel butaca + dos fotos indecentes.
Nivel camerino.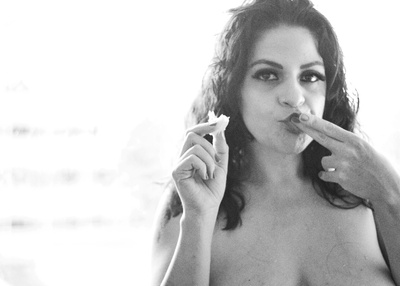 Lo del nivel butaca + lo del nivel escenario +  complacencias personalizadas discutidas por chat + fotos de mi celular, de las que nunca publico. 

About
Hola. Quédese.
For English, see below.
Soy Minerva Valenzuela (ladelcabaret). Le hablo bonito y le pongo fotos coquetonas, a las que llamaremos erotic art, para hacerme la interesante, tomadas por Marisol Cid
(instagram: @_marisolcid). También una que otra de mi celular.
Tengo 43 años y me sigue divirtiendo hacer estas cosas. Eso en inglés se dice "proud milf", pero en español lo llamaremos "Señora interesante".

Para no atorarte con eso de la suscripción mensual, decidí que sólo pagas por lo que quieres tener, así que puedes adquirir material a veces sí y a veces no, y cada vez habrá tres niveles: butaca, escenario y camerino. Tú decides a cuál entras cada vez.
Nuevo material cada semana.

EN ESTA PRIMERA ENTREGA TODO EL MATERIAL ES NIVEL BUTACA.
Como tengo contenido del que llaman "adulto", la plataforma no me promueve, así que agradeceré que me compartas con tus contactos.

Importante: Le estoy agarrando la onda a esta plataforma. Si algo no funciona como debiera, dime.


Hi. Stay.
I am Minerva Valenzuela (ladelcabaret). I share beautifully spoken audios and flirty photos, which we will call erotic art, just to sound interesting, taken by Marisol Cid (Instagram: @_marisolcid). Also some of my cell phone pics.
I am 43 years old and I still have fun doing these things. In English you call that a "proud milf", in Spanish we call it an "interesting lady".

In order not to overwhelm you with the monthly subscription, I decided that you only pay for what you want to get, so you can buy material whenever you feel like it, and each time there will be three levels: butaca (seat), escenario (stage) and camerino (dressing room). You decide which one you enter each time.
New material every week.

FOR THIS FIRST DELIVERY ALL THE MATERIAL IS BUTACA LEVEL.
As I have content that they call "adult", the platform does not promote me, so I would appreciate it if you... share me.

Important: I'm getting into this platform. If something doesn't work as it should, let me know.


Become a patron to
Connect via private message
Recent posts by Minerva Valenzuela (ladelcabaret)