Larissa Archer
is creating a regular salon
Select a membership level
The Chorus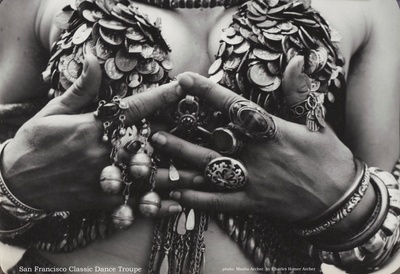 Any support is appreciated and goes towards making our art. Choristers receive a poster signed by Masha from the bazaar at any salon they attend. If they would like one signed by me, I will be flattered, puzzled, and happy to oblige. We offer both new poster designs and vintage ones from San Francisco Classic Dance Troupe in the 1970's. 
Scholars
Scholars get access to my blog on Patreon. Here I will post short videos from my dance classes with Masha, highlighting bits of instruction you can follow along with.  I'll also post short tutorials by Masha. Stay tuned! Said videos are in the works. Any scholars who attend a salon can also get a free poster signed by Masha at the bazaar.
Fans
Fans get access to the blog, a signed poster at any salon they attend, and early access to ticket sales. The Secret Garden has very limited capacity, and will sell out. Plus, audience size is capped lower when bad weather forces us to minimize or close off the outdoor areas of the Garden. Get your tickets early and guarantee your spot! 
About
Hello!

My name is Larissa Archer, founder and director of San Francisco Bellydance Theater. I am also an internationally published art writer and so am deeply embedded in the performing and visual arts communities in the Bay Area and beyond. I want to bring some of the inspiration that surrounds me to you! To that end I've started a regular salon series in a secret location in San Francisco (don't worry; ticket buyers receive the address!) and hope to expand and adapt the show, artisan bazaar, and party to different fascinating and atmospheric venues.

I'm also teaching a regular bellydance class in the city--actually, I started teaching a class in early-and pre-American Tribal Style® bellydance, but ever since I invited my mother to class she has rather delightfully taken over. My mother, Masha Archer, is a seminal figure in world bellydance, and her style, derived from her training with the late, great Jamila Salimpour, created the foundation for ATS®, which her own student, Carolena Nericcio, developed and codified, and ultimately made into the global phenomenon it is today. But dancers have been curious about the dance's origins, as well as in the broader improvisational style and unique aesthetic of my mother's company, the legendary San Francisco Classic Dance Troupe. So we decided to host a class and train dancers in this style, and I am beginning to incorporate these principles in SFBT's performances.

I want to keep ticket prices affordable at my salons: sharing the festivities of the evening with a diverse, inclusive group of people is as much a part of the experience as are the performances themselves. But of course I have not only my dancers, but other types of performers, and visual artists, and catering, and tech help, and marketing, etc....Each show requires all of this, and behind the scenes we have studio rental for classes and rehearsal, as well as the growing number of hours orchestrating it all means for me. It's turning into my dream job! So I'm offering fans a way to contribute to these endeavors. I'll be adding benefits from time to time, so stay in the loop!

Do you want to keep abreast of my projects? I have a newsletter in which I announce upcoming shows and other thrilling things. Sign up here:http://eepurl.com/gaFBm5





By becoming a patron, you'll instantly unlock access to 5 exclusive posts
By becoming a patron, you'll instantly unlock access to 5 exclusive posts
Recent posts by Larissa Archer