Larry G. Maguire
is creating non-fiction articles and essays
Select a membership level
Support The Podcast 🎙
Your $1 pledge gets you access to basic patron only content and the following rewards

Includes
Free Daily Article: The Reflectionist
Patron Only Podcasts + Ad Free
Weekly Sunday Letters
The Artist's Manifesto PDF
10% discount on books & drawings
Limited Edition Postcard Series (PDF)
Buy Me A Pint 🍺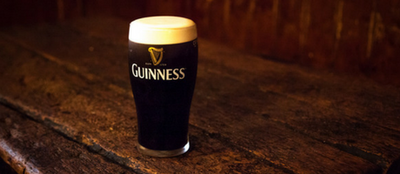 If you like what I'm making why not drop a fiver behind the bar. You get lower tier rewards and help me self publish The Artist's Manifesto paperback.
Includes
Help me self publish The Artist's Manifesto
Book acknowledgements for patrons
Copy of The Artist's Manifesto Paperback
Get The Audiobook 🎧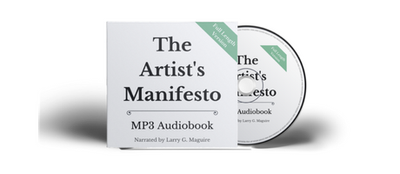 By pledging only $10 you'll get all lower tier rewards, The Artist's Manifesto MP3 audiobook & hard copy limited edition postcard prints (but only if you stick with me).

Includes
The Artist's Manifesto Audiobook
Limited Edition Postcard Series (Hard Copy Prints)
About
Hi, I'm Larry G. Maguire. Thanks a million for visiting my Patreon page. I'm a writer, podcaster and occasional charcoal portrait artist from Dublin studying a BA in Psychology at night.
I am passionate about creativity and I believe everyone has access to creative genius if we can only allow it. A little while ago I wrote
The Artist's Manifesto
, a short PDF book that outlines a creative philosophy I attempt to follow. I believe that this manifesto will resonate with artists everywhere and so in an effort to share its ideas, I recently launched
The Larb Podcast
. It's a show for creative people that explores the creative process, what it means to follow your creative urges, make a good living from your work or even build a business around your art. My guests and I also discuss some of life's deeper questions.
Patron Only Content
Thanks for considering becoming a patron of my work. For less than the price of a pint or cup of coffee per month, you can receive access to exclusive patron only content here on the site, advert free articles and podcast, free audiobooks and print books, free artwork, product discounts and access to patron only products and of course help me create the stuff that I love.
There are 6 tiers of membership you can choose from starting from as little as €1.00. All tiers have access to the free and patron only listed weekly content. Higher tiers of membership automatically have access to all lower tiers.

How About A Cookie? 🍪 – €1/MTH
When you pledge $1 you get access to basic patron only content and the following rewards
Includes
Keep Podcast Ad Free
Patron Only Podcasts
Weekly Sunday Letters
The Artist's Manifesto PDF
10% discount on books & drawings
ACCESS TIER 1
Buy Me A Pint 🍺 – €5/MTH
By contributing $5 per month you get lower tier rewards and help me self-publish The Artist's Manifesto paperback.
Includes
Lower Tier Rewards
Help me self-publish The Artist's Manifesto
Book acknowledgements for patrons
Copy of The Artist's Manifesto Paperback
ACCESS TIER 2

Buy Me Lunch 🥪 – €10/MTH
By pledging only $10 you'll get all lower tier rewards and The Artist's Manifesto audiobook version.
Includes
Lower Tier Rewards
The Artist's Manifesto Audiobook
ACCESS TIER 3
Be A Top Supporter ⭐️ – €50/MTH


It's getting SERIOUS now! For your support at this level I'll send you the lower tier rewards plus,
but not limited to
, the following;
Includes
Lower Tier Rewards
Signed first edition paperback
Full set of bonus prints
Bonus material (book related)
Book acknowledgements for patrons
Access Premium Membership (artistsmanifesto.co)
ACCESS TIER 4
I'm committing most of my creative energy and time to write new content, interviewing guests, recording and producing podcast episodes and so my time "working" in a traditional job will ultimately need to be curtailed. The temptation, therefore, is to go the advertising route, but this doesn't fit into the philosophy and spirit of why I started.
I can advertise to fund my creative work but it doesn't sit right with me. It doesn't fit the spirit of what I am doing. So that's where I need your help.
Why Did You Join Patreon?
I joined Patreon because I love to write and create art. I want to spend my time in research, writing my books, and creating art that people can afford and enjoy.
With your assistance and generosity starting with less than the cost of a cup of coffee per month ☕️, you can contribute towards the publication of my work. In return, I've made rewards available to all my patrons who have supported me.
Wanna 
buy me a coffee?
What's Your Background?
I left school at 15 and began an apprenticeship as an electrician – turns out I was good at it. After a brief stint in Philadelphia drinking my ass off, I returned home to start my own business at age 26.
I operated that business quite successfully for 16 years, counting Intel and US Government as clients. The business kept moving reasonably well through the crash in 2008 but by 2010 work had dried up. With big debt and no work, I had to shut the doors.
Everything I had built was gone. However, I had found a new passion – writing. So I decided this would be my new direction. The last 10 years have been very difficult, but the experience has given me a new perspective, one I wouldn't change for any money. It's been the foundation for huge personal growth and a basis for my writing.
What Do You Podcast/Write About?


Admittedly, I only produce content I'm interested in and passionate about. That's a plus for you because you can be sure to get my best. My hope is that my stuff strikes a chord with you. I write about the importance of creative integrity and our imperative to create from the heart no matter what. This is the basis for
The Artist's Manifesto
.
Here's some of what I write about;
How to nurture creativity
How to follow your heart and do what you love
The psychology of creativity
How to develop mental toughness
The right way to set goals
How to access our intuition
Why beliefs sculpt behaviour
How to embrace uncertainty
The meaning of life and death
Where Can I Follow Your Work?
I have several places where I produce regular work. But perhaps the best place to stay in touch with my work is on my weekly Sunday Letters. I'm also starting a Podcast and I write on Medium too. Oh yeah, I'm on social media too!
Sunday Letters
is the weekly email newsletter I publish to my subscribers. It goes out every Sunday morning and covers all my work from the previous week on my blog and podcast.
Recently I've started posting 
audio content on Anchor
and I've started a channel there with regular episodes and thoughts about creativity, art, work and life.
I write several times a week on the 
Storymaker publication on Medium
. The stuff I write there is off the cuff, unstructured and from the heart. 
Here's my Blog

You can find my podcasts on Spreaker
I'm on Twitter
I'm on Facebook
You can catch me on YouTube
My ambition is to continue to create work that matters to people. To do that on a consistent basis I need your help. My hope is that you will consider becoming a patron of mine and pledging as much as you can afford to help me make art that matters.
Many thanks for your time, all the best for now,
- Larry
My goals is to self-publish The Artist's Manifesto. It's tricky stuff, lots to learn and understand about self-publishing technology and processes. Not to mention actually writing the book! But you can help me get there. For the price of a pint per month, I'll send you a free copy.
1 of 2
Become a patron to
Unlock 51 exclusive posts
Connect via private message
Recent posts by Larry G. Maguire