LatinFireVA (Eva Long)
is creating Voice Overs & YouTube Content
Select a membership level
Thank You & Patron Chat
Thank You Sticker
You will receive a customized "Thank You" Sticker from me and be added to the Patrons-Only update list.

You'll also get access to the Patron-only blog here and not anywhere else.
Questions will be answered on an immediate basis if you guys would like. 
You DO NOT need to be a Patron to be on the Discord Server, but you do need to be one to do the Exclusive Chats.
Includes
Custom Thank You Sticker
Patron Only Chat
Video Shout Out
You will be added to the "5 Plus Group" on my YouTube videos. This means your names will be posted at the end of every comic dub or in the description panel of my videos.

Or you can opt out and I'll send you a shout out on Twitter, Facebook or any social media site you have (I have all of 'em).

Includes the "Thank You" sticker and access to the Patron Only Chat.
Includes
Custom Thank You Sticker
Patron Only Chat
YouTube Video Shout Out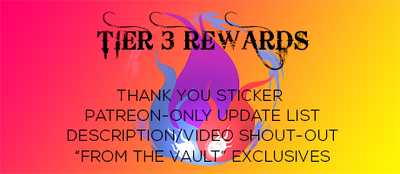 From The Vault
That's right, you guys will get exclusive video links to shows myself or my team at
NotAnother
 (now Team WildFyre) have recorded. These links will
NEVER
be posted on YouTube publically and are for your Patron-eyes only.
Isn't that sweet of us?
[Includes all previous perks] 
Includes
Custom Thank You Sticker
Patron Only Chat
YouTube Video Shout Out
Unseen Content
About LatinFireVA (Eva Long)
My name is Eva but you may know me as LatinFireVA. Welcome to my Patreon page!
I'm a voice actress and one of the writers for
Black Lagoon Abridged, High School of the Ditz, Room Mate Mini's
and many other series on YouTube. 
You may also know me as the voice of Sombra in the Team Talon Dubs by Seigi VA, Kae from Abridge Him, Not Me and other works in the Abridged Community. If you wanna see a full list of things I am in, please check out my YouTube, Twitch, or Twitter for details.
So why am I doing a Patreon, you may ask?
Well, the work I do for abridged series is non-profit. I do monetize comic dubs (only with creator's permission) but unfortunately, I do not make much in the sense of ad revenue that is able to support me financially. While I do love creating these amazing works, it takes time, and unfortunately, money to make these projects work (Adobe Creative Cloud fee's and the like). This page is meant to help out artists and myself keep doing what we love. 
To be clear, the abridged series being created on this channel are NON-PROFIT.
I will NEVER monetize any abridged series. The videos being posted up in terms of abridged are solely the intellectual properties of the rightful owners.
Comic dubs, however, are FOR-PROFIT works
. They take a bit less time to do but still help keep food on the table, so to speak. 
This Patreon Page is to help me make the content you know and love. If you wanna keep supporting me and what I do, pledge. You'll gain early access to my videos before they go up on YouTube (or any other video platform if demonetized/taken down), be able to see scripts of never before seen series, see From the Vault drafts of long dead/uncompleted works and much more.
Thank you for the support and join the FIRE NATION!
This is to help out pay the monthly Adobe CC fee that unfortuantely costs a bit of coin to be able to get these programs. With your help, this fee is taken care of and I can keep continuing the work, year round.

1 of 7
Recent posts by LatinFireVA (Eva Long)