Leah Blooms
is creating Cool stuff around Intimacy, Gender, Mental Health, Self-Care
Select a membership level
Sunflower Blooms
Thanks for your support! Every dollar counts. I'll share what I'm learning and researching and you'll get to see my paintings come together in photos, layer by layer. I'll include photos from shoots I do that are family-friendly. I'll update you when new creator interviews come out on my Youtube channel.  

Sunflower Blooms Monthly Update
Magnolia Blooms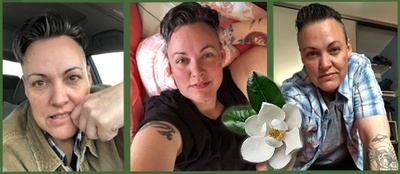 In depth focus on how humans connect to themselves and others through gender, sex, and intimacy. 

Everything from the previous level plus these exclusive benefits:

You'll get access to the more in-depth work I create a full week earlier than the public on whatever I'm researching, including tutorials, tips, guides, and writing exercises with a focus on gender, sexuality, relationships, intimacy, fearless authenticity, and personal growth. 

Weekly zoom invites to keep me company while I paint.

Get a link to my monthly Spotify Playlist!

Sunflower Blooms Monthly Update

Zoom Painting Video Invites
Peony Blooms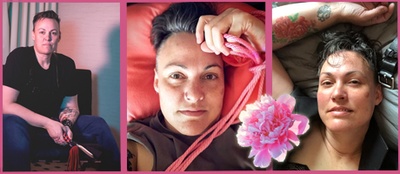 This is adult content. Get an exclusive update every month with a focus on Intimacy, Sex, and Kink as a Healing Art from a Queer Pro-Domme perspective. 

Learn about safe(r) kink, true consent, using kink for emotional healing, increasing intimacy and more that will help you get more of what you love from kink.

Everything from the previous levels plus these exclusive benefits:

Anything I create that relates to using kink as a healing art including:
Photos, videos, tips, and guides 
Self-Kink tutorials    
Sneak peaks into the sexy stuff I'm writing. 

Zoom Painting Video Invites
About
Hello! I'm a queer, genderfluid (she/they/he) writer, artist, mentor, and curious creator
who is passionate about learning, sharing, and empowering others to live their best lives. I focus on intimacy, mental health, gender, sex, and practical self-care. I'm most interested in where these major components of life converge and interact with each other and our responses to them.
I was nomadic and held workshops with a full schedule coming together for 2020. Now, in the time of Covid, I'll be sharing what I learn from my home in the Seattle, WA area.
My current projects are
:
researching theories
and
creating replicable algorithms
for questions like "
What if I decide to simply be who I am and can I learn to believe that I am Good?
"
researching how we can use the
placebo affect
researching where
intimacy/sex/gender/love
converge
researching how our
pain responses/brain chemicals
can be harnessed to lessen the need to self-harm (or do other less-than-ideal behaviors)
researching how/if we can
heal in times of stress
making
inks and dyes
with food and foliage
writing a set of
children's books about gender
writing a coffee table book of
queer love stories
(photos and profiles)
painting a series of large
paintings of queer folks
writing
a
book of essays
about love and narcissism
Supporting me here means you're supporting me in doing everything I'm passionate about, so
THANK YOU. xo
MORE :
I have
online intro courses
(found
here on my website
) and I mentor
one-on-one
.
Writing credits:
writer.leahblooms.com
Covers my car payment+insurance+ 10% goes to a Black owned charity/non-profit/foundation which will be listed in the monthly updates.

1 of 3
By becoming a patron, you'll instantly unlock access to 7 exclusive posts
By becoming a patron, you'll instantly unlock access to 7 exclusive posts
Recent posts by Leah Blooms