Leesa Renee Hall
is creating Inner Field Trips™
Select a membership level
Specialist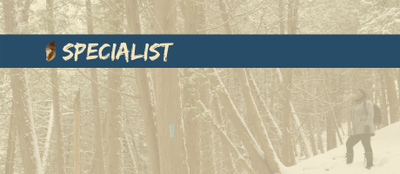 THANK YOU for your patronage! As a SPECIALIST patron, you'll get access to:
Patron-only, behind-the-scenes feed that includes EARLY access to unedited clips of the docuseries, production notes, storyboards and other production artwork and illustrations, original music compositions, and hilarious outtakes (I promise they're funny). 
PLUS, access to small group virtual gatherings, hosted by Certified Unpack Biases Now Facilitators over Zoom each month, as long as the community stays over 500 patrons.
Chief Specialist
Everything in the previous tier, just at
DOUBLE
the amount of support. Thank you!
PLUS, access to small group virtual gatherings, hosted by Certified Unpack Biases Now Facilitators over Zoom each month, as long as the community stays over 500 patrons.
Senior Chief Specialist
Limited (3 remaining)
Everything in the previous tier, just at almost
DOUBLE
the support. Thank you!
PLUS, small group virtual gatherings led by Leesa over Zoom once or twice a quarter.
About
I'm passionate about endless adventures. I'm passionate about documentary film making. I'm also passionate about helping us become better ancestors by unpacking our unconscious biases using writing prompts and reflective writing.
So, what happens when all three are combined into one?
Endless Adventure + Documentary Filmmaking + Reflective Writing
=
FIELD TRIPS

BACKGROUND


Since October 2017, patrons in this exclusive community have used writing prompts to explore their unconscious biases around skin colour, gender expression, sexual orientation, class, boundaries, productivity, ancestry, religion, and other social and biological identities. The self-discovery and courage in stepping into the world and accepting the nuances of their complex identities has been magical to witness.
But then something happened...
I went on an independently-produced, patron-backed, multi-city tour in Fall 2019. I ran full-day reflective writing workshops in multiple cities and invited my patrons and their network of friends and colleagues to come on out and explore their biases LIVE using reflective writing.
In addition, hoping from city to city and filming every minute of my day ignited a passion for filmmaking, exploring, and trekking.
And now, I'm inviting patrons - AND YOU - to join me on an adventure to explore our biases on carefully planned field trips.
WHAT ARE THESE FIELD TRIPS
Since 2007, I've had a vision to produce a documentary. As the market matured, the vision of producing a feature length documentary morphed into a docuseries, or shorter films about multiple stories.
There is a narrative not being told that I plan to film, produce, and share with the global community. Some of my ancestors are involved in these major historical events. For other stories, I simply have an interest in exploring the narrative.
Patrons can join me on these fields trips in three ways:
Inner by using the guided prompts and reflective writing to explore the deep crevices of your inner terrain so you discover the truth of who you are beyond your cultural conditioning.
Virtually through the video clips I produce from the multi-city tour and other adventures
Physically by joining me on location in a city that I'll visit to shoot some footage (these will be planned once borders open again and the global quarantine is lifted)
The field trips are not just relegated to on site shoots for my documentary. Field trips can be organized to visit spots of interest, for example, Africville in Nova Scotia, National Memorial for Peace and Justice in Alabama, and a former plantation in the American south, just to name a few.
Then, after the shoot or visit is complete for that hour or day, we take some time to do reflective writing using the writing prompts that I've created.
The point of the field trips, whether to be part of the on site shoot for my docuseries, or visit a museum or location where a significant event happened, is to witness the origins of our unconscious biases so you can better unpack them.
Even if you think you cannot come on each and every field trip, you can still become a patron. Whether you want to attend all field trips, or one or two, or none at all, I've planned ways that all patrons can participate in the field trips whether they travel to the site, or stay at home on their computer.
WHY BECOME A PATRON
Becoming a patron will help me cover the expenses of organizing the field trips and producing the docuseries.
I suck at planning anything. I'm also pretty horrible at putting video clips together to produce a compelling story. I have experience in video production, but I'd much prefer to hang on to raw video files rather than produce them into anything.
When you become a patron, not only do you get access to the itinerary of field trips (first one will be announced 60-days AFTER borders open again and if we're at a minimum of 650 patrons), you'll also contribute financially to the pool that will help me hire the right people who excel in the area I suck.
Whether you choose $5 per month or more, it all adds up. I've heard from people who've said, "I wish I could do more."
I'm here to tell you that what you can contribute is enough
. Yes, one person contributing $5 isn't much, but you are part of a community of hundreds and hundreds and hundreds of people who are contributing a small amount per month. That all adds up!
A SPECIAL NOTE ABOUT THE ONGOING PANDEMIC (COVID-19)
By becoming a patron during these strange and uncertain times, you help me continue to bring the reflective writing LIVES to my followers in the wider digital community.
I do not qualify for government subsidies or loans in Canada (where I live and work) as I still have income coming in (thank you patrons). My work has not stopped due to the quarantine - in fact, my work is needed now more than ever before. For these two reasons, I do not qualify for
emergency assistance
.
I'm also continuing to pay my facilitators and technical virtual assistance for their work as they help me help you. I'm happy to continue to pay their fees especially during this time.
I can only do that if those who follow my work become a patron. As long as we maintain, at minimum, 500 patrons, I can continue to pay my team, cover my own business expenses, and offer the reflective writing LIVES through Instagram.
If you can spare at least $5/month (or more), this is your way of helping others who otherwise cannot afford to support me financially and who need my guidance during these difficult times. If you're stuck, not knowing how to help, becoming a patron is one way to do so. Your financial support means that I can reallocate the collective fund and help the wider community from a place of peace, clarity, and courage.
WHO SHOULD NOT BECOME A PATRON
You're not a good fit for this community if you are in:
A mad rush to get results to check off an item on their diversity and inclusion checklist
The midst of a public relations nightmare due to an unconscious bias that has been made public (you need a crisis mgmt company, or lawyer for that - and I'm neither)
The market for a Request for Proposal on Diversity, Equity, and Inclusion (DEI) training (I don't work with corporate teams or departments; I've tried it in the past and I absolutely do NOT enjoy it)
Need of a healing modality to compliment, or replace, traditional therapy (I'm not a therapist, and I cannot help you work through childhood trauma)
Need of excessive hand-holding and copious attention because you're hyper attached to perfection and getting it right (people who are needy drain me)
A place where you fall apart if what is written changes, or if the agenda needs to be updated even after the agenda or plan has been finalized (one needs to be flexible when exploring bias)
PLEASE JOIN THIS COMMUNITY IF YOU ARE:
A freespirit, non-conformist, hippy, explorer, adventurer, idealist, optimist, or seeker who wants to explore biases using an experiential, yet proven, approach
Highly sensitive, introverted, or an empath and have been searching for a way to explore unconscious biases using an approach that aligns with your gentle, quiet, and tender personality
Someone who has tried other ways to explore biases and is curious about using an approach combining writing prompts and reflective writing
Someone who resonates with the words independence, playfulness, freedom, liberation, curiosity, simplicity, truth, goodness, and hope
Interested in going on a personal quest to explore the roughness of your inner terrain
Click on Become a Patron to explore biases with me.
At this level of support, I can continue to RESEARCH and FILM footage for the docuseries.
5 of 7
Become a patron to
Unlock 330 exclusive posts
Connect via private message
Recent posts by Leesa Renee Hall