Lennybunny
is creating Comics
Select a membership level
Carrot seed
-You will see HD pages of Bunny Fables
-You will receive a carrot seed avatar that you can use wherever you want !

Growing carrot tier
As above plus:

-You will be a page ahead on the fable
-You will access to a monthly illustration in HD
-You will receive a carrot avatar with a custom BG
  (In the case of a flat color bg you can't use the color #ff6600)

Full grown (illustrated) carrot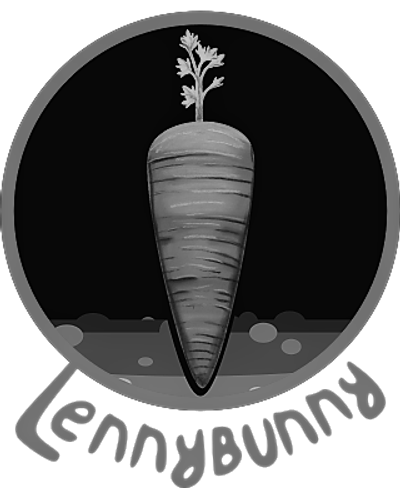 As above plus:

-You will access to my sketches, so it means that you will see the behind the scenes of every work
-You will access to a poll in which you can decide which sketch will be rendered to a full illustration!
-You will obtain an analogical rendered carrot avatar, with a 6 color choice!
  (this avatar will not have my name in it)

About

EVERY TIER IS PAYED UP FRONT

Hi everybody I'm Lennybunny, an Italian artist
I'm currently studying in an Accademy of Fine Arts
and I'm trying to earn enough to go live by myself
so I can create whatever I want whenever I want.
That's it... No sad story and no puppy eyes.
You're judging my work not my persona.
p.s. : English is my second language, if I make some grammatical error please tell me...

What I can offer to you?
I can offer you an illustration and 4 pages of comic at month and a
store
if you want to have a more physical product.
If you have some advice or tip on how to give you a better service please tell me...
The first thing I want is to be a better professional and I will accept every advice you can give me.
What's the deal with the sketches?
It's because I want you to see the process and mostly being able to take the most of it. What I mean with that? I mean that I'm practically drawing for
YOU
and I want you to be satisfied by it... You're paying money for that illustration...Every drawing and painting start with a sketch... So simply put you will decide what I will draw for that month. I will open a poll at the end of the month for the first week in which you can vote you're favourite sketch and I will create a final piece with that sketch. So it means that if it is november I will release sketches for the december illustration, which you will be able to vote it in the first week of december.
I will release the sketches the same day I will made it.
Now regarding the comic...
Bunny Fables is born by my passion for fable and mithology, two things I think are intertwined on a basic level. In this comic series I will create original fables created by me, loosely based on the archetypal meaning of other fable. They will be short stories of 50-60 pages.
I will use this format even to experiment on an artistic level. I will use pencils, watercolours, chalk whatever I want. But rest assured... I will be consistent on the Fable.
If I start with chalk I will finish with chalk.
This Fable is based on "Little Red Riding Hood"
"A girl is bullied and she is helped by an older guy who invites her to his home"
I always liked the concept of Little Red Riding Hood, especially the earlier version in which Little Red eated the meat and the blood of her Grandmother... I always think of it in this way:
"
Be on the lookout because you can easily become a monster
"
I will create a Discord channel in which you can talk about Bunny Fables... or whatever you want.

1 of 5
By becoming a patron, you'll instantly unlock access to 40 exclusive posts
By becoming a patron, you'll instantly unlock access to 40 exclusive posts
Recent posts by Lennybunny
How it works
Get started in 2 minutes