less-stuff, less-waste
is creating resources and support to make easy changes to live sustainably
Select a membership level
Challenges and free books
Small pledges make a big difference to me so please don't think you are pledging too little. Every bit counts towards helping me help others!

Free books

As a Patreon you get access to all the PDF versions of my books for free.  There is a book for every season and each one covers ways to save money, live more sustainably and organise your life. There are craft and cookery ideas too.

Piles to Files is my first ever book and it guides you through decluttering paperwork. The Elephants in the Room is an in depth look at getting rid of clutter in a very slow and gentle way.




Free books and early access
50p a week from you will really help me make this space more useful for you.

Challenges and motivation
Alongside all the free books you can download you also get random challenges, motivating and fun links and useful stuff I come across. Recently I've linked to a couple of podcasts and an app that helps me keep my house clean. I post these links as I come across them, they are not sponsored by anyone, they are just things I've found useful or interesting.

Early Access
If I'm making any new content, you get to see it first!
Request challenges
Patreons who donate at this level get all the free downloads, challenges, posts and motivations and you can request challenges too, so if there is something you are working on let me help you get it done.
About less-stuff, less-waste
Hi, I'm Lisa and I run
www.less-stuff.co.uk
and 
www.less-waste.co.uk
The main ethos behind less-stuff is that little changes can make a big difference.
I write about
decluttering for people who love stuff (and that is OK)
saving money for people who like a bit of comfort in life
being more eco-friendly for people who are short of time 
Slow and steady wins the race at less-stuff.
Expect to find:
5 minute decluttering prompts and walkthroughs
seasonal recipes
monthly challenges
ideas to save money
links to useful apps and websites
tips to conserve resources
ways to practice self care
I don't write about minimalism, purging or overhauling. I truly believe that our stuff is important to us, it becomes part of who we are. The trouble is that it is far too easy to accumulate things.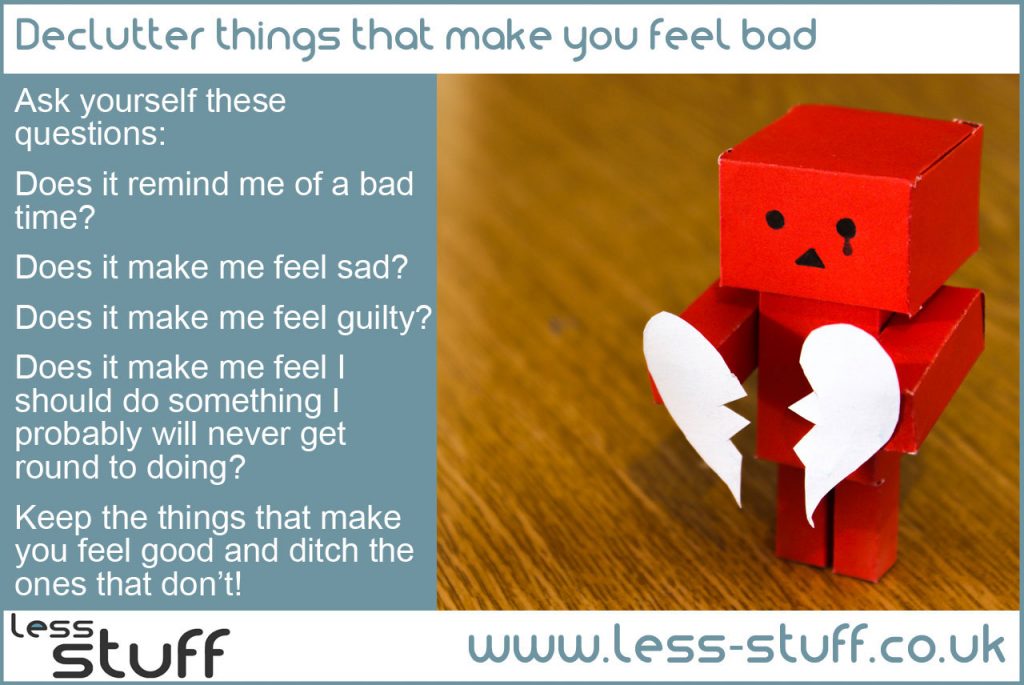 I help people work out what they don't need in their lives, what is holding them back and what is making them feel bad. Once you get rid of the surface layer of total junk you can enjoy the things that make you happy more.
About me
I'm a human centered collaborative designer in my second year of a masters in design. I've worked with poets and textile artists on dementia friendly boxes for Bristol Museum and designed a pilot scheme that rewards people who don't litter. I teach people how to solve problems using design thinking at IKEA and for the University of the West of England on the Enterprise and Entrepreneurship module. I live in Bristol in the UK with a very hungry teenager and too many cats.
What people say
"I'm delighted with your method
As a life long hoarder and gatherer of junk I am absolutely thrilled with the less-stuff method. Since my daughter shared the link I have been applying the 5 a day method with great success. 5 minutes and 5 items is so simple that it invariably leads to doing a bit more but if I stop at 5 I'm happy with that. The difference in my kitchen is amazing. I should have taken before and after pics. I'll do that with the next room. <cite> Frances 2nd April 2017 "</cite>
By becoming a patron, you'll instantly unlock access to 124 exclusive posts
By becoming a patron, you'll instantly unlock access to 124 exclusive posts
Recent posts by less-stuff, less-waste
How it works
Get started in 2 minutes