Level Design Lobby
is creating Game/Level Design Podcast
Select a membership level
Game Guru lvl 1
Thank you and congratulations on your level up, To Game Guru Lvl 1!
Lvl 1, will grant you:
- A pamphlet on some of my best tips on breaking into the industry 
- Part 1 of a Video Q+A with me. 
- LDL Discord Server
- Backlog of LDL articles on game design

Includes Discord benefits
Game Guru lvl 3 - Power Up Activated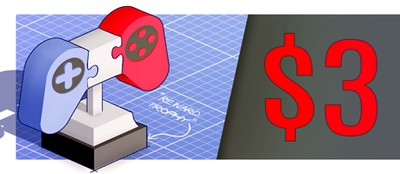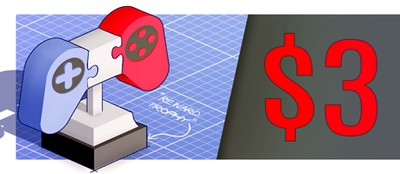 Level 3 has been unlocked! Thank you for joining the quest for better game/level design. It is dangerous to go alone, it is best you take these
Lvl 3, unlocks:
- Bi-monthly Webinars (once ever two months)
- Level design Pamphlet - My essential level design tips
- Part 1 + 2 of video Q+A
- New Discord forms
- All Lvl 1 powers
Includes Discord benefits
Game Guru- Lvl 5
Congratulations, your xp has now dinged you up to Lvl 5! 
Lvl 5 unlocks:
- Access to our Bi-weekly LD tasks  
- New Discord forms
- All Lvl 1 perks
- All Lvl 3 perks
Once every two weeks I will set an LD task for you to complete, in which you will be able to improve on your LD skills helping us all improve as level designers and building a stronger portfolio. 
Includes Discord benefits
About Level Design Lobby
"The challenges have really helped me grow in my level design process. I'm really enjoying being subscribed at the level design weekend tier!" - Ali Lvl 10 Supporter

The Level Design Lobby's goal is to break down the game/level design process of fantastic games, while explaining to all the amazing Game Design Guru's why these choices may have been made and what we can all 
learn/take away from these examples.
While also bringing in 
top industry talent
to discuss their views on certain video games, as well as 
tips on how to break into the industry.
The ultimate goal is to bring a tight community together to help us all, as devs and game lovers grow.
I'm Max Pears the host/creator of the Level Design Lobby Podcast, I have been a professional level designer for over 5 years, working on a range of games from Mobile, AR, to the big triple A titles. My career has taken me to some of the biggest studios around the world from Ubisoft to CD PROJEKT RED (my opinions do not represent the companies, nor are any secrets of the studios discussed here).
My podcast is aimed at anyone who has a burning love for video games. Whether you are a player who wants a to know more on how some of your favourite games were made, to future designers who wish to know how to stand out, or for industry vets who are just wanting to expand their own knowledge.
Patreon is an incredible service where you the supporter send payments directly to the creator in order to help support them, make the content that you love. 
To me, Patreon is better for the relationship between the creator (me) and the viewer (you) as there will be no outside influence to get the video to play a certain way. Instead, the podcast will be focused on delivering the best possible content
for you.
All Patreons who pledge will have my eternal thanks, but wait there are more collectables below: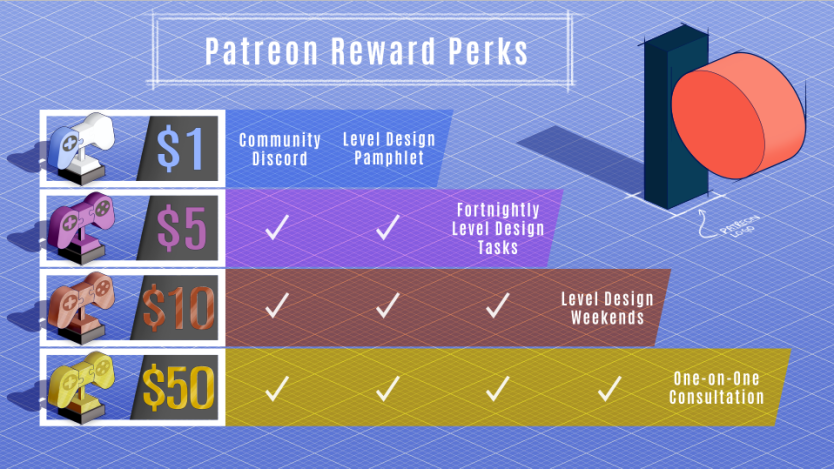 I only want to keep these pledge to three easy payable categories so that it is affordable for you no matter your income.
"Level Design Lobby is a collection of excellent resources and tips to improve your work and yourself, bolstered by an amazing community that goes above and beyond to help everyone succeed." -
 Snow Lvl 5 Supporter
"Thanks to LevelDesignLobby I feel I've been able to grow my LD skills much faster than I would have otherwise" -
Pibin Lvl 50 Supporter
"I've been listening to the LDL podcast since it started really so I thought I really should support the great content that gets put out." -
Ape Asylum Lvl 5 Supporter
"I have learned a lot from Max! How to reveal a level slowly, putting focus bit by bit. Techniques on how to make the player lookup. I can see there are good challenges and that they are really helpful in becoming a better level designer." 
- MarcoT Lvl 50 Supporter
"I really appreciate what you are doing already with the podcast and the Discord community." -
Apin Lvl 3 Supporter
You will pay the amount you've selected 
once a month
, yet you can choose when to stop at any time. I release
3 episodes a month
and have made it my goal to make sure I stick to this. If however due to certain circumstances I do not release
any
episodes in a month I will not charge. 
The money you donate will be spent on improving the show as well as maintenance costs. My intention is to use the money to purchase better equipment like a new/multiples mics to deliver a better interview experience, than one mic shared between
x
of us. It will also be used on better software for editing to give those who watch on my youtube channel a far better experience than the one and who knows maybe even an editor one day. Maintenance costs will be covered with as well as hosting, hard drive space, and research.  
Making sure that this money you the viewer have entrusted to me goes to delivering a better experience for all of you, taking it to (pardon the pun) the
Next Level. 
$1,300
-
reached!
per month
Let's Design - my level design series released its first book July 2020, what I want to do is with this money is reinvest it into the second book of the series which will be about Traversal/Exploration. Unlike the launch of my last book I will be able to give the book to all tiers not selected
10 of 10
Become a patron to
Unlock 69 exclusive posts
Connect via private message
Recent posts by Level Design Lobby
How it works
Get started in 2 minutes