Lidia in Wonderland
is creating a magical world made of Songs & Stories (Music videos & Art)
Select a membership level
Welcome to Wonderland
Access to my Patreon Feeds exclusive content about "Lidia in Wonderland": get to know everything behind our songs and videos!
Early access to my photo shoots series related to every video
See my new music videos FIRST before anyone else. I'll send you a private link at least one day before release 
I'll put your name in the thank you credits of my videos! 
Early MP3 Download of the new songs as soon they are finished (usually months before the video release)
Be the FIRST to know about the new incoming videos 
The Music and Light of Wonderland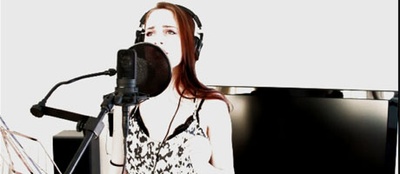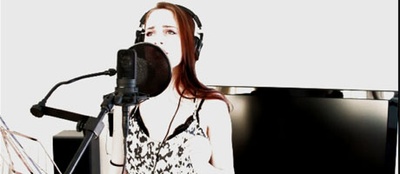 See my making of videos FIRST too before anyone else
I'll send you a thanks video message welcoming you personally
Plus all previous rewards
The Colours of the Rainbow
Piano Accompaniment (midi and music sheet) of new songs so you can play and sing our songs at home!
MP3 Download of all "Lidia in Wonderland"'s previous songs 
Plus all previous rewards
About Lidia in Wonderland
[EN]Hi music & art lovers! Thank you so much for dropping by! I am Lyda Swan (Lidia Guglieri), singer from Spain. I am absolutely pleased to welcome you to this new world of beautiful songs and stories which, together with the composer David Magrané, we are creating for you! 
Maybe you already know me as the lead singer in  Suddenlash, the soundtrack, symphonic metal band from Barcelona, which I also co-founded together with David (if you like epic music, you should give it a try!). 
Besides Suddenlash, David and I wish to let our creativity and knowledge fly free, so that is why "Lidia in Wonderland" is born for: to keep bringing the magic of music to our lives by creating a new universe of songs and fantasy for all our listeners and supporters. 

"Lidia in Wonderland"'s project is about mixing new original songs, acting and drawings, and then to put all together with computer edition. By doing this we try to go with our songs farther than usual. 

Frame from "Murky Woods" music video
[ES]¡Hola amantes del arte y de la música! Soy Lyda Swan (Lidia Guglieri), cantante española. ¡Genial veros por aquí! Os doy la bienvenida a este nuevo mundo de bellas canciones e historias que, junto con el compositor David Magrané, estamos creando para vosotros.

Quizá alguno pueda conocerme por ser la cantante de Suddenlash, la banda de metal sinfónico cinematográfico de Barcelona, que también fundamos David y yo (si os gusta la música épica, podéis echarle 
un vistazo
!).

Además de Suddenlash, David y yo deseábamos(¡necesitábamos!) seguir dando rienda suelta a nuestra creatividad y conocimiento, y así nació "Lidia in Wonderland": una nuevo universo de canciones y fantasía, a través del que seguir trayendo la magia de la música a nuestras vidas.

El proyecto de "Lidia in Wonderland" consiste en la fusión de canciones originales, interpretación escénica y dibujos, mediante la edición por ordenador. Así, intentamos dar vida a nuestras canciones más allá de lo habitual. 


"Murky Woods" Before & After

[EN]This Wonderland corner is being created just for you! Because YOU are the important thing here: we know that, without people to whom to share our music with, nothing of this has much sense and also, without people like you who support us, we can't go on doing this much longer. 

So through Patreon we'd love to share our work more intimately with people who wish to know more about our video-songs, the work behind them and, why not, about us. Also we'd like to make you part of the creation process and to know your insights about new ideas too.  


Right here, you can patronage our work! On this platform you can support every new video we make in exchange of exclusive rewards: becoming "Lidia in Wonderland"'s patron gives you access to special features of our work, as sneak peeks of the upcoming work and videos, early download of new songs, Behind the Scenes features, gifts away, Skype sessions with me... and specially, we'll forge a strong bond of love, our souls will be with you forever!

All our songs and videos are hand crafted with much love and passion. We love spending our time on it, and especially, to sharing the results of our work with you. But also we need a way to cover expenses and time. Every little help, will mean a world of possibilities for us! 

The more patrons we can get the more time and strength we'll have to create more songs, videos and... who knows! No limits! (just thinking of a "Lidia in Wonderland"'s live concert? That would be amazing!).


LET'S DREAM TOGETHER!

Frame from "The Lonely Mermaid" Music video

[ES]Este rincón "de las Maravillas" está siendo creado especialmente PARA VOSOTROS, porque vosotros sois lo verdaderamente importante: sabemos que sin personas como tú con las que compartir nuestra música, ésto no tendría sentido y también, sin tu apoyo, no podríamos seguir haciendo música. 

Por ello, a través de Patreon, queremos compartir nuestro trabajo de una forma más cercana y personal con todos los que queráis saber más acerca de nuestros videos y canciones, el trabajo que se esconde detrás de ellos y, por qué no, conocer más sobre nosotros. También queremos que formes parte del proceso de creación y conocer tus pensamientos sobre nuestras ideas y proyectos.


CÓMO FUNCIONA:
Desde aquí, puedes apoyar cada nuevo video que hagamos a cambio de recompensas exclusivas, como avances de nuestro trabajo y videos, descargas de las canciones mucho antes de que salgan a la luz, rifas de dibujos, sessiones en Skype... y sobretodo, forjaremos una amistad, ¡nuestras almas estarán unidas para siempre!
 
Todas nuestras canciones y vídeos los creamos con mucho cariño y cuidado. Nos encanta dedicarnos a ello y sobre todo, compartir los resultados con vosotros. Pero también necesitamos cubrir gastos y tiempo. ¡Toda ayuda, por pequeña que sea, puede significar un mundo de posibilidades para nosotros!

Cuantos más mecenas reunamos, más tiempo y energías tendremos para crear canciones, videos y... ¿quién sabe? ¡No límites! (qué tal un cocierto en vivo de "Lidia in Wonderland"? Seria increíble!).

¡SOÑEMOS JUNTOS!
Love, Lyda  
Some of "Lidia in Wonderland" works:

By becoming a patron, you'll instantly unlock access to 27 exclusive posts
By becoming a patron, you'll instantly unlock access to 27 exclusive posts
Recent posts by Lidia in Wonderland
How it works
Get started in 2 minutes