liesl-yvette
is creating portraits, and writing fiction!
Select a membership level
Helvetica
Hi there! 
Thanks for stopping in welcome to the £2 level tier.
My £2 patrons receive access to:
Portrait updates and progress throughout the week
The latest installment of the most recent novel or project
Calista
A big double thank you!  
Portrait updates and outcomes
Most recent updates of current novel or project
Quirky illustrated stories and slideshows
Stellar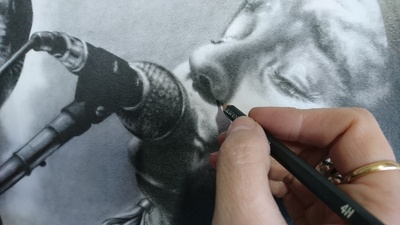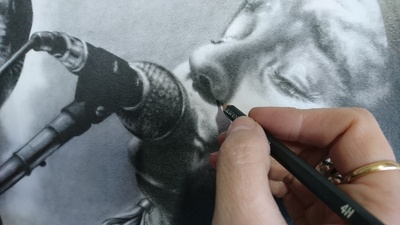 Eternal gratitude to you and yours.
I'm so lucky to have you and I am really excited to share my work with you.
You will receive:
Weekly portrait updates
Most recent updates of novels or current projects
Access to early sketches and scribbles
Access to early drafts of novels and stories
Advice of technique/form/composition - Q/A
Invites to exhibitions
Discounted prints, artworks or commissions
Votes on future works
About liesl-yvette
Woohoo... you have landed on my Patreon page!

I have been an artist and a writer for as long as I can remember, juggling creativity around all the usual things a busy life contains - a  hectic job, hyperactive child, a greedy, continuously-shedding cat,  and a fish tank that seems to be growing something that looks suspiciously like a Triffid. With all this and more, a girl needs a break... a sleep... a holiday...or... preferably, just more hours in the day to get some decent work life balance happening. For the working artist, time, or the lack of it, will always be the biggest challenge. 
But, then a friend asked me;
"Have you thought of starting a Patreon page?" 
"Oh, sure..." I said, trying my best not to sound too sarcastic. "I have tonnes of free time."
(I swear the fish was glaring at me through the mold as he swooped to avoid the triffid's tentacles.)
"It's perfect for you. You can paint and chat to people all day!"
"I don't think I have that much to say!" I said, already two hours into a weekly writer's group where we had done little more than talk and google garden studios.
She opened the Patreon page of a writer she subscribed to, a writer so prolific they made Tolstoy look like a lazy git. "You have to do this." she insisted.
"Err, okay," I said, feebly, "If I use the time I normally set aside for useless stuff, like sleeping or bathing."
"It's not facebook," she said, "If you get enough followers you could run your page as a full time thing!"
My little brain started ticking, and my creative self was already telling my knackered shell to suck it up and get moving!
"Is this before or after the breakdown?" I joked.
"Well, that's just something else to write about!" Bless her enthusiasm.

I have never been good at promoting myself. I like talking about process and understanding the process of others, but, I'm not good at: "Hey, here's my stuff - I'm going to do A, B and C, make money and live happily ever after. Marketing? Definitely not my thing! 
People tell me all the time, that if they could do, what I do, they would never work a day in their lives. How I'd love for this to be true! Unfortunately, most of us find ourselves clinging to our creative outlets, despite the pressure of everyday life and we find that we actually end up working harder as a result. As both artist and writer, I find myself stealing minutes between boiling rice and playing with plastic ponies, literally putting an artwork together in ten and twenty minute intervals threaded together over a series of days sometimes weeks. Whenever I am mid-artwork, I feel as thought I am neglecting my writing and vice-versa, it is an unavoidable consequence of having a drive to create through two separate avenues. The two entities exist side by side and exercising one does not placate the other, there is always the itch to do both, no matter how much energy or time I channel into the alternative. 
To be able to devote equal time to both would be a dream. My aim, however, is to have my creative life sit comfortably within my family life. To be able to write without being exhausted, paint at two in the morning because I want to rather than that it was the only time i had available. To play ponies, and dinosaurs without feeling exhausted. If you could help me achieve this, great blessings will be rained down upon you... well, not really, but you will have my eternal gratitude and access to some cool stuff besides!

My Patreon page will be my day to day. I am always scribbling where-ever I am, the train, the cafe, my work desk... There's always note books being filled or ideas sketched on the back of envelopes. From sketch and crudely written notes, crumpled in the bottom of my bag, to finished novel or artwork, I'll share it all with you! 

We have at least three novels to get through and God alone knows how many sketches I have already on hand... so we best get started!

For those of you wanting to get the pencils out or others who are just curious, I'll share tips and hints, offer one to one advice, give you treats to download and discounts on art prints. You may even get invites to future art showings (there is one coming up, so it is not out of the question)!
As far as writing is concerned, I'm going to share a chapter at a time and take you on an adventure with a gothic kid's novel, and a quirky series for those of us who are a little older, but still don't want to take life too seriously.
I'd also like to meet you and answer your questions, so lets chat!
Lets go for it. 

Art, art everywhere! lol.
I mean it. Its under beds and on top of wardrobes. Its behind bookcases and, if its small enough, in bookcases.
I've always jealously eyed the map drawers my friend picked up in a flea-market, and now have my eye on one of my own!

1 of 3
By becoming a patron, you'll instantly unlock access to 122 exclusive posts
By becoming a patron, you'll instantly unlock access to 122 exclusive posts
Recent posts by liesl-yvette
How it works
Get started in 2 minutes