Lighthouse Farm Sanctuary
is creating a safe & loving refuge for those who need it most
Select a membership level
Get exclusive patron-only merch
$1 or more monthly pledge
Your monthly support allows us to care for over 300 rescued animals. It is essential in helping us rescue new animals and give them the urgent medical care that they need. We are so grateful for your support. 
Barn Access
Access to behind the scenes videos, blogs, vlogs etc., about life at Lighthouse Farm Sanctuary.
Exclusive design not available anywhere else!
Barn Access Plus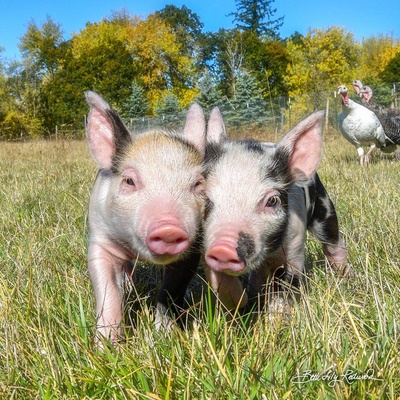 Access to behind the scenes videos, blogs, vlogs etc., about life at Lighthouse Farm Sanctuary + a beautiful logo mug! 
Drink your coffee in style with the beautiful logo mug.
About
A KIND OF MAGIC
At Lighthouse Farm Sanctuary we believe that every individual has the right to freedom. Freedom from pain, freedom from fear, and freedom from oppression. We provide those with the most heartbreaking stories hope and the promise of the freedom to be themselves. A promise of companionship, of love, and of care. Our sanctuary is home to over 300 non-human animals who have seen the very worst of humanity and every day they amaze us with their profound abilities to love and to be loved, even after the tragedies they have endured. Our goal is to share their stories with the community and bring about positive change in the way they are viewed by society. By fostering beautiful, meaningful bonds between people and the animals they may see as "food" or as "things" we are changing the future for the individuals who mean so much to us. People who visit and volunteer at the sanctuary often comment on the unique sense of peace they feel when being here. All of our residents cohabitate peacefully and have strong friendships with one another. They know they are safe and loved. We like to call it a kind of magic created by love, trust, and understanding.
We desperately need your help! Every monthly donation allows us to feel confident in our care of our rescued residents while opening our doors to more animals in need. As Oregon's largest and oldest farmed animal sanctuary, we truly couldn't do the work that we do without your support. THANK YOU! 
Lighthouse Farm Sanctuary is a
501(c)(3) organization
dedicated to the rescue and rehabilitation of abused and neglected farmed animals.
Facebook:
facebook.com/lighthousefarmsanctuary
Instagram:
 instagram.com/lighthousefarmsanctuary
Web:
www.lighthousefarmsanctuary.org
In order for us to continue giving top quality care to our nearly 300 rescued residents as well as offer much-needed refuge to more animals who need our help, we need to secure a steady stream of monthly donations. Help us build more structures, rescue more animals, and offer vital education to the public about how amazing our animal friends are!
1 of 1
By becoming a patron, you'll instantly unlock access to 37 exclusive posts
By becoming a patron, you'll instantly unlock access to 37 exclusive posts
Recent posts by Lighthouse Farm Sanctuary