Lisa Chu
is creating Illustrated Stories for All Ages
Select a membership level
A big virtual high-five from me to you! THANK YOU for believing in me and my creative process. You get access to the patron-only feed here on Patreon.
THANK YOU!
In addition to the patron-only feed, you will get one hand-written thank you card from me during each year of your patronage.
Limited (17 remaining)
THANK YOU so much!!
In addition to the patron-only feed and thank you card from me, you can choose one 8"x10" print per year from the images released for patrons. Shipping outside USA extra.
About Lisa Chu
"The most regretful people on earth are those who felt the call to creative work, who felt their own creative power restive and uprising, and gave to it neither power nor time." - Mary Oliver
I am a Midwest-born-and-raised, currently California-based multidisciplinary artist. I make daily illustrated stories in ink and watercolor, and I am an adventurer, traveler, and visual journalist. My life started out on a much more conventional path, as I marched through school and collected degrees that were supposed to bring me security and comfort. Instead of asking, "What will I get out of it?", I started asking, "Who will I become as a result of this?". This question has guided each of the important and difficult decisions I have made over the years, to give both power and time to my creative work.
Since 2009, I have done the work of discovering a creative practice I can do daily, with joy and consistency. In the process, I have invested my own savings, used credit cards, worked retail, taught classes, and been supported by family and clients, doing everything imaginable to keep alive this clear calling to create my own art.
My daily art-making started in earnest in 2014, with my acceptance into an exhibition featuring 50 small artworks created in 50 days. You can see the blog of that process 
here
.
These days, I am into ink and watercolor sketches and illustrations with words and images woven together. I am interested in a long-term project of creating a nonfiction book of all illustrated text and images, in the re-emerging genre of painted stories or visual journalism. I create a one-page daily illustrated journal, called "Before 10am". I have been doing this every day since July 2016, and sharing it on 
Instagram
, 
Twitter
, and with my Facebook friends.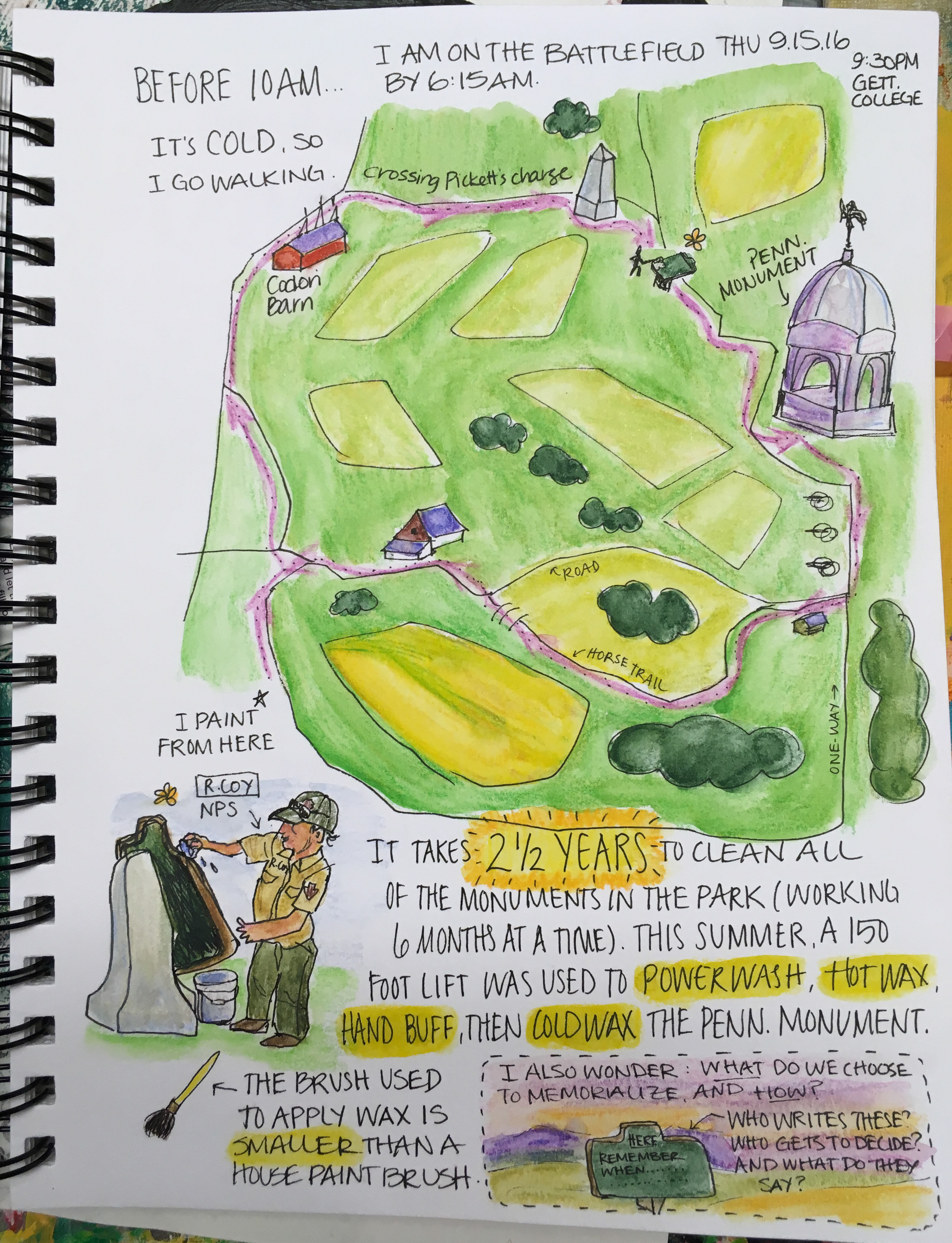 My fascination with public land conservation and travel have led me to create sketches as I journeyed through the Southwestern United States, as a volunteer at Yosemite National Park, and most recently, at Gettysburg National Park and surrounding Civil War battlefield sites. I have made my art available for viewing on 
Instagram
as well as on my website, 
Wild Tomato Arts
.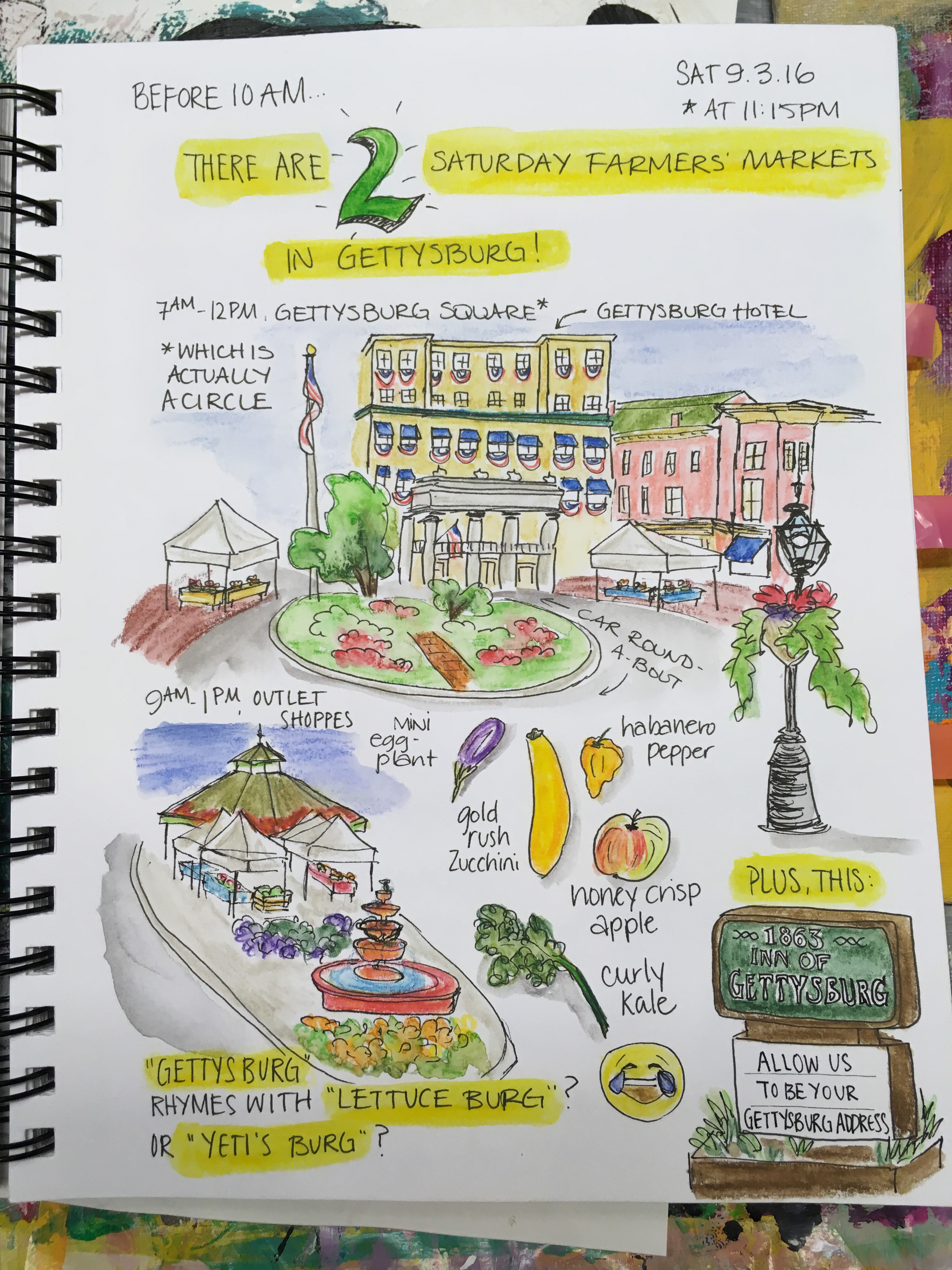 I'm inviting you to join the Patreon community of modern-day arts patrons (if you haven't already), and become a patron of my art journey!
You can help me continue my
daily art making
and help make possible my future
long-term projects,
like more books and exhibitions! Your support will also help me by providing some breathing space as I identify collaboration partners like literary agents, publishers, and more exhibition spaces to help distribute my work to wider audiences.
With Patreon, you can be an angel investor in my development as an artist.
Think of it as a virtual "high five", a way to encourage me and tell me to keep going. Every contribution makes a difference to me! More than a "Like" or a follow, your vote of support on Patreon demonstrates your belief in my creative process and the benefits you receive from my sharing. Your support will make a huge difference in my life, by helping me bring my work into the world.
UPDATE on my stated goals:
For the rest of 2016 (stated in October 2016):
- Continue creating
"Before 10am" daily illustrated journal
series, publishing on Instagram, Twitter, and Facebook
DONE
- Create an
exhibit, talk, and book
from the work completed at Gettysburg National Park and surrounding Civil War battlefield sites, to be presented first at Half Moon Bay Library, November 2016
DONE
- Continue my
National Parks sketching project
with a one-week camper van trip to Death Valley National Park in December 2016
DONE
For 2017:
- Compile the
illustrated blog posts from my 12-day Yosemite backpacking and volunteering trip
into an ebook and print book, either self-published or in partnership with a conservancy organization  -
print book draft DONE; text in final editing stage
- Identify other potential sites for
exhibition of my Gettysburg work
- Create and install a
solo exhibition
 of 18 to 20 pieces at Bamboo hair + body, a Half Moon Bay hair salon/art gallery space, February 2017
DONE - actually it was 31 pieces!
- Complete and self-publish
an illustrated children's book
by May 2017 -
eek! instead of a children's book, I completed and self-published the Badass Women Portraits book!
-
Return to Gettysburg
for exhibit, talk, workshop, and book release in 2017-2018 -
DONE!
- Apply for additional artist residency programs in 2017-2018+
- Submit illustrations for publication in journals/magazines/newspapers
- Establish relationships with literary agents and publishers for book of illustrated stories
BONUS goals accomplished:
- Presented the Badass Women Portraits book for a women's book club
- Invited to exhibit at Atherton Arts Foundation Fall 2017 show, September 2017
- Completed the Community Quilt based on Lincoln's Gettysburg Address, and exhibited this in Gettysburg, August 2017
- Attended a one-week graphic novel workshop as a student at Center for Cartoon Studies in White River Junction, VT, gaining inspiration and insight into the craft of visual storytelling
And beyond (as stated October 2016):
- Tour America's small town libraries in 2018+
- Read to 3rd grade classrooms in rural American towns 2018+
New goals for 2018 and beyond:
- Lead more sketchbook journaling walks for youth and adults
- Organize and lead a travel sketching workshop abroad in partnership with a travel company
I am on a journey to create art that offers both insight and delight, inspiring stewardship of the beauty in our world. Beauty can mean anything from noticing the details in a seemingly mundane moment of daily life, celebrating the story and significance of a single object, or basking in the unnameable grace of a sweeping landscape.
I create as a way to connect to human experience, and to remind us of the power of our own unique way of seeing the world.
FAQs:
What is Patreon?
Patreon is a global community of artists and their patrons -- that means people like you and me. Through this site, you can make a
monthly donation
in support of my
ongoing
work, and discover other independent artists and opportunities to support their ongoing work. Unlike project-based crowdfunding sites you may already know about (like Kickstarter), which are designed to raise large amounts of money for a single project, Patreon is designed to cultivate long-term patrons of artists' work, with monthly amounts to fit any budget.
This is a bold new model in the quest to keep artists independently creating and sharing work with more people, not just collectors but anyone in the world who has access to the internet.
It's a way to pay people directly for their work. Work that you personally enjoy or benefit from in some way, or work you simply believe in. It's a way for you to vote with your dollars, at whatever level works for you. It's a virtual tip jar where you can symbolically high five, offer encouragement, and say to your favorite independent artist, "Keep going! I love you!".
Arts patronage has existed throughout the centuries. But now, patronage is not limited to the few aristocrats and their tastes. It is wide open to the world to participate in. We're all in this together! From $1 to $100,
every single patron makes a difference
in my ability to continue creating and offering Wild Tomato Arts, wild and free.
How much of my donation do you actually get?
Patreon collects 5% of each donation, and PayPal collects 2% of each donation, capped at $1 per transaction. The rest goes to the artist (me).
How committed are you as an artist?
This is what I do. I have been, and will be, making the art anyway. I am very self-motivated, and reaching out to ask for support has been a stretch for me. Many of you have watched me start from scratch and teach myself art for the past three years. What I hope to create with this Patreon community is the foundation of
support
and
time
to complete my projects and reach wider audiences by pursuing partnerships, while continuing to grow and develop my skills.
What if I want to give a one-time donation?
Thank you! Any support is appreciated, and if Patreon is not for you, you can always make a one-time donation 
here
.
Hooray! It's working! Once I reach this first goal, I will scan and post all the "Before 10am" pages here, for all patrons. This also happens to be the amount by which our monthly rent will increase in 2017. It would be amazing to cover this incremental cost via Patreon!
1 of 3