LiveWire Calgary
is creating local news and podcasts
Select a membership level
Testing the waters
 Access to patron-only feed
 Signed up for our weekly email newsletter
 NEW: Access to exclusive content that's NOT on the website
Supporter
Access to patron-only feed
Signed up for our weekly email newsletter 
Participate in content polls
NEW: Access to exclusive content that's NOT on the website 
Believer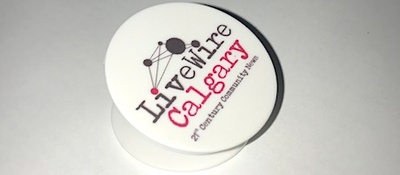 Access to patron-only feed
Signed up for weekly newsletter   
Participate in content polls 
LiveWire Calgary cellphone popper
NEW: Access to exclusive content that's NOT on the website 
About
People.

Powered.

News.

CORONAVIRUS NOTE:
We know that many of you are coming here as a result of our current COVID-19 coverage. First off, thanks for reading and taking an interest in our awesome little Calgary independent media outlet.
While we appreciate the interest, we know there are bigger things at play here. We certainly do not expect people to pay for our information at a time when families are struggling with the uncertainty over jobs, mortgages, schooling and how they'll keep food on the table.
All we ask is that when times get better, you give us a thought. Times WILL get better in Calgary. We're going to be there to help guide you through that recovery. Just think of us then.
In the meantime, hang in there. Don't be afraid to reach out to us for help or for answers. We'll do what we can to get you what you need.
Take care. Wash hands. Keep your physical distance. AND - keep reading and sharing!
- Darren
--------------
We get it. You're curious.  You liked that last story enough to check us out.
But, you don't really know us yet and we haven't yet met you (but we will). And here we are asking you for a
couple bucks a month
to help create the next generation of locally-owned, locally-operated, unbiased, agenda-free news. 
We are a crowdfunded independent news organizations providing reliable daily news that impacts your neighbourhood.
Your support propels us forward.
We have a vision for new local news media in Calgary.
It's one that delivers information to thousands of Calgarians daily, done free of political agenda and with a community focus. Here's how we want to do it:
Focus on unique neighbourhood stories in Calgary - the ones the other guys ignore. (Have you ever noticed no matter what newspaper, TV or radio news you tune into - THEY ALL HAVE THE SAME STORIES?)
Avoid, where possible, chasing the exact same story the other media do, unless we can tell it in a different, more in-depth and generally better way. We'll bite-size stories to keep you informed on city issues, but our bread and butter is in content you've never read before.
Tackle the top issues in the city and deliver them in a way that informs citizens and breaks down barriers. We want to inform you with well-researched facts, delivered simply, so YOU can form solid opinions. We don't want to tell you (or worse, shame you) into our opinion or agenda. Being transparent is essential.
Use local writers for all of our stories - SAIT, MRU, U of C grads; many of our writers are younger, cutting their teeth as journalists and getting mentoring from long-time, highly respected Calgary news editor, Darren Krause. 
We want to tell stories in every one of Calgary's 200+ neighbourhoods (and we're already more than 1/3 there). Every community has a story. 
Why your pledge matters: People. Powered. News.
Our goal: 1,000 people at $5 (or more) per month.
We can operate VERY effectively with this. We can pay our writers fairly and put resources into important investigations and storytelling.
We don't believe in paywalls; it limits people's access to valuable information and wonderful stories about their city. 
Yes, our work has value. 
We just firmly believe that those who consume it will pay
. 
Each story produced by a freelancer costs between $125 and $250 - and that's not even for deeper investigations. We work with a group of 20+ freelancer writers, each one passionately committed to providing readers with quality stories about Calgary.  
That's what makes
your contribution today
so valuable. It takes a lot of effort for the little guy to stay ahead. For us to survive, we need to generate cash to pay freelancers. 
You can help
.
We're asking you to make an investment in us, so we can invest in telling Calgary's stories. Every pledge goes straight to journalism, not to operations.
(CHECK OUT OUR NEW SINGLE DONATION OPTION!)
Our pledge in return is to make Calgary better, one story at a time.
"I've admired Darren Krause for a long time. When he decided to create LiveWire, I knew that he would be fully committed to it. From day one, LiveWire has never let me down."
We've been inside the big media corporations. We saw where media was going wrong (and still is). It's getting further disconnected from the community it serves and more polarizing each passing day. We want to rebuild that local news connection and bring Calgary together, not tear it apart.
"When I cancelled my Sunday paper because local news coverage was decreasing, I decided to support LiveWire Calgary instead. LiveWire's coverage of local events is unique, unbiased and well written...a great investment!"



                              - Carolyn Sterenberg, Patreon supporter

How to pledge:
It's a monthly commitment (in USD) of $2, $5, $10 or more, for a reliable, trusted new media voice in Calgary. A $10 monthly commitment is just 30 cents per day. We can do this on 1,000 people at $10. Or, 2,000 people at $5. We don't mind if it's 5,000 people at $2 per month.
We'll fund a new, full-time journalist in our newsroom. (High fives all around!)

Greater breadth, greater depth and expanding our commitment to the community by adding a new, diverse perspective to the team.

2 of 5
By becoming a patron, you'll instantly unlock access to 49 exclusive posts
By becoming a patron, you'll instantly unlock access to 49 exclusive posts
Recent posts by LiveWire Calgary