Receive a FREE digital copy of the current issue of the London Reader as soon as you register as a patron at any Rewards tier.
Your contribution will not be deducted until the release of the next issue.
Featuring great stories from thought-provoking perspectives, the
London Reader
magazine presents contemporary voices in creative writing. The fiction, poetry, creative non-fiction, and interviews in each issue are curated, as if in a gallery, in order to explore a single theme, genre, region, or topic.
By subscribing to the
London Reader
, you're directly supporting the writers whose work is within its pages. Issues are cooperatively owned by their contributors, and each writer receives a proportionate share of your subscription amount. In addition, the curator of each issue designates a charity, detailed within, which receives 10 percent of revenue from the issue.
New issues are released four times per year on the first day of March, June, September, and December.
Support the literary arts; read great stories; subscribe to the
London Reader
.
* * *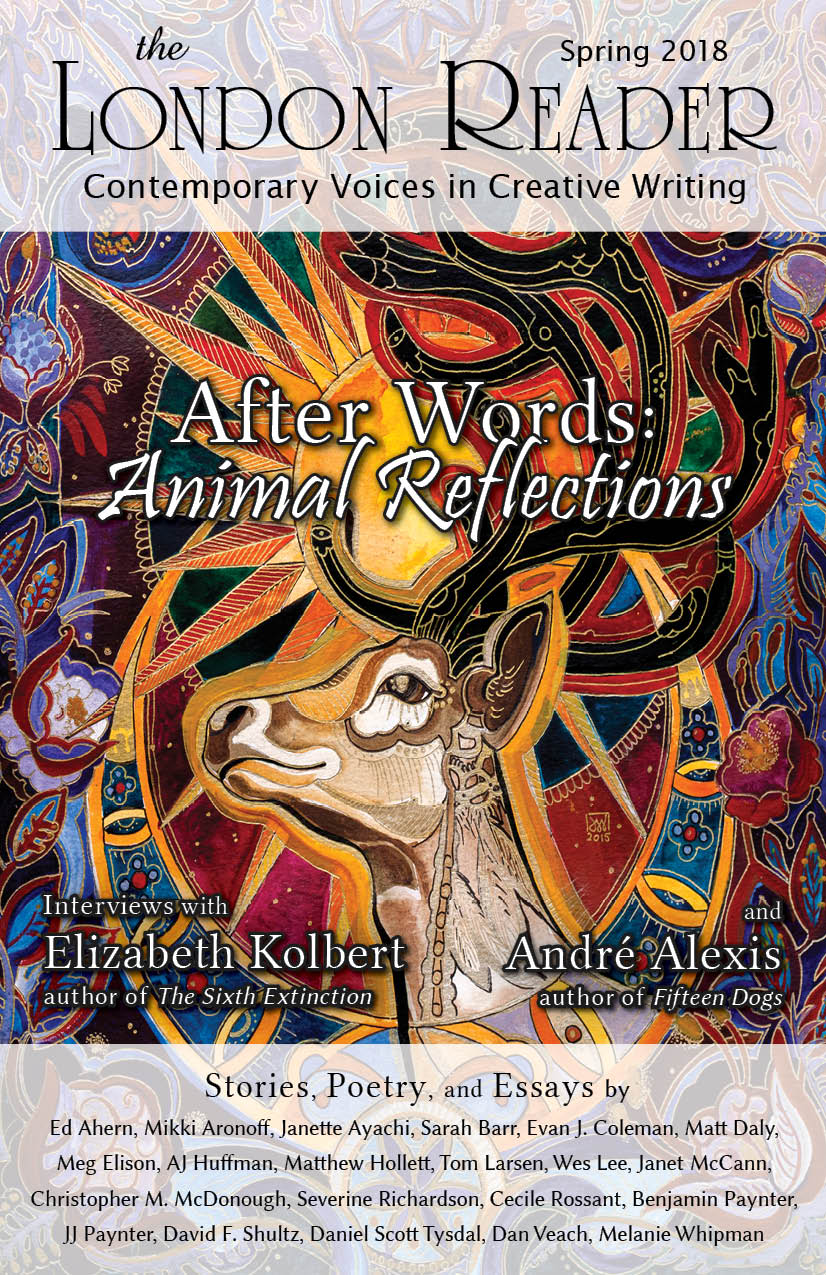 Current Issue:
We live side by side with animals. A flock of pigeons roosting on a rooftop is as apparently ordinary a scene as cats scrapping down the street or squirrels teasing their would-be chasers before turning tail to safety. How often we forget that we, too, are animals, and that our relationships with other animals can help us better understand the world we share with them. How often do we remember that as our ambitions and cities keep growing, the lives of animals among us keep changing?
After Words: Animal Reflections
questions our place in the world by exploring how animals have visited and haunted our lives and writing.
Curator Christina Claudia Galego frames the issue with new fiction by Meg Elison, winner of the Philip K. Dick Award, and critical poetry by Daniel Scott Tysdal, a ReLit Award recipient and TEDx speaker. Alongside these selections are creative essays, short stories, and poems by Ed Ahern, Mikki Aronoff, Janette Ayachi, Sarah Barr, Evan J. Coleman, Matt Daly, AJ Huffman, Matthew Hollett, Tom Larsen, Wes Lee, Janet McCann, Christopher M. McDonough, Cecile Rossant, Benjamin Paynter, David F. Shultz, Dan Veach, and Melanie Whipman, as well as affecting artwork by JJ Paynter, Dan Veach, Severine Richardson, and Jagoda Woźny.
After Words: Animal Reflections
also presents a timely exchange with Pulitzer Prize-winner Elizabeth Kolbert, author of
The Sixth Extinction
, and a thoughtful interview with Giller Prize-winner André Alexis, author of
Fifteen Dogs
.
For those who wonder where their dog goes at night, what it's like to see an elk in the wild, or whether animals are people too, this issue of the
London Reader
is for you.
* * *
The
London Reader
is also available by subscription for Kindle on 
Amazon.com
and 
Amazon.co.uk
.
See calls for submissions and previous issues at 
LondonReader.uk
.