The London Reader
magazine issues with Contemporary Voices in Creative Writing
Select a membership level
Get the current issue AND the most recent back issue for FREE in pdf as soon as you register, and then receive... 
A new issue of the London Reader in pdf format four times per year
Access to subscriber-only preview content online
Get the current issue and the most recent back issue FREE as soon as you register, as above, and then receive...
A new high quality print issue, of the London Reader, perfect bound, trade paperback, mailed direct to your home four times per year
A digital copy of each new issue in pdf format
Access to subscriber-only preview content online
(Please add $1 for additional shipping fees if you live outside the United Kingdom or continental United States)
Patron of the Literary Arts
Wow! Thank you for becoming a patron of the magazine you love and supporting the diverse array of writers within. As with other rewards tiers, every contributor to the magazine receives a portion of your patronage with each new issue.
Get the current issue and the most recent back issue FREE as soon as you register, as above, and then receive... 
Access to discussion of upcoming issue themes and ability to weigh in on the editors' decisions
Access to previews of upcoming interviews and ability to propose questions for famous authors
Your name in the Special Thanks of each issue
Plus a Premium Print Subscription as above with four new print and pdf issues every year
About The London Reader
Receive FREE digital copies of the current and most recent previous issues of the London Reader as soon as you register as a patron at any Rewards tier!
Your first contribution to the London Reader will not be charged to your Patreon account until the release of the next issue.
Featuring great stories from thought-provoking perspectives, the London Reader magazine presents contemporary voices in creative writing. The fiction, poetry, creative non-fiction, and interviews in each issue are curated, as if in a gallery, in order to explore a single theme, genre, region, or topic.
By subscribing to the London Reader, you're directly supporting the writers whose work is within its pages. Issues are cooperatively owned by their contributors, and each writer receives a proportionate share of your subscription amount. In addition, the curator of each issue designates a charity, detailed within, which receives 10 percent of revenue from the issue.
New issues are released four times per year on the first week of March, June, September, and December.
Support the literary arts; read great stories; subscribe to the London Reader.
* * *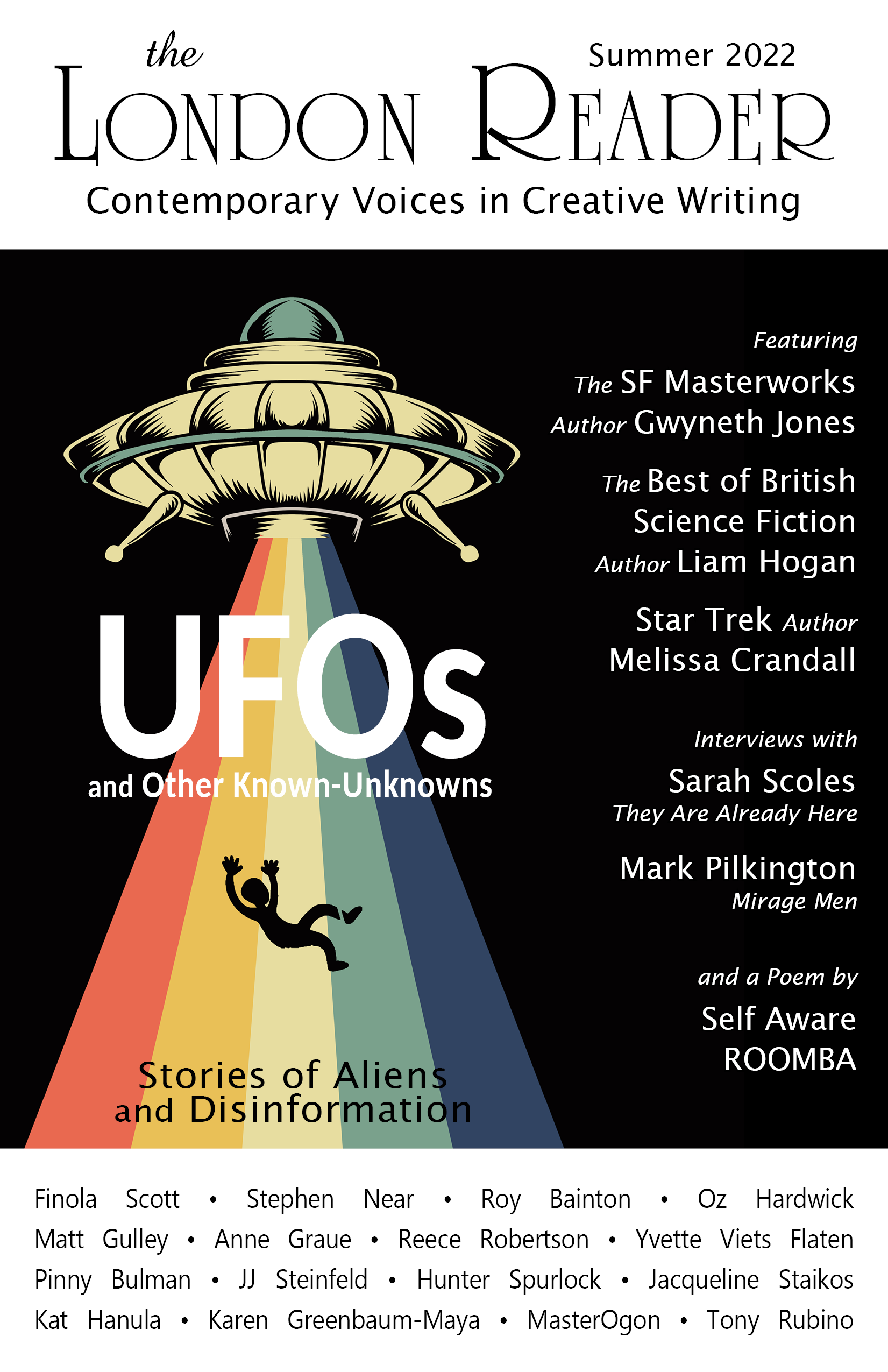 Current Issue:
UFOs and Other Known-Unknowns
Stories of Aliens and Disinformation
What were those hovering lights in the night sky? What is at Area 51 anyway? Have we had visitors from another planet? But more importantly, what do these questions—and the answers we imagine—tell us about ourselves?
The stories in this volume of the London Reader walk the line between the unexplainable and downright deliberate disinformation. They show us reflections of our own faces in alien visitors, and they stand witness to the unidentified things, to lights flying in the dark desert sky, and to the attempts by government agencies to weaponize those stories for nefarious ends.
In this collection, a mechanic meets an alien for the first time in a down-to-earth near-future short story from Arthur C Clarke and Philip K Dick award-winning author Gwyneth Jones. Best of British Science Fiction author Liam Hogan imagines space age first contact in his hard sci-fi story about a head of comms as she admins a message board at NASA. Two star-crossed friends take a roadtrip to Area 51 looking for evidence in a story by Stephen Near. Star Trek and Quantum Leap author Melissa Crandall creates a crash-landed spaceship for a single mother going through a separation. A deep-state cover-up conspiracy comes to heart-pounding life in a story from Reece Robertson. A classified report from the future by Hunter Spurlock reveals top secret methods used by intelligence agencies. And Yvette Viets Flaten takes us to the Area 51 air base she lived alongside in her youth, reimagined. In addition, the author of The Mammoth Book of Unexplained Phenomena, Roy Bainton details documented real-world accounts of unexplained flying objects and their connections to repeated accounts of real world Men in Black.
Interviews with Sarah Scoles, author of They Are Already Here, and Mark Pilkington, author of Mirage Men, trace the path of UFO stories from pop culture to deliberate government disinformation. Finally, the poetry and art in this collection breathes life into the conspiracies, imagining aliens in our skies and on our doorsteps.
Maybe, beyond all the alien memorabilia, government cover-ups, and stories of the unknown, there is someone out there who has seen the unexplained, who has experienced the unknown-unknowns. The truth is out there—only it's hidden amongst the disinformation.
* * *

See calls for submissions and previous issues at 
LondonReader.uk
.
When Patreon funding for the London Reader reaches it's first goal, all Patreon subscribers will receive a free back-issue PDF.
1 of 1
By becoming a patron, you'll instantly unlock access to 3 exclusive posts
By becoming a patron, you'll instantly unlock access to 3 exclusive posts
Recent posts by The London Reader