The London Reader
is creating magazine issues with Contemporary Voices in Creative Writing
Select a membership level
Get the current issue AND the most recent back issue for FREE in pdf as soon as you register, and then receive... 
A new issue of the London Reader in pdf format four times per year
Access to subscriber-only preview content online
Get the current issue and the most recent back issue FREE as soon as you register, as above, and then receive...
A new high quality print issue, of the London Reader, perfect bound, trade paperback, mailed direct to your home four times per year
A digital copy of each new issue in pdf format
Access to subscriber-only preview content online
(Please add $1 for additional shipping fees if you live outside the United Kingdom or continental United States)
Patron of the Literary Arts
Limited (5 remaining)
Wow! Thank you for becoming a patron of the magazine you love and supporting the diverse array of writers within. As with other rewards tiers, every contributor to the magazine receives a portion of your patronage with each new issue.
Get the current issue and the most recent back issue FREE as soon as you register, as above, and then receive... 
Access to discussion of upcoming issue themes and ability to weigh in on the editors' decisions
Access to previews of upcoming interviews and ability to propose questions for famous authors
Your name in the Special Thanks of each issue
Plus a Premium Print Subscription as above with four new print and pdf issues every year
About
Receive FREE digital copies of the current and previous issues of the London Reader as soon as you register as a patron at any Rewards tier!
Your first contribution to the
London Reader
will not be charged to your Patreon account until the release of the next issue.
Featuring great stories from thought-provoking perspectives, the
London Reader
magazine presents contemporary voices in creative writing. The fiction, poetry, creative non-fiction, and interviews in each issue are curated, as if in a gallery, in order to explore a single theme, genre, region, or topic.
By subscribing to the
London Reader
, you're directly supporting the writers whose work is within its pages. Issues are cooperatively owned by their contributors, and each writer receives a proportionate share of your subscription amount. In addition, the curator of each issue designates a charity, detailed within, which receives 10 percent of revenue from the issue.
New issues are released four times per year on the first week of March, June, September, and December.
Support the literary arts; read great stories; subscribe to the
London Reade
r.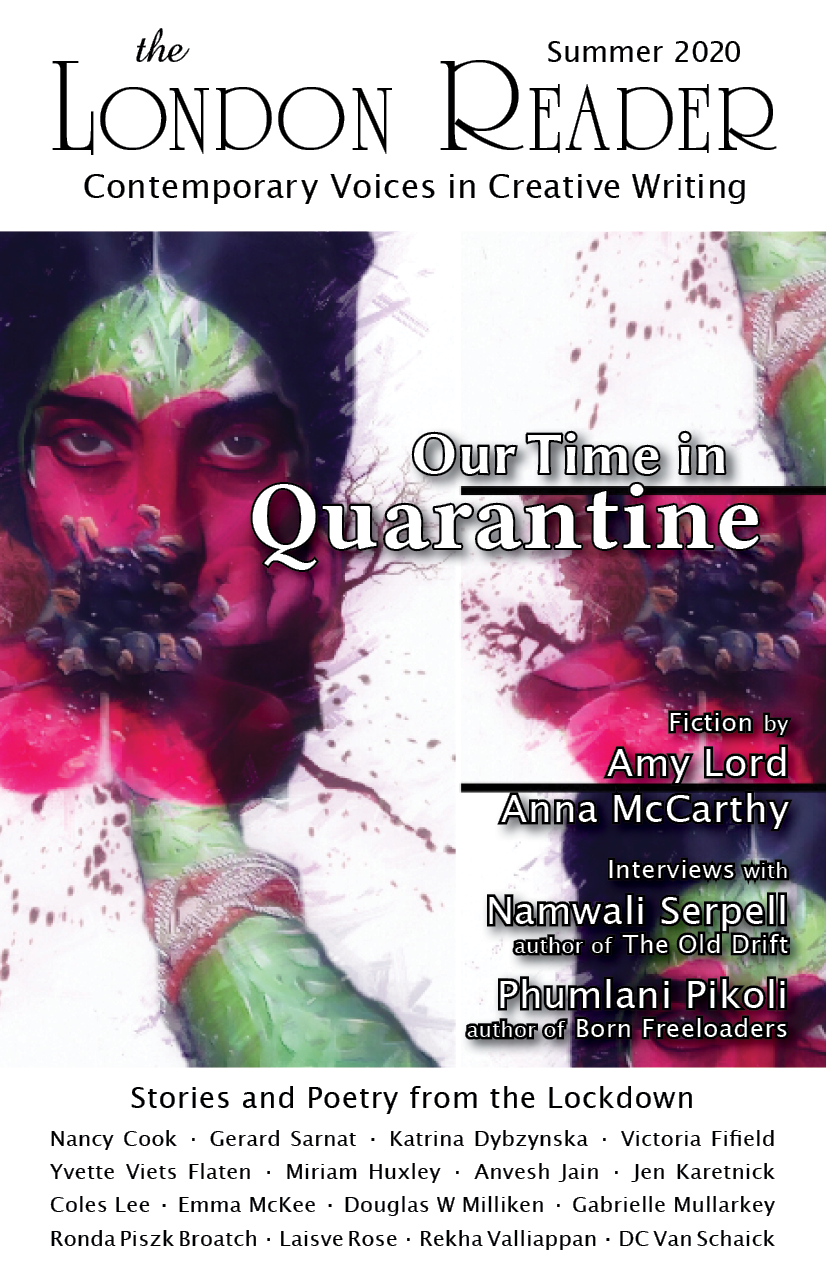 Current Issue:
Our Time in Quarantine
Stories and Poetry from the Lockdown
In quarantine, almost everything has changed—but it has changed for all of us, all at once. As difficult and as isolating is, we all share this moment. We are connected the world-over like during no global calamity that has come before. And our stories can help us navigate this pandemic in this moment. They can help us understand it through other people's eyes. And they can help us remember how it has affected everyone's lives.
In these stories, a magical clock that last chimed during the Spanish flu is uncovered; neighbours learn everything about each other through their facing windows; one woman's quarantine feels oddly like a house cat's; and ghosts of the past come to dinner when no one else can. The stories in this issue were all composed this year. They sprang from the experiences and imaginations of almost twenty different authors grappling with the pandemic.
This issue presents enchanting and affirming short stories from Yvette Viets Flaten, Emma McKee, DC Van Schaick, Amy Lord, Anna McCarthy, Coles Lee, Miriam Huxley, Gabrielle Mullarkey, Douglas W Milliken, and Rekha Valliappan. It includes moving and inspiring poetry by Victoria Fifield, Nancy Cook, Gerard Sarnat, Katrina Dybzynska, Ronda Piszk Broatch, Jen Karetnick, and Anvesh Jain, as well as art from Ann Marie Sekeres, Brenda Mann Hammack, Laisve Rose, and Leo Wijnhoven. This issue also features interviews with the multi-award-winning author Namwali Serpell, whose first novel, the intergenerational epic, The Old Drift has been called "extraordinary, ambitious, evocative, dazzling" by Salman Rushdie; and with Phumlani Pikoli, the author and multidisciplinary artist who's been cited as an "urgent new voice in South African fiction".
The work of these authors and artists all bear witness to the greatest health crisis of our times. Through stories, we are deciding what is essential to our lives, we are figuring out what the phrase "the new normal" really means, and we are discovering, we're all in this together.
The
London Reader
is also available by subscription for Kindle on
Amazon.com
and
Amazon.co.uk
.
See calls for submissions and previous issues at
LondonReader.uk
.
When Patreon funding for the London Reader reaches it's first goal, all Patreon subscribers will receive a free back-issue PDF.
1 of 1
By becoming a patron, you'll instantly unlock access to 4 exclusive posts
By becoming a patron, you'll instantly unlock access to 4 exclusive posts
Recent posts by The London Reader