The London Reader
is creating magazine issues with Contemporary Voices in Creative Writing
Select a membership level
Standard eSubscriber
Get the current issue AND the most recent back issue for FREE in pdf as soon as you register, and then receive... 
A new issue of the London Reader in pdf format four times per year
Access to subscriber-only preview content online
Premium Print Subscriber
Get the current issue and the most recent back issue FREE as soon as you register, as above, and then receive...
A new high quality print issue, of the London Reader, perfect bound, trade paperback, mailed direct to your home four times per year
A digital copy of each new issue in pdf format
Access to subscriber-only preview content online
(Please add $1 for additional shipping fees if you live outside the United Kingdom or continental United States)
Patron of the Literary Arts
Limited (5 remaining)
Wow! Thank you for becoming a patron of the magazine you love and supporting the diverse array of writers within. As with other rewards tiers, every contributor to the magazine receives a portion of your patronage with each new issue.
Get the current issue and the most recent back issue FREE as soon as you register, as above, and then receive... 
Access to discussion of upcoming issue themes and ability to weigh in on the editors' decisions
Access to previews of upcoming interviews and ability to propose questions for famous authors
Your name in the Special Thanks of each issue
Plus a Premium Print Subscription as above with four new print and pdf issues every year
About The London Reader
Receive FREE digital copies of the current and most recent previous issues of the London Reader as soon as you register as a patron at any Rewards tier!
Your first contribution to the London Reader will not be charged to your Patreon account until the release of the next issue.
Featuring great stories from thought-provoking perspectives, the London Reader magazine presents contemporary voices in creative writing. The fiction, poetry, creative non-fiction, and interviews in each issue are curated, as if in a gallery, in order to explore a single theme, genre, region, or topic.
By subscribing to the London Reader, you're directly supporting the writers whose work is within its pages. Issues are cooperatively owned by their contributors, and each writer receives a proportionate share of your subscription amount. In addition, the curator of each issue designates a charity, detailed within, which receives 10 percent of revenue from the issue.
New issues are released four times per year on the first week of March, June, September, and December.
Support the literary arts; read great stories; subscribe to the London Reader.
* * *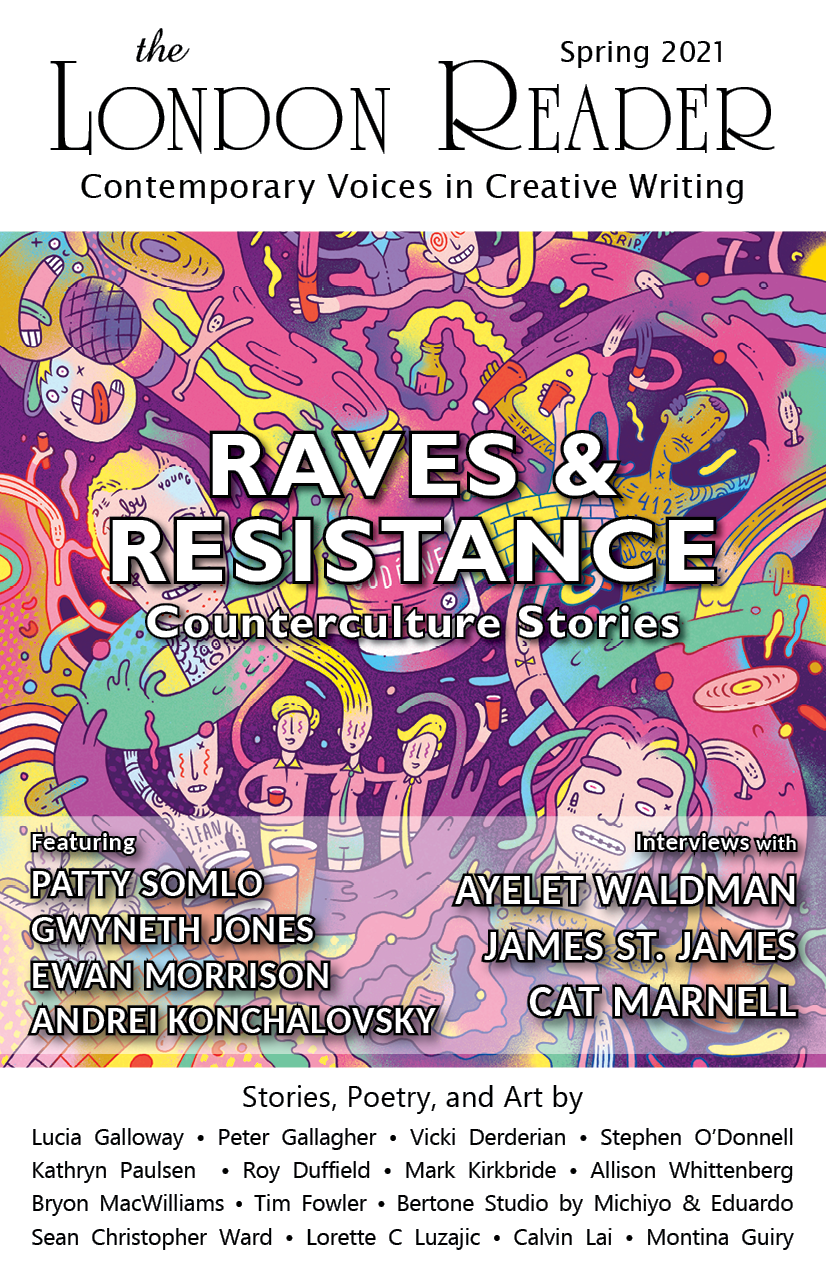 Current Issue:
Raves & Resistance
Counterculture Stories
High in a volcano mountain-crater, a woman emerges from her clothes and slips into a festival lake and into a new moment. A punk show brings together the pierced bodies and studded minds of young radicals in a slam dance of social rejection and self discovery. A former revolutionary bomber is exposed by a more recent tragedy. An artist from 1960s Moscow looks for an audience outside the legacy of East and West. A student of the protests against the Vietnam War remembers the National Guard helicopter dropping tear gas as her final exam.
All culture begins first as counterculture. The new always arises as a rejection of the old. What is known, what is possible, is always discovered by people who push at its limits. Revelry and rebellion explore new social territory and leave cultural paths for others to follow.
This issue of the London Reader features counterculture stories by award-winning author Ewan Morrison; the Arthur C Clarke and Philip K Dick Award-winner Gwyneth Jones; the notable Patty Somlo; Peter Gallagher; the famed Russian and Hollywood filmmaker Andrei Konchalovsky; Vicki Derderian; and Stephen O'Donnell. Its pages are also filled with poetry and art by Kathryn Paulsen, Mark Kirkbride, Roy Duffield, Allison Whittenberg, Lucia Galloway, Lorette C Luzajic, Tim Fowler, Montina Guiry, Sean Christopher Ward, Calvin Lai, and Bertone Studio, by Michiyo & Eduardo. Finally, the creative work in this volume is joined by interviews with James St. James, iconic television personality and author of Party Monster; Cat Marnell, former party-girl and New York Times bestselling-author of the memoir, How to Murder Your Life; and Ayelet Waldman, respected essayist and author of A Really Good Day. They open up about pushing back, setting trends, and seeing the world change around them.
The revolution is in every party, every festival, every political rally, every protest, and indeed, every place where people come together and connect outside the old architecture of state and capital. The stories in this volume of the London Reader are about people finding those moments of rebellion—whether small and personal in music and festivals, or big and revolutionary—and forging brave new paths into the future.
See calls for submissions and previous issues at 
LondonReader.uk
.
When Patreon funding for the London Reader reaches it's first goal, all Patreon subscribers will receive a free back-issue PDF.
1 of 1
By becoming a patron, you'll instantly unlock access to 4 exclusive posts
By becoming a patron, you'll instantly unlock access to 4 exclusive posts
Recent posts by The London Reader
How it works
Get started in 2 minutes