Love Always Sanctuary
is creating a place for animals to live a peaceful life.
Select a membership level
A little goes a long way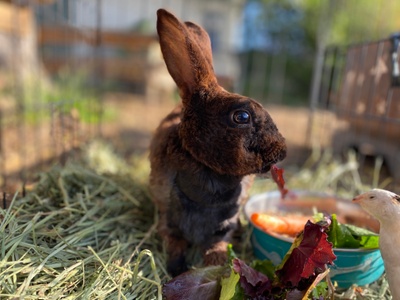 Anything helps! Even $1 a month! You can help us  buy feed,hay, and provide the care needed with vet bills! 
WALK WITH ZATO!
To commemorate Zato's fighting spirit, we are proud to have him as our $5 Patreon sign up.  His determination proves that pigs are to be loved and cared for, and may his back legs carry him onto bigger and brighter days!
WOW!! We couldn't be more thrilled to have you lend a hand to help us with all of our animals!  This means so much to us, and with this pledge you are helping support our Sanctuary.  With this $5 pledge you are helping us continue to give our animals the best care we can, and give them a forever home :)
In this reward tier you will receive:

Thank You Card from our Sanctuary, letting you know how awesome you are :)

The peace of mind knowing your donation goes to a Sanctuary that desperately needs it, and it will be put to amazing use.
Sponsor a pig
for only $10 a month you can help buy food for our rescued piggies, hay, treats, and help with vet bills. If you are a sponsor you get a personalized thank you from  one of  piggies. Exclusive  photos and videos and if you are In The area a free tour. 
About
Web:
lovealwayssanctuary.org
Instagram:
@lovealwayssanctuary
Facebook:
facebook.com/lovealwayssanctuary
Email:
[email protected]
WE NEED YOUR HELP!
Love Always started with the animals in mind, and 'figuring things out later'. Unfortunately now is that time to start figuring things out as we have grown in the past 3 years. The current Love Always Sanctuary exists in a temporary location in the San Fernando Valley as it's also on a property in the middle of a suburban neighborhood. Getting to a
support level of $5,000
per month would help guarantee an incredibly bright future for us, as we are working on relocating to a bigger place were we can continue to care and provide for rescued animals.
OUR SHORT TERM GOALS:



1) New Property-

Getting more land
, as well as greener pastures for our animals gives us so many more opportunities than we currently have. We have been looking for new properties that might already have barns and stalls set up so that we can move right in, and continue the work we do on a greater scale.
Because of our location in the middle of a suburban neighborhood, we have to tread so lightly as well as be very concerned from the noise of our animals. We constantly worry when we bring in new rescues because we fear that new residents don't understand they can't completely be 'free animals' here with noise limits in place.
2) On-site therapy clinic-

Having a certified, licensed therapist on site opens the door to giving special unique care to victims of physical and mental abuse. We want to share the joy of our curious residents, with those people seeking help in alternative ways. A lot of times connecting with an animal, gives people a sense of well-being, and a different perspective on life's everyday problems. We want to have an designated wing in our Sanctuary to offer these services at a reduced cost to the public.
3) More support-


We were very reluctant to ask for help, because we are all strong independent humans that aim to keep Love Always Sanctuary running day in and day out. We currently rely mostly on our jobs to make ends meet, the rest of our time is working on maintaining our Sanctuary, and keeping all of our animals safe, and in perfect health. However this does not give us time to properly engage our fans, and keep them up to date with the daily happenings at Love Always. With more support through this Patreon we can begin to focus 100% of our time and attention on our Sanctuary, and begin to start our growth process.
Our Story-
Love Always Sanctuary started in early 2016, in San Fernando, CA. We believe all beings are different but equal and deserve equal love & rights. We have lots of different fur, feather, and scale babies here at the sanctuary. Many of them come from animal shelters, cases of neglect, saved from slaughterhouses, and even animal testing laboratories. We are so grateful for our supporters, volunteers, and donors. Together we are showing the world what it means to respect all life.
Supporting Love Always Sanctuary means you are supporting a small, yet hardworking love-based organization that wants to create a better future for all the innocent animals of the planet.



Our goal to get a nice big property around Acton, CA where we can have enough space to help both humans and animals. We plan to provide mental health therapy at the Sanctuary so that both animals and humans can heal in unison.  Having more space allows us then to rescue goats, horses, and cows (animals that we love, but we do not have the space for currently.)

Help us get to $5000 a month, and allow more animals in need to have a forever home at Love Always!



1 of 1
By becoming a patron, you'll instantly unlock access to 45 exclusive posts
By becoming a patron, you'll instantly unlock access to 45 exclusive posts
Recent posts by Love Always Sanctuary