Shannon, Pearl, Malti & Bruce (Love & Feathers & Shells)
Shannon, Pearl, Malti & Bruce (Love & Feathers & Shells)
photos, posts, videos, livestreams, care guides
Select a membership level
Featherweight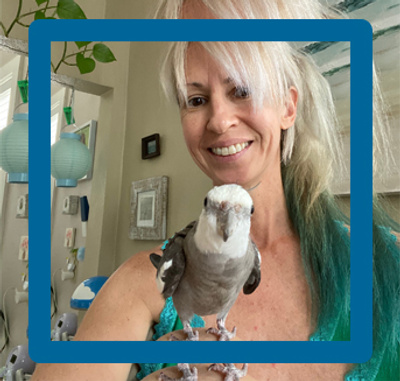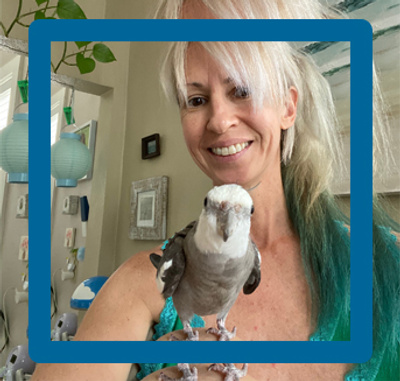 Pearl is living proof that a Featherweight can rule the world!

Or at least keep himself handily supplied with all his favs - birdseed, pellets, rice, greens, cuttlebone and, of course, Grandma's special waffles. 

Pearl was a downy five-week-old chick when he and I met in a Petsmart. He was being bullied by the older, stronger birds who had bitten off his left wing tip and three of his eight toe tips and damaged his left eyelid. He can't fly and sometimes has trouble navigating, but at 22 years old this year, he doesn't let any of that stop him! 

Today, wherever Pearl goes, his large featherless MommyGuard goes. And wherever she goes, Pearl is right by her side (and often on her shoulder or roosting in her lap). Mommy and birdie do everything together and wouldn't have it any other way. 

Pearl and his mommy thank you for supporting our little flock.
Turtleweight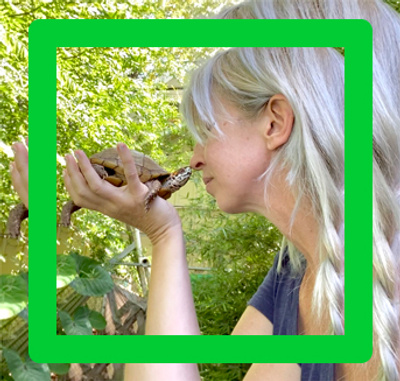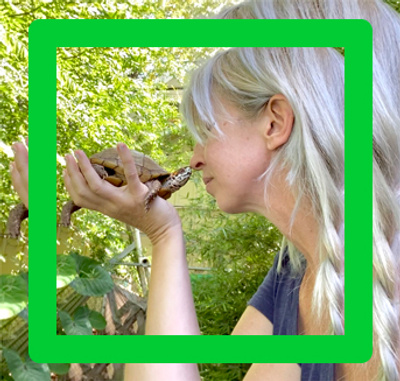 You can't go wrong choosing the Turtleweight tier!

Our Bruce hibernates for about 4 to 5 months each year, but the other 7 to 8 months he is awake and hungry.

Bruce has a refined palate with gourmet tastes. He is also a skilled hunter who can take down live wriggling superworms with a single mighty CHOMP. For his main course, Bruce loves organic steamed wild salmon with sides like juicy mango, fresh figs and plump blueberries.

Bruce came to our flock as an adult rescue who had been taken out of his natural wild habitat as a "pet" and then released when the novelty wore off, causing him a lifetime of distress.

Box turtles have "site fidelity," which means they want to stay where they were born for life. Bruce is not releasable for this reason and he will always have a home with us. 
Early access to new flock short films!
Tortoiseweight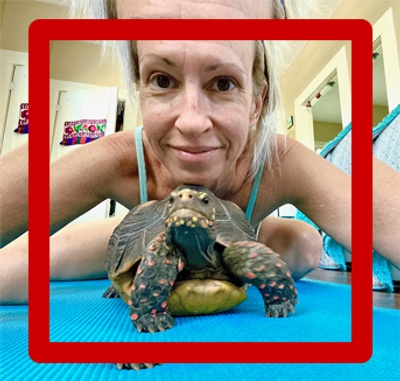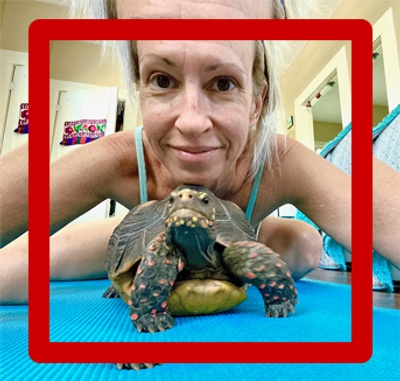 Tortoiseweight patrons aren't playing!

Because let me tell you - redfoot tortoises can EAT. The good news is, Malti isn't picky about her menu. She will eat anytime, anywhere. The bad news is....whew boy that grocery bill sure can add up. 

As well, because of her early-life metabolic bone disease (MBD), Malti requires a special level of exotic veterinary care. She is alive today solely because of her awesome caring vet team. Her mommy has credit card debt for the same exact reason (and I'd do it again in a second!).

Redfoot tortoises take a TON of work and they will take over your life as well as your heart. My growing girl needs a lot of space to roam and a lot of supervision while she is doing it.

But there is no place in the world I would rather be than right by her side as her mama for life.
Early access to new flock short films!

Ask Me Anything (send me questions via Patreon for direct responses)
About Shannon, Pearl, Malti & Bruce (Love & Feathers & Shells)
Hi! Thanks for being a part of our extended flock here on Patreon. :-) My name is Shannon and I am mama to three precious and perfect interspecies loves.

Pearl is my 22-year-old soulbird. I rescued him from a Petsmart. When we met, the older and stronger birds he was housed with had already bitten off his left wing tip and three of his eight toe tips and damaged his left eyelid. He has never been able to fly and has trouble navigating sometimes, but he doesn't let that stop him. Long story short, I scooped him up and took him home with me pronto and we have been together ever since.

Malti is my six and a half year-old South American redfoot tortoise. Due to some very poor veterinary guidance earlier in her life, she is now recovering from MBD (metabolic bone disease). While her shell will never look "right" because of the MBD, under the hood she is a loving, healthy, happy (and very hungry!) girl today.

Bruce is my rescued 3-toed Texas box turtle. He came to me unexpectedly after being nearly flattened by a truck and it was love at first sight. Bruce took three years to decide to warm up to me and let me tell you - it was worth the wait! Today he is a happy, healthy boy who knows he has a safe and loving forever home.

As for me....as a single interspecies mama and freelance writer, blogger and livestreamer living in a COVID world, your support means the world to me and to our little flock.

It helps me keep a roof over a certain trio of feathery and shelled heads and put snacks in beaks and bowls. It supports me to continue creating content and care resources for these amazing ambassador animals I share my life with.

Most of all, it warms our hearts so very very much. Thank you for being part of our extended flock. With love (and feathers and shells),

Shannon, Pearl, Malti & Bruce

P.S. When you become a flock Patreon, part of your monthly patronage goes to support four amazing animal charities: the Gabriel Foundation for parrot rescue, the Turtle Survival Alliance, the U.S. Association of Reptile Keepers and the Animal Legal Defense Fund. Thank you!
10 sweet and caring Patrons = 1 60-minute livestream with YOU. The flock. And me.

Not gonna lie....we were a little nervous to launch this Patreon.

Well, Pearl wasn't nervous. Actually, Malti wasn't either. And Bruce was hibernating at the time. 

But me (Shannon), I get a little nervous about these sorts of things.

But here's the deal. I love, love LOVE these animals with all my heart. And all I want to do with my life is help them stay alive and survive and (here's a fab idea) even THRIVE on a planet where it seems like mostly no one even notices how our most ancient species are silently sliding towards extinction.

The way I figure it, perhaps this is because turtles and tortoises in particular can't "talk" - at least not the way the rest of us can talk.

But I can talk. And I do talk. And I am talking.

So when we gather our first group of ten (10) wonderful, soulful, parrot, turtle and tortoise-loving patrons who want to talk about what turtles, tortoises and parrots need to survive and thrive in a captive or wild state, I will do a happy happy happy dance.

And then I will host a livestream just for you. 

That's right. Just for the first 10 patrons. 60 minutes with me. With us. Ask me anything. Meet the flock face to face (via Zoom, that is - social distancing, after all). Share your ideas. Tell us what perks you want. Be our think tank.

P.S. We love you. And we can't wait to meet you! 
1 of 1
By becoming a patron, you'll instantly unlock access to 17 exclusive posts
By becoming a patron, you'll instantly unlock access to 17 exclusive posts
Recent posts by Shannon, Pearl, Malti & Bruce (Love & Feathers & Shells)