Perfect Garbage
is creating Love Shore, a Cyberpunk VN
Select a membership level
THE TOURIST
$1
per concept and development update
"What a bright and sunny place!"
Thanks for the support! You get updates on development through blog posts on Patreon and access to Discord!
THE CITIZEN
$5
per concept and development update
"You wander the city, unaware."
Thanks for the support! You get:
- Updates on development
- Finished concept work
- Access to the Love Shore discord server
THE LOCAL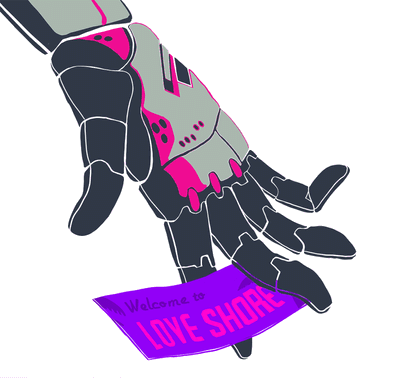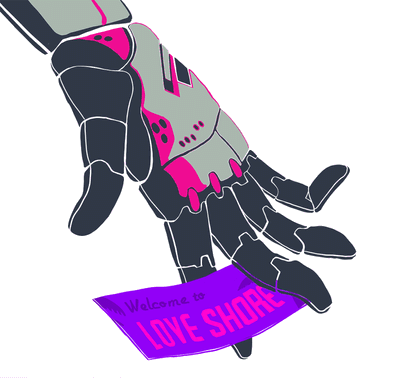 $10
per concept and development update
"The night's the only time to live"
Thanks for the support! You get:
- Updates on development 
- Finished concept work 
- Access to the Love Shore discord server
PLUS:  
- CG Previews 
- Background Previews
- Character Previews
- Music Samples
$172
per concept and development update
About Perfect Garbage
Hiya!
We're 
Perfect Garbage
, a small indie development team who want to create games that reflect our interests with unique storylines and beautiful visuals. We are currently developing
Love Shore
, a visual novel game that takes concepts we've always loved in sci-fi, action, and horror and blends them together to create something truly wild. It features a queer, diverse cast, a city that transforms at night, cyborgs, old gods hidden in the depths of the criminal underground, and a story of coming into yourself and doing what you think is right…with a heavy dose of drama and violence mixed in for good measure. It's been successfully 
kickstarted
.
Unfortunately, like most visual mediums, games take a lot of time to develop, therefore we have created a patreon to help weather any unsuspected costs (in game development there usually is) and help us show our progress!
Every dollar generated from this Patreon goes directly into the development of the game.
Our goal is to fairly compensate the creators putting their hard work and soul into Love Shore.
Who's on the team for Love Shore?

Our writers are
Son M.
and
Emmett N
, of Perfect Garbage. 
Kabo
is going to be working on the characters for our game, producing key art, and helping design dope promotional work! 
The developer is the amazing Jason Davey ! The concept artist is
Zi
, who produces gorgeous, intriguing images. Sonja is our UI designer and all around memer-in-chief. This is the hard-working team you're supporting by pledging to our Patreon!
What's Love Shore about?
After a fertility crisis changed the landscape of Love Shore for good, enhanced individuals born from this crisis are a beacon of technological advancement in a bleak world. The city acts as a tourist trap by day, with beautiful bakeries, malls, and water fountains, but at night, Love Shore takes a much darker turn. While running on a 24-hour system, the city's locals know that there's something sinister happening underneath the surface. Love Shore follows the paths of two player characters, Sam and Farah, whose lives and choices will intertwine in strange and unexpected ways. The two player characters, via different means, realize they need to get to the heart of the city, not just to understand their mysterious companions, but to understand themselves.
It's a visual novel thriller that is for a more mature audience with its darker atmosphere (and Sam's potty mouth).
How does payment work?
Love Shore plans to share content throughout it's creation, and thus we charge twice a month, though we upload more frequently than that. That doesn't mean all posts will be charged, but there will be a charged post once every two weeks. In total,
you will be charged twice a month max for all game content. 
By supporting, what will I get?
If you support Love Shore, you'll be gaining access to high-resolution concept art, wallpapers, teasers for Farah and Sam's paths, and bonus details for other characters and the world they inhabit. You'll also gain a chance for first access to the prototype and beta testing, chances to vote in polls for your input and access to a discord server for discussions of the game!
Can't support consistently? Consider donating to our
Ko-fi
! And be sure to follow us on
Twitter
so we can tell you all about our progress!

Thank you, from all of us of Perfect Garbage and Team Love Shore!


$171.90 of $1,000
per concept and development update
☆ A Safety Net ☆
Love Shore has a safe cushion to pay for anything needed, such as CGs, animations, programming hurtles and more!
1 of 1
By becoming a patron, you'll instantly unlock access to 69 exclusive posts
By becoming a patron, you'll instantly unlock access to 69 exclusive posts
Recent posts by Perfect Garbage
How it works
Get started in 2 minutes