Lion Tower Miniatures - The Adventurers Guild
is creating Digitally sculpted Miniatures, Accessories and Tutorials
Select a membership level
Guild initiate
By joining our adventurer's Guild as an Initiate, you will have access to a number of Patron only tutorials, and will be able to vote on the miniature design polls
You also get 10% off STL purchases from my official STL store at MyMiniFactory
Guild Member
As a Guild member, you get all of the rewards for the lower level pledges, and also have access to the library of obj components for use in your own miniatures.  You can use these for personal use however you wish - from incorporating parts into your own digital models or 3D printing them for use in a physical miniature conversion.
PLEASE NOTE - YOU WILL NOT HAVE ACCESS TO ANY OF THE STL FILE RELEASES ON THIS TIER.  PLEASE SIGN UP AT GUILD CHAMPION LEVEL TO ACCESS FULL MINIATURES.
You also get 10% off STL purchases from my official STL store at MyMiniFactory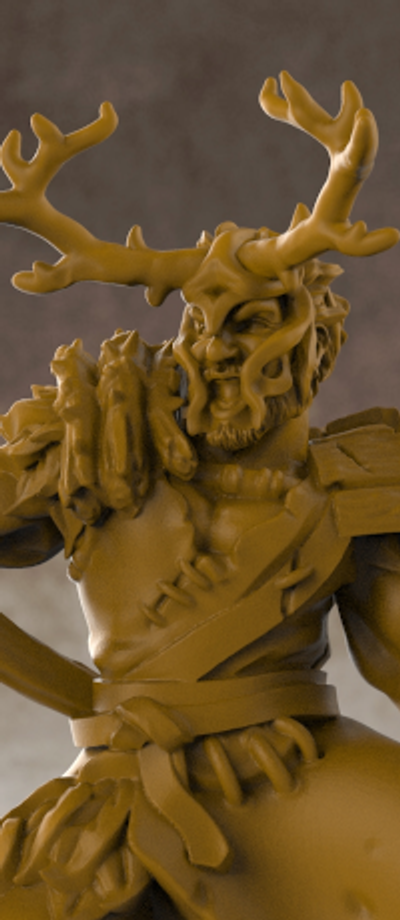 Guild Founder
Limited (0 of 51 remaining)
The Guild founder Tier is the same as Guild Champion, except with a lower monthly subscription fee.  This lower priced level is only available to those quick and savvy enough to get in early!
You also get 10% off STL purchases from my official STL store at MyMiniFactory 
About Lion Tower Miniatures - The Adventurers Guild
Hello Friend! Welcome to the Lions Tower Adventurers Guild where you will find all manner of digital content that will satisfy your miniature hobby cravings! 
You will be able to download digital models in STL format to print at home, as well as a variety of digital components/assets created in the process (heads, weapons, arm
or, adornments etc) which you will be able to download for personal use.  I will also produce tutorials showing how I make the models and how you can use the components amongst other things.
I am Dan Kelly - married to the beautiful Hayley and dad of 2 wonderfully characterful children (Jacob and Willow).  I've been painting miniatures since I was 5 years old and I prefer to paint without needing to rely on washes and drybrushing to show off the details.  All of my miniatures are designed with this in mind - to be nice to paint! I took up sculpting in the first place to be able to inject some personality and a sense of dynamic movement into miniatures, and you'll find this is a common feature through my work.  My time is limited with a young family but I am always happy to talk shop when it comes to miniatures.
How it works
Subscribe as a Patron during the appropriate month for the theme that takes your fancy - you will be billed up front as soon as you sign up. You can immediately download the available STL files, access the component library, view content including tutorial and time lapse videos, and participate in the design polls. As the month progresses I will add new content, including new STL files to be added to the bundle, accessible to all patrons who have STL access as a reward in their tier. The folder will be live throughout the month and then removed from visibility on the last day of the month. The folder link will be emailed to all eligible Patrons via Patreon Messenger when it is removed and will remain live for 30 days after the month has concluded to allow you time to download your files 

To access the STL files, once subscribed, click on the Featured Tag on the left hand side of this page called "Monthly STL Downloads" - All of the months files will be there. There will only ever be one post with this tag and that will always be the current months files.  You can also click the links below:


CLICK HERE FOR THE MONTHLY DOWNLOAD FILES
CLICK HERE FOR THE STARTER CHEST FILES


CLICK HERE FOR THE COMPONENT LIBRARY

I really wanted the models from XXX month, but I was too late subscribing...
If you are
If you've been looking at the sculpts for any of the previous months and want to get your hands on them, my entire back catalogue is available to purchase from my official STL store at MyMiniFactory.com where you can purchase them either individually or as a bundle.
Variety in Sculpts 
I aim to offer as much variety and customization options as possible, so you will find alternative heads and weapons are a common feature, and I will always endeavor to do this with all models time permitting, though time often gets away so shout if you particularly want variants of any given model.
As well as the character miniatures each month, I will also be producing at least one animal companion/pet/familiar each month.
The Lions Tower Community
I engage with my Patrons directly through Patreon but also through my Discord Server (link issued when you subscribe).  A lot of the sculpting I've done has been to bring the requests of Patrons to life!  This is a community and I'd love to see everyone engaging, giving feedback, making requests and generally making the most of this journey with me!  I obviously can't accommodate all requests immediately but i always aim to please where I can
December 2019 sees the arrival of the Spiritual Warriors  
This month the Adventurer's guild gets some spiritual attunement in the form of the Druids and Warrior Monks.
There is also a bear and a Sabretooth tiger coming shortly, and I plan to also release a ninja this month too
Unfortunately, due to a bout of illness and a minor surgery I have fallen behind a little on November's extra sculpts. they will be included for all November subscribers in the November file link, but as I'll post updates in December, they will also be added to the starter chest so everyone can benefit from them.
Releases scheduled for December include:Male Monk
Female Monk
Male Druid 

Female Druid

January is the King's Guard 
Releases scheduled for November include:
Kings Guard with Great Sword 1
Kings Guard with Great Sword 2
Kings Guard Captain
Kings Guard mounted on Rokabo
These are directly linked to the game i am developing, "The Lions Tower Adventurer's Guild" but will be useful as heavily armoured soldiers for many an army, imperial guard, Paladin order etc. 
Plus this month will see the first mounted models from me!
Starter Chest
The starter chest is a selection of miniatures which is added to each month.  Whilst the monthly figures are only available to those who subscribe during a particular month, the Starter Chest is always accessible to all Patrons eligible for STL downloads.
Current contents of the Starter Chest are:
Component Library
I also maintain a library of components which I have created whilst sculpting models.  I regularly use these components either as is to enhance the detail of a miniature or speed up the sculpting process, or as a starting point for a new sculpted element.
The current list of items includes:
ACCESSORIES
Bag
Bear Trap
Lute
Ocarina
Pirate Hook hand
ANATOMY
Hand - Fist grip
Hand - Fist grip Female
Hand - Open point
Hand open base
Wings
ANIMALS
Eagle
Owl
Raven
Attack Hamster ("WOO")
Rat 1
Rat 2
CLOTHING/ARMOUR
Brogues
Buckle
Fur Boots
Hunter fur hat
Ornate Breastplate
Ornate Greaves
Pirate hat
Wizard Boots
MISCELLANEOUS
100mm Ruler with 25mm base
Feather
Gear 2
Gear 3
Mushroom1
Skull
WEAPONS
Ancient tech Blade
Arrow
Barbarian Hatchet
Barbarian Sword
Barbarian Battle Axe
Barbarian Club
Battle Axe
Buckler
Daibo Staff
Flaming Torch
flintlock Pistol
Gladius (Sheathed)
Iron Battleaxe1
Iron Dagger1
Iron Sabre3
iron Sword with sheath
Javelin
Katana
Knight greatsword
Knight Sword1
Knight Sword4
Knight Sword5
Paladin Runesword
Paladin Shield
Pistol2 holstered
Poleaxe
Quiver
Rapier (Ornate)
Rapier (Simple)
Each month this list will grow as it is continually added to.
IMPORTANT: Terms and Conditions of use
All files downloaded from Patreon are meant for you as Patron only.  If someone asks for a copy of the model, please send them here to get them to subscribe or to the MyMiniFactory store linked above to pick it up.  The more subscribers i get, the better value you will all get for your money. 
By downloading the content from this page you accept this Agreement and agree to be bound by its provisions. If you do not accept or agree with these terms, please do not download it.
Terms of use are as follows:
STL files and library components are for personal use only. Print as many as you want for your own use, but please do not sell or otherwise distribute them. 
You may modify the STL files for your own personal use, but you may not upload the modified file to any platform to allow others to download it.
You may use components from the library in your own sculpts, as long as credit is given to either myself directly (Dan Kelly) or to Lion Tower Miniatures as a contributor. (note, I make no claim to your model of any profits following it, just want to ensure I'm credited).
All models are sculpted to 32mm scale unless otherwise stated.  You may print at larger scales if you wish but please note when publishing images that the original sculpt is a 32mm mini.  
All miniatures produced by me are not to be redistributed on in any digital format on any platform (including kickstarter, other Patreon Accounts, Thingyverse etc.
Prints of miniatures may be sold if you are a current subscriber to the Guild Merchant tier.  Sales are only permitted whilst a current subscription is held - if the subscription is cancelled, your permission to sell them is immediately withdrawn.
if you publish any images you using the miniatures you have gotten from here, please take the time to put a link back to my website, Patreon, Facebook etc so that others can find me - the more subscribers I get, the better value for money you get! 
All copyrights belong to Lion Tower Miniatures. NO rights are assigned or transferred to the end-user in the act of subscribing. My designs are protected by intellectual property laws.
The sculpt of the month will now always feature an optional scenic base
8 of 12
Recent posts by Lion Tower Miniatures - The Adventurers Guild
By becoming a patron, you'll instantly unlock access to 36 exclusive posts
By becoming a patron, you'll instantly unlock access to 36 exclusive posts