Natalia
is creating railway stories & public art
Select a membership level
Berlin treasures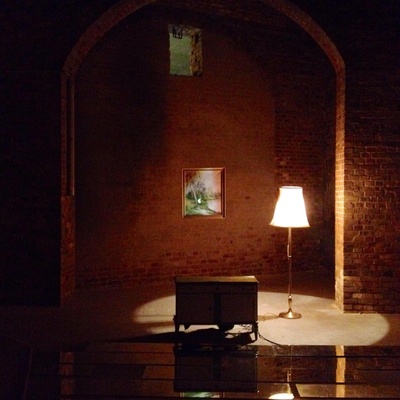 This welcomes you to regular posts and photography about special locations in Berlin. Like for example this space in the photo: a former water tower in Prenzlauer Berg, used nowadays as an art space; in this photo you can see an installation by the artist group TanzApartment. This is about YOUR interests about the city. Welcome to the family :)
Public art & railway stories
Photography, short stories and video from spaces along the railway and public art. This is something for the railway fans or the art lovers out there, but also for the ones who would just like to get a different view of the every day Berlin.
City tours
Limited (40 remaining)
2 to 3 hours tours on art and architecture in Berlin, designed for people who look for local spots off the beaten track. Alternative: tours through house projects from the 80s and later. I'm happy to share with you tips and stories I've collected over ten years in this city.
About
Thank YOU for being here! I'm an installation artist, city researcher and writer in Berlin, Germany, where I'm creating public art, sculptures out of different materials, which you can see in this 2-min-video. Sometimes I work on commission and my art has been exhibited in shows in Germany and abroad. My works are usually large scale and require a large amount of work and time to realize them. Sometimes I rely on a grant to co-finance my work, though the competition is high, and just the application process is a job in itself. Through my projects, I traveled Berlin from one end to another and got to know various places off the beaten tracks: this made me a local of many districts.
On this platform, I'm happy to share with you short stories from my ongoing projects, railway stories, anecdotes and much more from my knowledge about Berlin, a fascinating city that never wears out. With this subscription you get access to regular tips, photography and video, and you also get to ask me for specific tips about this city, things that interest YOU about Berlin and the art scene over here.
Here
, you can find an overview of my projects. My work activates and integrates: with installation art, text and video I highlight the unexplored potential in 
spaces
. My work empowers: with 
participative art
I help others to communicate when words fail us. I've been writing about places off the beaten tracks in Berlin and I've been portraying 
Berliners
for many years. 
At the moment, I'm working on a bigger project of installation art in public space, which I've initiated, in collaboration with the German Railway, the Bauhaus University and the S-Bahn Museum: Along the Lines (you can see part of the team and project partners in the photo above). It's an exciting process, with many insider stories about Berlin and about the railway of the city. YOUR subscription contributes to the big vision behind the project: an art space at the scale of the city, with re-designed abandoned buildings and new opportunities for artists of all sorts. 
Your subscription on Patreon
Are you thinking about becoming a patron of the arts? As one of my patrons you get access to local stories and photography starting with 1 $. The currency of the website is in dollars, but you can contribute in any other currency. You can change this anytime you choose to do so, either by changing the monthly subscription, or by taking a break from it. I'm also grateful to you if you share this page with your circles, sometimes it's not immediately clear who is interested in the art scene in Berlin. I keep uploading new content regularly and I'm happy to share my work and my Berlin stories with you. This is a lot about stories along the railways, with or without trains, about art in public space, but also about a Berlin off the beaten tracks.
You can also get to know me better by having a look at my 
Instagram
account. If you have any questions about this channel or about my work, feel invited to write me at site.specific.ideas(at)gmail.com. THANK YOU!
There is a publication coming up as part of my railway project, YOUR names are going into the credits, as part of the Circle of Friends. THANK YOU!
1 of 1
By becoming a patron, you'll instantly unlock access to 22 exclusive posts
By becoming a patron, you'll instantly unlock access to 22 exclusive posts