Lydia Burris
is creating ZINES and Mixed media art
Select a membership level
Strange Dreams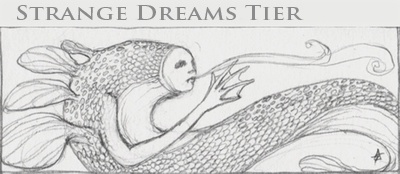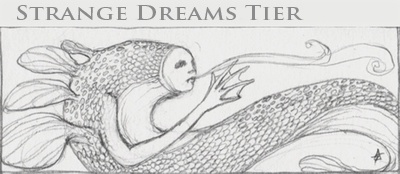 A HUGE THANK YOU!
Choose your own pledge amount!  $1 or more!
The Basic Rewards: 
A downloadable pdf of the Darkness Dreaming zine quarterly.
10% discount code at my etsy shop.
Sneak Peeks at my creative process and progress.
Involvement on some key decisions I will make with the zine.
First dibs on selected special offers
Your support means more than you know!!
Dark Dreamer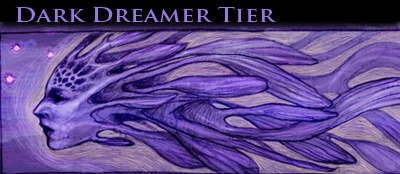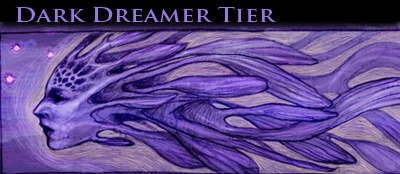 The Zine Tier!
Includes:
The Basic Rewards
Quarterly rewards (after 3 payments) 

The Darkness Dreaming Zine
An internal quick sketch
one 4" x 6" mini-print of art from the zine 
Your name mentioned in the zine thank you section.
(unless you say otherwise)
(note: this tier may be taxed)
Dream Explorer
Limited (7 remaining)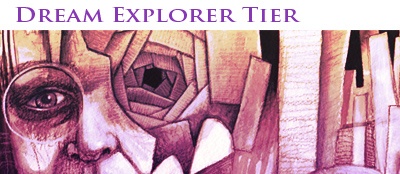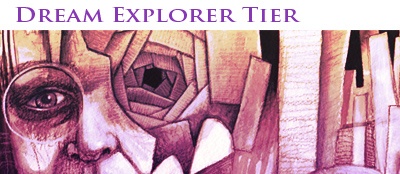 The BONUS PACK TIER!
Includes: 
The Basic Rewards
Quarterly rewards (after 3 payments)

The Darkness Dreaming Zine
An internal quick sketch
A 4"x6" mini print
ART! Bonus original small art piece of my choosing!
(at least 4"x6" - it could be a drawing, or a mixed media experiment)
Your Name (or nickname) listed in the thank you section of the zine.
(note: This tier may be taxed)
About Lydia Burris
Greetings Friends, Miscellany Enthusiasts, Strange ART Supporters, Lovers of the Weird and Watchers from the great vast planes of the interwebs! I welcome you to my patreon page!
If you are here to support my path in any way, even just by watching with morbid curiosity, I THANK YOU truly, from the bottom of my spleen to tips of my eyelashes!
PATREON UPDATE 
SEPT 26, 2021
TEMPORARY SITUATION:
I have been putting the page on hold the last few months due to a complete reroute of my life! I moved to a new City, and got a new intense summer gig! All aspects of my life turned direction. This fall will be the test as to whether I can keep the zine on a schedule through patreon or release it on a more random schedule. Keep updated by following me here or through my other social medias. Thank you! 
PATREON UPDATE!
December 2020
I am a mixed media imaginer, collector and dreamer. For years I have been weaving worlds, creating characters, diving into chaos, playing with mixed materials, capturing the world around me, and screaming nonsense into the void... FINALLY, I have found a place where all of this can live in harmony: THE DARKNESS DREAMING ZINE! 
Darkness Dreaming is an homage to sacred nonsense,
and promises to be a cacophony of madness and wonder.
The zine mostly revolves around the art and imaginings of
Lydia Burris and friends, and will be printed quarterly.
It will include nonsense, dark things, not so dark things,
silly things, and surrealism. It will be filled with layers of art,
words, poetry, photos, story vignettes, and other creative miscellany.
Each issue will be filled with my imaginings and creations, as well as a few guest creators who wish to be involved. 
***
If you join my patreon, you can subscribe to the zine to make sure you get the next copy! I will also be updating sneak peeks of my art making process and creative life. 



WHAT IM OFFERING


Check out the tiers - I have a basic support option, a zine option, a bonus package option, and a sponsorship option!

Each tier comes with these basics: 

Sneak peeks of my art, process, and special offers
Involvement in special decisions I make with the zine 
(such as title suggestions and polls) 
_______________________________________



Extended commentary of my process: 
Sometimes it seems as if I have my toes in everything! I display at art shows, travel and vend at conventions, write my own websites, make art for myself, write and compose poetry, teach at a community college and ponder the universe. I paint, draw, sculpt, make installations, do digital art, take photos, write and go slowly insane.
As a creator, I easily become obsessed with the nonsense, the experimental and the other worldly. I am always and forever trying new things in the studio. Being a teacher as well, I often experiment with new ways to open creative minds and expose my students to unexpected methods, materials and subjects. Because of this I SAVE EVERYTHING. Materials as well as creative experiments. Bits and pieces that become magic when separated and taken out of context. Ephemera, combined with cut text, mixed with painted color and imagery suddenly become a talisman of imagination and dreaming. I want to share this passion with you!
Your support, interest, and interaction help to make that all possible!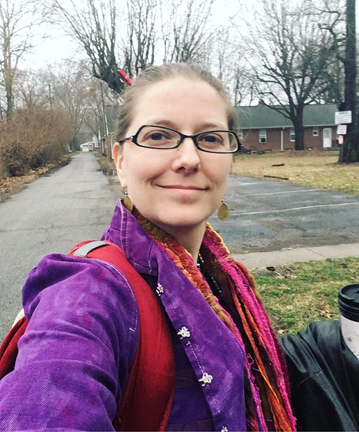 If you have ANY QUESTIONS or Comments, please send me a message.
To each and every one of you who reach out and step into my realm, thank you so very much!
IMPORTANT NOTES! PLEASE READ.
HOW THE MONTHLY CHARGE WORKS WITH A QUARTERLY REWARD: 

--- When you join,  you will be charged for that month, and the first of the month after that. Once you have reached 3 payments, your total payment equals the quarterly reward cost. 
--- If you joined in late in the quarter, and you want the next zine but your payments don't add up to 3 payments yet, you'll have to send an extra payment to me through another means such as paypal. Send a message and we can work it out. 
--- If you have EXTRA credits in your monthly payments I'll send a message and ask if you want to use those credits for extra goodies or save them for the next issue. 


NOTES ON CHARGES
--- REWARD CHARGES 
Your account will be charged

on the day you join

, and then on the first of the month after that.  
If you switch tiers, you will be charged for the new tier amount on the first of the following month. (according to what I read) 
--- TAX
Depending on where you live, physical rewards will be taxed. This is a change made to patreon in mid 2020, and I cannot change or manipulate this fact.
____________________________
Sign up, change your tier, or cancel anytime with no obligations.
When I reach 50 patrons I will post a video of me doing a happy little Jig, and I will thank everyone by name. Once I reach this level, I will have a better idea of what I can do on the next goal. Hopefully it will involve adventure. 

1 of 1
By becoming a patron, you'll instantly unlock access to 104 exclusive posts
By becoming a patron, you'll instantly unlock access to 104 exclusive posts
Recent posts by Lydia Burris
How it works
Get started in 2 minutes