Leah Pattem
is creating Madrid No Frills
Select a membership level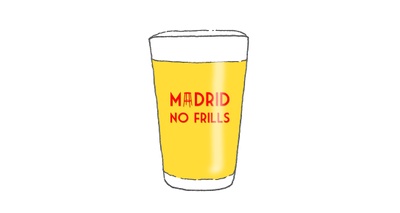 The Caña
Grab a caña and join me up at the bar.
Joining this tier means I've got your support and attention, so I'd like to invite you into the MNF engine room (fuelled by cañas).
Your $1 will unlock my hidden posts, where I share with you my thoughts, ideas and doubts – and ask you to weigh in.
In my first hidden post, I reveal a project I've dreamed of for years, but should I put it into motion?
Tomate una caña y únete a mi en el bar.
Unirse a esto significa que tengo tu apoyo y atención, así que me gustaría invitarte al motor de MNF (alimentado por cañas).
Tu 1€ te permitirá acceso a publicaciones escondidas, donde compartiré contigo mis pensamientos, ideas y dudas (y tendré en cuenta tu opinión).
En mi primera publicación escondida, revelo el proyecto con el que he soñado durante años, pero, ¿debería ponerlo en marcha?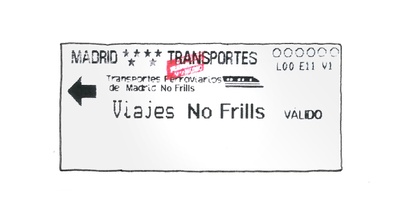 The Ticket
Get the Ticket to all my Trapdoors. 
Behind them lies a world that has existed for exactly 100 years. Some call it the metro system, but that just refers to the part we can see with our eyes. 
Climb aboard onto the other level: a secret network of time-bending tunnels taking you to parts of the world I've never taken you to before...
You will also get the Caña!
Obtén el boleto a todas mis trampillas.
Detrás de ellas se esconde un mundo que ha existido exactamente 100 años, algunos lo llaman el metro, pero esa parte solo se refiere a lo que podemos ver con nuestros ojos.
Sube a bordo del otro nivel: una red secreta de túneles que te llevarán a partes del mundo donde jamás te he llevado.
¡También obtendrás la Caña!
The Map
Join our Secret Explorer's Club and own The Map of every location I've discovered in Madrid, and which is constantly growing!
Locate 196 no-frills bars, 88 no-frills eateries, 57 living museums, 23 ghosts, 19 rebel communities, 16 bunkers, 13 no-frills vistas... and counting.
You will also get the Caña and the Ticket!
Únete a nuestro Club de Exploradores Secretos y obtén El Mapa donde está anotada cada localización que he descubierto en Madrid, ¡y que no deja de crecer!
Localiza 196 no-frills bars, 88 no-frills sitios de comida, 57 museos en vida, 23 fantasmas, 19 comunidades rebeldes, 16 búnkers, 12 no-frills vistas … y sumando.
¡También obtendrás la Caña y el Boleto!
About Leah Pattem
You see that photo above? They're Madrid's little guys – the ones whose voice almost always gets lost in the noise of our booming city. They're also the people whose stories I've been sharing for three years, and whose voice is about to get louder.

I'm Leah, the woman behind Madrid No Frills. I've always remained fairly quiet, slowly working away behind the scenes, creating something that nobody else will. For three years, I've been sharing the stories of Madrid's little guys and raising awareness of how we can all help: from having a caña in a no-frills, neighbourhood bar to taking to the streets and making some noise! I've shared everything I've discovered with you – whether it's inspiring, curious, dark or difficult – in the hope that you'll be galvanised to cherish and help the little guy too. And you've already helped so much!

Madrid No Frills is my passion.

What many of you may not realise is that MNF is not a professional blog... whatever that means. I have no training in writing, photography or journalism. Madrid No Frills is my passion and I've learned all these skills along the way. I've created all of this without receiving a single cent, because I love it. Madrid No Frills has always been and will always be my gift to you and to Madrid.

But after receiving over a hundred messages from you telling me how much you love what I do, I started wondering what MNF could become if I gave it even more of my time... time beyond evenings and weekends: professional time. 

What if I took this to the next level?

What if one new article per week became ten? What if saving dozens of local gems became hundreds? What if I could share more hard-hitting stories from victims of gentrification, racism, homophobia and exploitation? MNF is beginning to deliver the independent journalism and recommendations that Madrid so badly needs, and I think it's time I took this project to the next level.

But I want to do it my way.

Madrid No Frills will remain independent and I will continue saying whatever I want. This blog will remain free of ads and sponsors and will not be influenced by the rich or those in a position of privilege. I've never accepted freebies, never run ads and never done sponsored posts, and I've turned down every investor and large publication who wanted to buy my blog.

And no matter what happens, I will continue exploring and telling those important stories, and Madrid No Frills will always remain absolutely free to all of you, forever.

Am I crazy? Some people think so. Am I determined? Yes. I've created a platform that gives a voice to those who've lost theirs along the way – a platform that shines light on the invisible and sees the extraordinary in the ordinary. Only you will ever be given the right to support that. 

Time for the underdog's voice to get louder. 

If you believe in Madrid No Frills and want to see it evolve into a rebellious publication that could begin to rival the big guys, then even your smallest support will help to make that happen. I've set my donation levels incredibly low because I refuse to be elitist about who can be involved in this project. One hundred patrons each donating $1 mean so much more to me than one patron donating $100.

Just $1 per month will unlock my hidden content, created specially with you in mind, where I'll reveal all the work and creativity that goes on behind the scenes; the work and creativity that you're supporting! And if you can afford to give Madrid No Frills even more, I've lined up a few extras to say a special thank you. But whatever you want to give ($1, $3 or $5 per month), it will mean the world to me and to those little guys.

I can do this, but not without you. 

Asking for your money is not a decision I've taken lightly, but I've begun to realise that for the sake of this city, for the sake of our disappearing gems and the communities they underpin, Madrid No Frills must grow!

Thank you to thousands of you for standing by me all these years, and to thousands of you who just stumbled across my work. Without you, my voice would just be white noise. Now, with all of you firmly by my side, it's time to turn up the volume!

Leah 💕

PS: A little transparency: for every dollar you give, Patreon takes around 11 cents to fund its platform. The rest of your donation goes directly to me, which I put straight into research, writing more stories, discovering more places and growing Madrid No Frills for everyone to enjoy.

PPS: The reason I chose Patreon as my crowd-funding platform is for its transparency and simplicity. It's also perfectly scaled for a small project like mine and offers room to grow.

¿Ves la foto de arriba? Son nuestros chiquillos de Madrid, aquellos cuya voz casi siempre se pierde en el ruido de nuestra ajetreada ciudad. Son a su vez la gente cuyas historias he ido compartiendo los últimos tres años, y sus voces van a empezar a hacerse oír.

Soy Leah, la mujer detrás de Madrid No Frills. Me he mantenido siempre bastante callada, trabajando poco a poco detrás de los focos, creando algo que nadie va a crear. Durante tres años he ido compartiendo las historias de los chiquillos de Madrid, sensibilizando e informando en cómo podemos ayudar; desde tomar una caña en un no-frills bar de barrio, a tomar las alles y hacer algo de ruido. He compartido con vosotros todo lo que he descubierto, ya sea inspirador, curioso, oscuro o difícil, con la esperanza de incitaros a apreciar y ayudar a estos chiquillos. ¡Y ya habéis ayudado muchísimo!

Madrid No Frills es mi pasión.

Algo de lo que muchos no os dais cuenta es de que MNF no es un blog profesional… lo que sea que eso signifique. No tengo ningún tipo de formación en redacción, fotografía o periodismo. Madrid No Frills es mi pasión y he aprendido todas estas habilidades sobre la marcha. He creado todo esto sin recibir un solo céntimo, porque me encanta. Madrid No Frills siempre ha sido y será mi mi regalo para vosotros y para Madrid

Pero después de haber recibido más de cien mensajes de vosotros diciéndome lo mucho que adoráis lo que hago, me empecé a preguntar en lo que MNF podría convertirse si invirtiera aún más tiempo… más allá de noches y fin de semanas: tiempo profesional

¿Qué pasaría si llevamos esto a otro nivel? 

¿Qué pasaría si un nuevo artículo por semana se convirtiera en diez? ¿Qué pasaría si salvar docenas de joyas locales se convirtiera en cientos? ¿Qué pasaría si pudiera compartir más historias estremecedoras de víctimas de la gentrificación, racismo, homofobia y explotación? MNF está empezando a aportar un periodismo independiente y recomendaciones que Madrid realmente necesita, y creo que es el momento de llevar este proyecto a otro nivel.

Pero quiero hacerlo a mi manera. 

Madrid No Frills seguirá siendo independiente y continuará diciendo lo que quiera. Este blog seguirá estando libre de anuncios y patrocinadores y no estará influenciado por ricos o aquellos en una posición de poder. Nunca he aceptado freebies, nunca he puesto anuncios y jamás he hecho una publicación patrocinada. He rechazado cada inversor o grandes portales que ha querido comprar mi blog.

Y pase lo que pase, seguiré explorando y contando esas historias importantes, y Madrid No Frills será siempre absolutamente gratis para todos y para siempre.

¿Estoy loca? Algunas personas piensan que si. ¿Estoy decidida? Sí. He creado una plataforma que brinda una voz a aquellos que perdieron la suya por el camino. Una plataforma que alumbra lo invisible y ve lo extraordinario en lo ordinario. Solo vosotros tendréis el derecho de apoyar esto.

Es hora de que la voz del desvalido se vuelva más fuerte.

Si crees enMadrid No Frills y quieres verlo evolucionar en una publicación rebelde que podría empezar a rivalizar con los grandes, entonces, incluso tu mas pequeño apoyo ayudará a que esto suceda. He establecido mis niveles de donación extremadamente bajos porque me niego a ser elitista sobre quien puede involucrarse en este proyecto. Cien patrons donando cada uno de ellos 1€ significa muchísimo más que un solo patron donando 100€.

Un simple euro por mes permitirá acceso a mi contenido escondido, creado especialmente con vosotros en mente. Ahi revelaré todo el trabajo y creatividad detrás de los focos; ¡el trabajo y creatividad que estás apoyando! Y si puedes permitirte donar a Madrid No Frills aún más, he organizado unos extras para darte las gracias. Pero independientemente de lo que quieras aportar (1€, 3€ o 5€ al mes) significará muchísimo para mi y par esos chiquillos.

Puedo hacer esto, pero no sin vosotros.

Pediros dinero no es una decision que he tomado a la ligera, pero he empezado a darme cuenta que por el bien de esta ciudad, por el bien de nuestras joyas que van desapareciendo y las comunidades que sustentan, ¡Madrid No Frills debe crecer!

Gracias a miles de vosotros por estar a mi lado todos estos años, y a miles de vosotros que simplemente os topasteis con mi trabajo. Sin vosotros, mi voz sería simple ruido. Ahora con todos vosotros firmemente a mi lado, ¡es hora de subir el volumen!

Leah 💕

PD: Un poco de transparencia, por cada euro aportado, Patreon se queda más o menos 11 céntimos para financiar su plataforma. El resto de la donación va directamente a mi, y la invierto en investigar, escribir más historias, descubrir más lugares y hacer crecer Madrid No Frills para que todos vosotros disfrutéis.

PD2: La razón por la que he escogido Patreon como plataforma de financiación colectiva es por su transparencia y simplicidad. A su vez se adapta perfectamente a pequeños proyectos como el mío y los ayuda a crecer.

Recent posts by Leah Pattem