Joe Flower & Harmony Breeze
is creating Video, Pictures, Writing
Select a membership level
Hangin' Out...
This is for the cats who wanna play their part to keep the cosmic world vibrating properly, right? In return, you will receive our cosmic Good Vibrations and a Huge Right on and Solid shout-out on all our social media platforms. We love you just for being there.
Peace & Love
You can't plunge into the Jacuzzi with us - and that's cool - but yah do wanna let us know yah out there and yah really dig where we're coming from. Right on! We'll create a JPEG badge with your name and/or image on it and post it to our social media profiles, along with a few words that tells the viewer what a Solid cat you are. You will have a special place on all of our social media platforms, especially Patreon, that will be regularly updated with #Woodstock content and all our creations forevermore and more....
Flower Power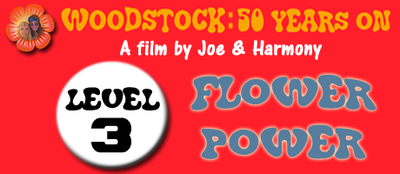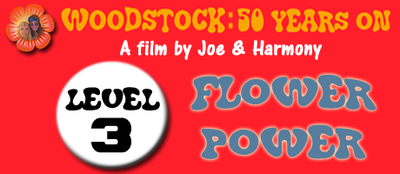 You get the JPEG badge and the HUGE shout out on all of our social media platforms, including Patreon, you get the regular updates from our #Woodstock treasure chest. But wait! There's more. You will also receive a digital copy of the DVD documentary WOODSTOCK: 50 Years On delivered to your inbox by 30 JUNE 2020 (at the latest). Along the way, we'll send you some sneaky-peek out-takes to whet your appetite in the form of short video clips and/or JPEG images. New works beyond JUNE 30 are guaranteed.
About Joe Flower & Harmony Breeze
Joe & Harmony
tripped the light fantastic at the 50th Anniversary of Woodstock and will soon begin editing their journey East from California to New York, home of
Yasgur's Farm
and the site of the 1969 Woodstock Festival now known as
Bethel Woods Center for the Arts.
Joe & Harmony have captured video of their travels and conversations with hippies who saw it all, others who saw flashes and fragments, and over time will be piecing it all together to create a snapshot movie of what - if anything - the Woodstock generation legacy of peace, love and music means to modern day America, indeed if it means anything anymore to the world.
This Patreon page is where the content for that trip will live and grow.
For those new to Patreon, here's a brief explanation:
This is different from sites like Kickstarter & GoFundMe (where you make a one-time donation to a specific project). Here, you would be agreeing to make a smaller recurring monthly pledge to help sustain our art/writings/work more generally. Just pick the amount you want to pledge each month, enter your payment information, and that's it! You will then have access to some or all of the patron-only posts on this site, which will include lots of free, in-progress and/or unreleased video and material. If you want to learn more, here is
a short video about Patreon.
Joe & Harmony spoke to plenty who had a lot to say about Woodstock, about hippies, about peace and love, about getting humanity together, cleaning up our act, rediscovering community, picking up on some thread of redemption of our collective 60s consciousness, of becoming mindful of our own behaviors, our own work, our own proper meditation, our own art, our own concepts of where the world's going. So if you dig the sound of all that and want to see even more, then please support us by becoming a patron! Our projects are for you; we are putting them together for all of eternity. They promise to be many things; the guarantee is they will be a lot of fun!
Turn on. Tune it. Drop by again.
The 50 year anniversary of The 1969 Woodstock Festival sees Joe & Harmony focused on capturing - via video and audio - as much raw content as is possible for two people with one pair of hands each to capture. Post celebrations, the hard work of splicing all the groovy parts into a story that is engaging, entertaining, and of course respectful to the Woodstock legend will begin in earnest. Having extra support to complete that process will enable us to deliver on our promises in record time. There is much work to be done and a finite amount of life in which to create. Art is long, life is short.

1 of 3
By becoming a patron, you'll instantly unlock access to 2 exclusive posts
By becoming a patron, you'll instantly unlock access to 2 exclusive posts
Recent posts by Joe Flower & Harmony Breeze
How it works
Get started in 2 minutes