Magic Forest Farm
is creating homestead/farm experiences.
Select a membership level
Sprout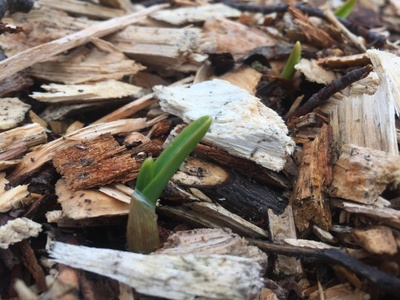 Thank you for your contribution! We hope you enjoy following our various projects and farm experience. 
The Seedling
Know that your contribution is really appreciated and would go a long way in supporting what was once a common reality and has become an esoteric and sadly, a fading way of life - small scale farming. We would like to thank you with a monthly update on the farm.
Cream of the Crop
Thank you so much for supporting our farm community. Please know that your contribution goes a long way in supporting many different projects on the farm. As a sign of appreciation we would like you to receive a monthly update on the farm as well as a unique recipe from our creative seasonal international kitchen.
About
We are Joan and Jason, partners and owners of Magic Forest Farm. We live and work on our land where we have created a wide range of sustainable land-based projects and host people who want to learn our way of life.
We offer hands-on homesteading experiences and share farm-based arts and skills. We do not teach in a traditional format with structured courses in classrooms. Much of the sharing of knowledge comes through the cultural exchange that happens when so many people from different places in the world come together to experience our 'simple way of life'. The continual evolution and synthesis of the whole makes this project fresh and exciting all the time. The different influences from each person who come to join us adds to the richness of the experience, with the basis being to work together cooperatively to produce what we need to live and create sustainable income from our land.
Project experiences that we share include:
Growing food:
planting, growing, harvesting, preserving, experimenting with niche crops, rare fruits, and heirlooms such as lotus, pawpaw and persimmon.
Culinary:
improvising with what's in season and abundant, preserving for later, wild foraging. Sharing recipes and techniques from around the world. Sharing meals together is one of the highlights of being here.
Mohair fiber:
from goat to garment. Our beloved angora goats are funny and friendly. They eat our weeds and turn poison ivy and thorny bramble into lustrous curly locks. We shear our goats, clean, dye, card and spin the fleece into yarn. We knit, crochet and weave the yarn into products we sell here on the farm. Once you go through the entire process you can truly appreciate how much time and work it takes to make a piece of clothing that exploits no one. The connection to the garment you make and wear is one you cannot achieve through buying mass produced clothing.
Birds:
our friendly chickens and ducks are free to roam the property clearing ticks, unwanted pests and fertilizing the soil. They give us fresh eggs and endless entertainment.
Dairy:
milking a cow and making Kiefer, yogurt, mozzarella and ricotta cheese, cream sauce, pudding, crepes, custard, etc etc. When our cow is milking, there's an enormous amount of milk to use or preserve. You begin to see how just much one cow could provide for a small community. We love our cow, Saucy. She's one of the family. To hand milk a cow, brings new meaning to dairy.
Mushroom production:
we grow seasonal varieties of oyster mushrooms in bags of straw. During winter months, we grow an indoor variety. Mushrooms are our 'meat' since we are vegetarians.
Agroforestry
(forest farming): maple syrup, shiitake mushroom logs, firewood and lumber. 
Permaculture
design and techniques
Building:
using sustainable, local, natural and recycled/repurposed materials.
Essentially we are working on "practical arts" such as growing and preparing our own food, processing our animal fiber into clothing, building/construction and wood working.
By offering this venue for coming together to learn these basic skills, our approach to sharing these experiences with folks who visit the farm leads to community building, cultural exchange and creative collaboration.
We have found that people come here not only for the practical hands-on learning experience but also seek the benefits of living this lifestyle; Health and wellness through working with the land. Farming requires one to wake up early and go to bed exhausted. Small scale farming inlcudes physical exertion, creates meditative states through repetitive farm tasks, offers silence/alone time, brings the satisfaction of being part of cooperative tasks, fosters helping care for one another, produces top quality food, and allows participants access to clean air/water/land. A stay at our farm offers a place to transition and ultimately re-establish a connection to nature.
What was once a common reality, small scale farming has become an esoteric and sadly, a fading way of life. In a time when farming has become a massive specialized industry swallowed up in big business regulations and heartless capitalist goals, as 'modern homesteaders' we represent a niche market and idealistic lifestyle that is lost to most in these times. For us, we are living how we need to in order to be healthy and happy. We are fortunate enough to own pure land and have the resources to eek out a life on our hillside acreage. After a decade of restoring decrepit buildings, reclaiming overgrown pasture, managing forest and sustainably raising animals, we have become something that people love to be a part of. Our volunteers come from all over the world, and our tourists come mostly from New York City or Boston. We are inspired by their enthusiasm and appreciation of what we have become used to; our day-to-day lifestyle of living in seasonal cycles with the land. We love to share our experience, and find that opening people up to this land-based reality is so rewarding in these times. 
Ok, so now that you know what we do here, it's time to explain why we need funding from you.
We have outgrown our backyard-scale start-up projects and need to expand our infrastructure to accommodate more visitors and activities.
Listed below are many of our exciting ideas that we want to bring to fruition, and with a little help from you, could see the results much sooner than if we were going at it alone.
We will use your generous support to fund these projects:
All season housing - yurts 
Farm store 
Creative camping cabins
Art studios/workshops - fiber, ceramics, wood working. 
A stage for events/performances
A 'sugar shack' for maple syrup production, and upgraded equipment. 
Kitchen/cafe for processing farm produced food to sell, catering onsite events and hosting visiting chefs to create farm-to-table seasonal unique culinary experiences
Lab and warehouse for increasing our mushroom production
Greenhouses, Orchards and berry patches
More animal shelters and fences
Shelters for equipment, tools and supplies 
'The great hall' - an indoor community and event space
Camp pavilion - a meeting place for inclement weather
Visitor bath house 
Wells for more water
Roads for more access, and the resources to create sustainable power
A new computer so I don't have to do all the updates on my iPhone!
We thank you for joining our farm project! We welcome you to our growing community! 
Once we reach 50 patrons, we believe we will have a solid community behind us to let us know that the work we do is appreciated and valued.

We have a surprise gift planned for our 50th patron!

So, why don't you try and become the 50th? 

1 of 2
By becoming a patron, you'll instantly unlock access to 103 exclusive posts
By becoming a patron, you'll instantly unlock access to 103 exclusive posts
Recent posts by Magic Forest Farm