Khiri Lee
is creating Magickal Zines and Sacred Art
Select a membership level
Secret Content
Instant Access to Hidden Posts here on Patreon.
 - Insider Videos
 - Snippets of my Creative Life
 - Book of Shadows Freebies
 - and Fun insightful Posts.
Enjoy!
T H R I F T W I T C H Subscription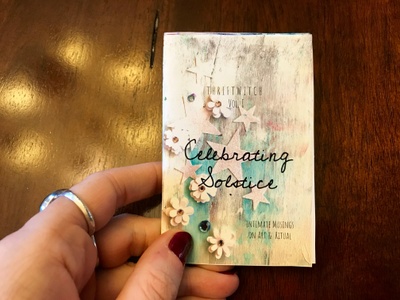 T H R I F T W I T C H is a witchy zine that combines beautiful one-of-a-kind art with tidbits of magic, ritual, and history, in an intimate format. 
Delivered roughly every 6 weeks on the Sabbat of the Wiccan Wheel of the Year. 
2020 spotlights the Elements - Air, Fire, Water, Earth and more! 
Also includes secret content on my Patreon Page and 10% off in my Etsy Store.
52 Feathers Retrospective Surprise
53 Issues of 52 Feathers were written in 2019. Each month you will receive an issue at random from this magical collection of zines from the Bird Kingdom. I will do my best to make sure you receive issues you haven't received before. 
Also includes secret content and 10% off in my Etsy Store.
About
What makes the world a better, more magickal, more colorful place?

Art!
I strive to fill the world with something beautiful and meaningful. Being an artist and witch is a sacred calling to activate people's imagination, to communicate a new mythos into the world that serves our shifting communities, and to invoke a brighter future for us all.
It's Women's Herstory month which is the perfect time to support women in the arts.
46% of artists in the United States today are women, and yet we are only making 74¢ for every dollar of our male counterparts (National Endowment for the Arts, 2019).
Platforms like Patreon are helping people like me shift that statistic.
I'm Artwitch and Creatrix Khiri Lee, a Mixed Media and Performance Artist who is Re-mything life through paint, movement, and color. Join me on this adventure to infuse both of lives with community, ritual, and color. It's going to be pure magick!
I am the Creatrix of the zines T H R I F T W I T C H, 52 Feathers, and New for 2020, 52 Facets. This is the main perk I share with my Patrons here who know and support the importance of artistic pursuit. I am forever grateful to everyone who joins this growing community.
In addition to zines I am in constant motion, Creating performances, Crafting art rituals, Painting mixed media, Sewing costumes, Dancing with community changemakers and Falling into whatever creative endeavors cross my path. This stems from my belief that
Art is crucial to the joy and wellbeing of our lives.
Thank you for being a part of this dream to fill life with Art & Magick.
ART BOOK and ORACLE DECK: 52 Feathers has been a monumental project and I have flirted with the idea of compiling all of the feathery, airy, mystical, ritual goodness into a giant coffee table book or a useful Oracle of 52 cards. If I reach 50 followers I will start figuring this out. 

2 of 4
By becoming a patron, you'll instantly unlock access to 38 exclusive posts
By becoming a patron, you'll instantly unlock access to 38 exclusive posts
Recent posts by Khiri Lee